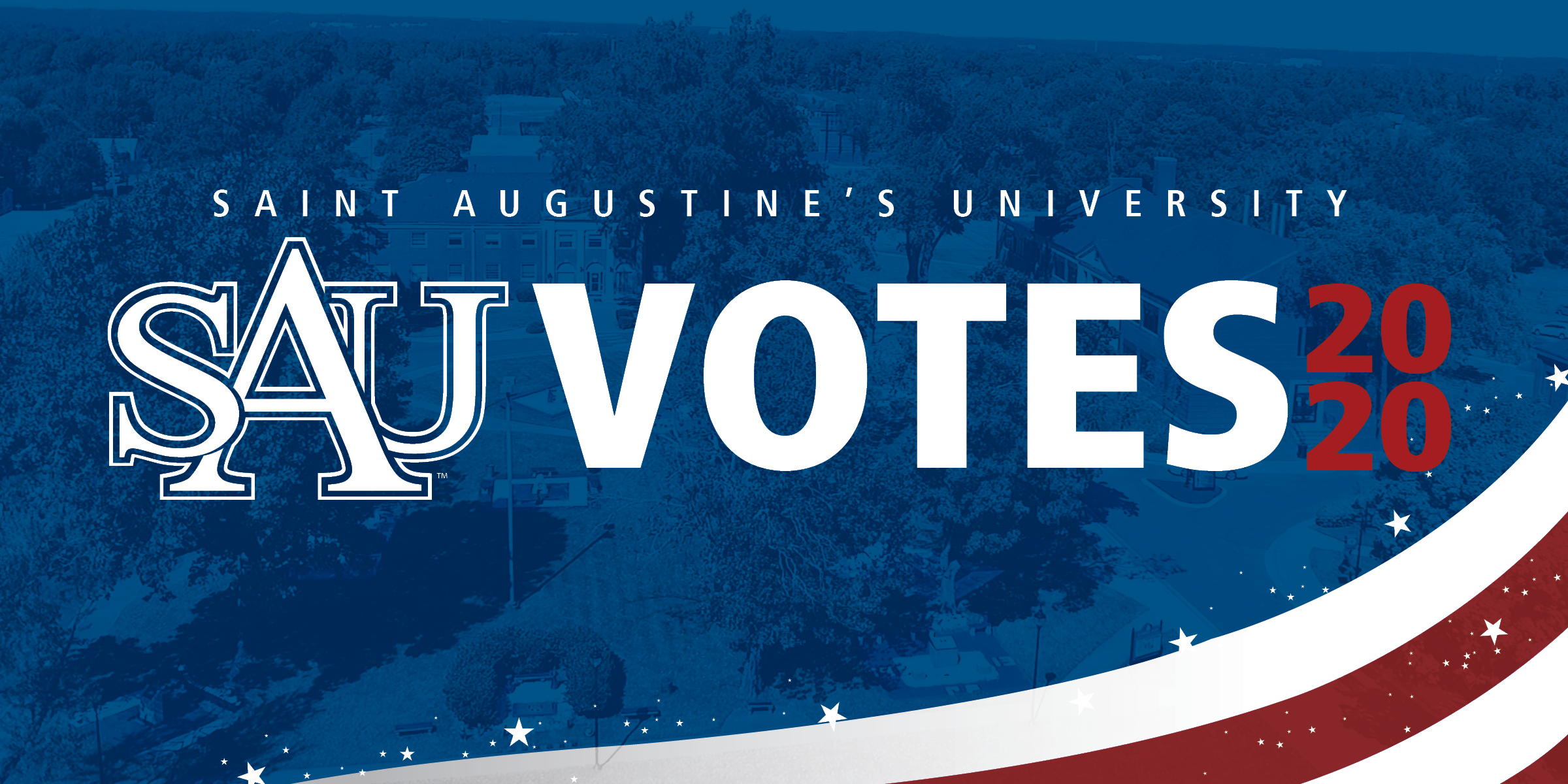 Learn about registering to vote, updating or cancelling your registration, voting by military and overseas citizens, voter registration drives, and more.
Saint Augustine's University School of Business collaborates with the National Football League (NFL) in their Go Vote campaign! In the 2016 election, only 60% of eligible Americans voted. We are all business and are not settling for 60% during this current election term. Students in the School of Business, Management, and Technology created a Public Service Announcement to bring awareness to voting and the importance of exercising your right.
The School of Business will provide transportation on Thursday, October 22nd and October 29th from 11:00 a.m. – 1:00 p.m. for anyone interested in early voting. Those interested, please email schoolofbusiness@st-aug.edu.
Students, faculty, and staff can visit www.nfl.com/votes for more information on how you can make your voter game plan.
GO VOTE!
FALCONS MARCH TO THE POLLS
Tuesday, November 3, 2020 | 11 A.M.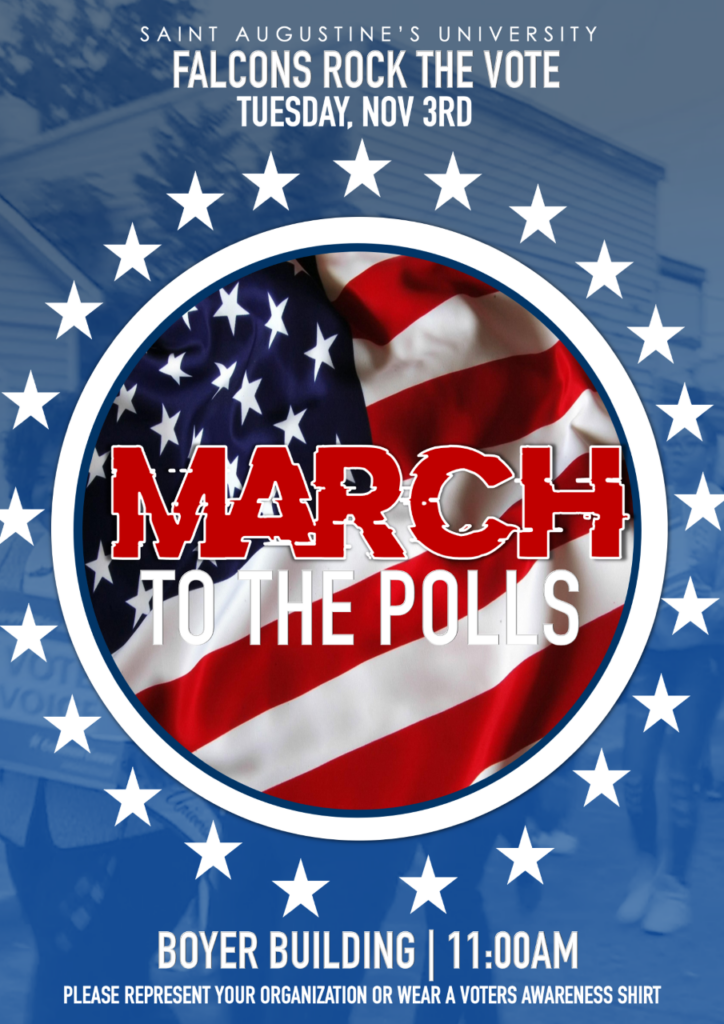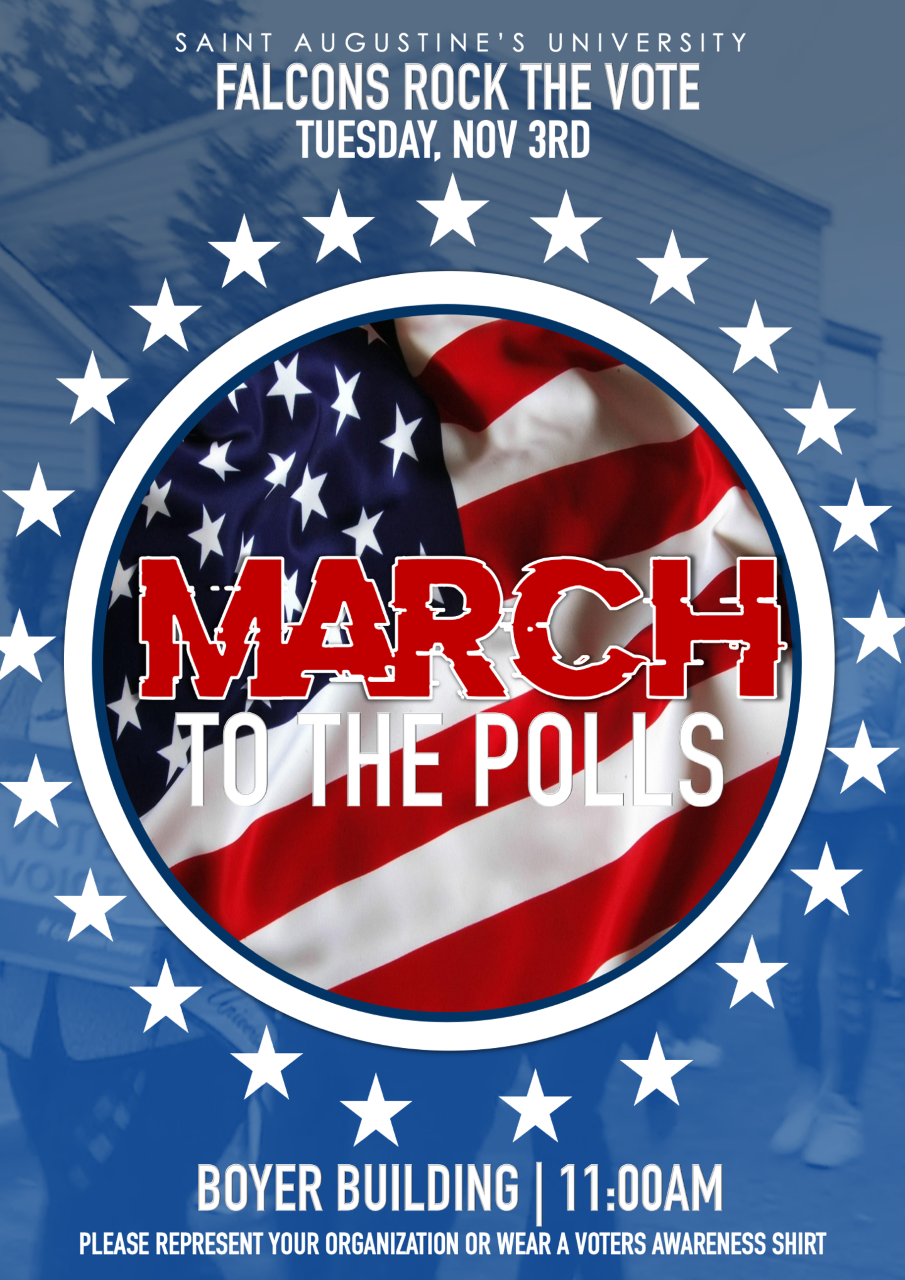 Election Day is Tuesday, Nov. 3, 2020. On this day, SAU Falcons who are registered voters in North Carolina will march to the Tarboro Road Community Center and vote.  This is different than early voting, where eligible individuals may cast a ballot at any early voting site in Wake County.
Polling places will be open from 6:30 a.m. to 7:30 p.m: Any voter in line at their assigned polling place at 7:30 p.m. will be able to vote. The busiest times tend to be early in the morning and just before the polls close. Avoid longer lines by voting at off-peak times.
Find your sample ballot: Registered voters may enter their information into the Voter Search tool to view their 2020 general election ballot. Please note, you must enter your voter information as there are about 2,000 different ballot styles across the state.  
Unsure if you are registered? Find out if you are registered to vote by entering your information into the Voter Search tool.
The State Board asks that all voters respect the right of others to participate in the election. Intimidating any voter is a crime. Voters who feel harassed or intimidated should notify an election official immediately.
Significant precautions will be made to protect voters and election officials against the transmission of coronavirus. These include enforcing social distancing, erecting barriers between election workers and voters at check-in tables, and more. For more information, please visit Voting and Coronavirus.
FREQUENTLY ASKED QUESTIONS
Can I register to vote on Election Day?
No. The regular voter registration deadline is 25 days before an election. Any eligible individual who misses that deadline may register and vote during the one-stop early voting period at any early voting site in their county.
Do I need an ID to vote?
Voters are not required to show ID for elections in 2020.
What if there are questions about my registration or eligibility to vote?
No voter should be turned away. If questions arise about a voter's eligibility to vote, the voter may vote a Provisional Ballot. For more information, see our Provisional Voting page.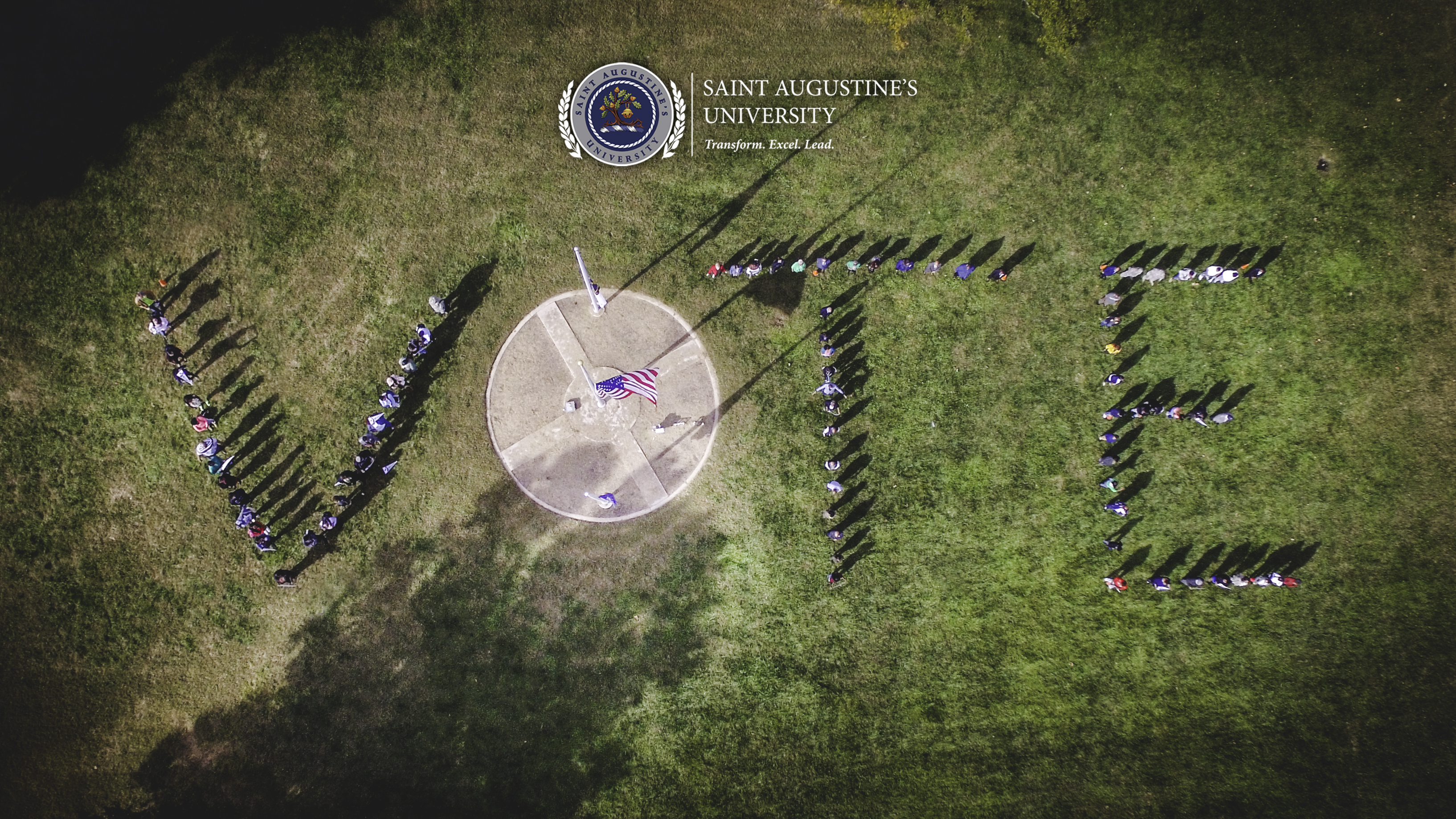 LAST TIME WE MARCHED TO THE POLLS...