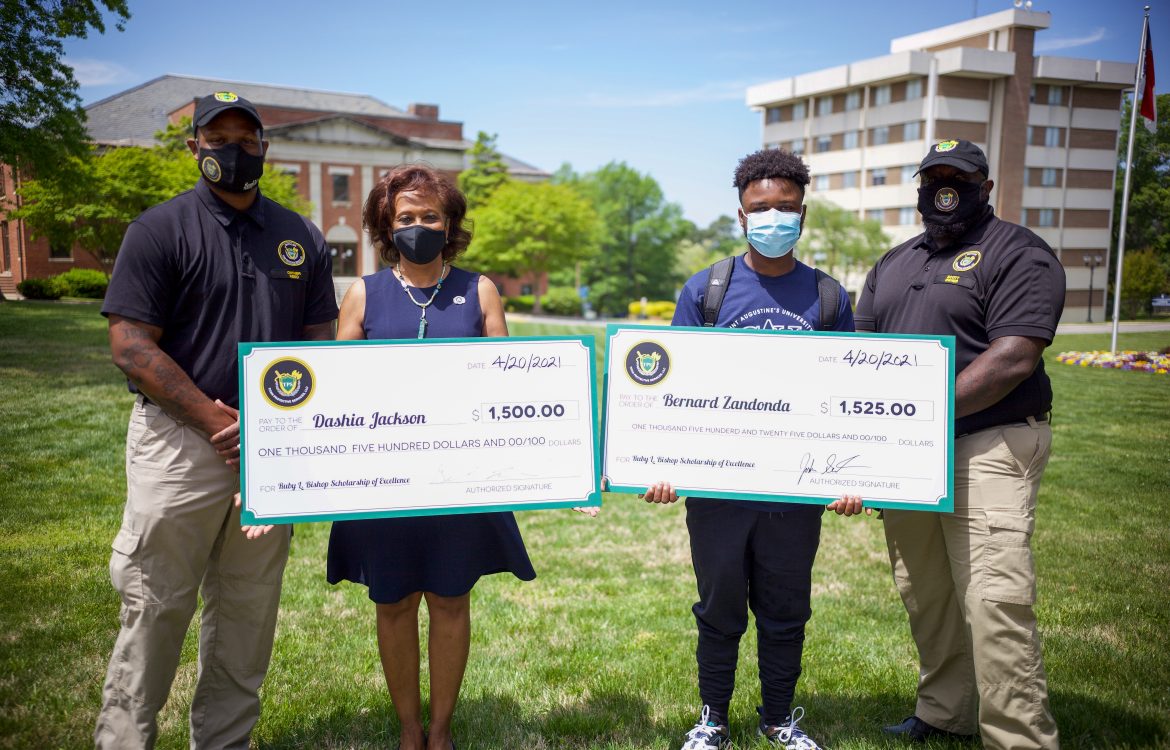 Former SAU Students Commit Donation for Student Scholarship
Former Saint Augustine's University (SAU) students Joshua Scott and Gerald Reed returned to campus to give back to students what the university gave to them. The two men met at SAU, became best friends and are now co-owners of Titan Protective Services LLC, a successful security company founded in 2019 that operates mainly in Texas and the DC-Metro area but is expanding rapidly.
"I would not be who I am today if it wasn't for St. Aug," said Reed, who also has served as an Active-Duty Soldier in the US Army for 16 years. "Our business is here today because of the friendship that was started on this campus."
As their business grew, the two began seeking ways to give back. The result was the creation of their own scholarship called the Ruby Bishop Scholarship of Excellence, that is given on behalf of Titan Protective Services to HBCU students majoring in Business Management or Criminal Justice.
"With us both being from DC, our plan was to split our donations between students in DC, Texas and St. Aug.," said Scott, who previously worked with Fortune 25 companies in the telecommunications industry as a field technician and manager. "After thinking it over, we decided 'why not give it all to students from St. Aug?'"
Reed and Scott gave a total of $3,025 to the 1K Scholarship fund to help students Dashia Jackson and Bernard Zandonda close their financial gaps.
Jackson, who received $1,500, is a junior majoring in Criminal Justice and is member of the SAU Women's Basketball Team.
"I'm very ecstatic and appreciative of them giving me this scholarship," she said. "Receiving a gift of this kind helps me strive to be a better student and person."
Zandonda, who received $1,525, is a sophomore honor student from Zimbabwe majoring in Computer Information Systems with a 4.0 GPA.
"I could not have gotten this far without the help that our school gets from donors like them," said Zandonda. "The donations that our school gets make it possible for us to have the necessary resources that we need to succeed in this journey."
The Office of Alumni Affairs would like to thank Joshua Scott and Gerald Reed of Titan Protective Services LLC for their commitment to support our students. SAU Alumni can still make a difference in a student's life by donating to the 1K Scholarship Fund. Give here and select "1K Scholarship" to contribute. Every little bit counts!