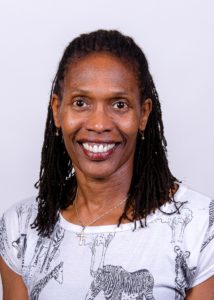 Brenda I. Watson, Ph.D.
Assistant Professor

Department of Public Health and Exercise
Contact Info:
biwatson@st-aug.edu
919.516.4302
Penick Hall Room 108
Educational Background
B.S. – North Carolina State University
M.S. – Walden University
Ph.D. – North Carolina State University
Area(s) of Research
Public Health

Exercise Science
Certification(s)
Aerobics and Fitness Association of Present America (AFAA) in Certified Fuzecraze, group exercise class, group aerobics class

Personal Fitness Trainer (AFAA)
Publication(s)
David L. Jordan, Rick L. Brandenburg, P. Dewayne Johnson, Brian M. Royals, Brenda Watson (2008) Interactions of Chlorpyrifos and Herbicides Applied to Peanut (Arachis hypogaea L.). Peanut Science: Vol. 35, No. 1, pp. 32-37.
R. L. Brandenburg, Xia, Y., and Watson B. 2005. Comparative toxicity and efficacy of selected insecticides in field and greenhouse assays against tawny and southern mole crickets (Orthoptera: gryllotalpidae). Journal of Entomological Science 40 (2): 115 – 125.
Brenda I Watson, Hammerburg B. 2000. Identification of a collectin-like protein in pig serum that binds a component in perienteric fluid from Ascaris suum. Comparative Immunology, Microbiology & Infectious Diseases 23 113 – 124.
Community Involvement
Health and Wellness Ministry – Watts Baptist Church

AAU Certified Referee