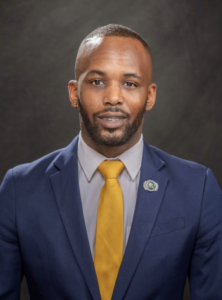 Runell King, Ph.D.
Vice President of Institutional & Sponsored Research

Office of the President
Contact Info:
rking@st-aug.edu
919.516.4124
Benson Hall, Room 108
Educational Background
B.S. – Sociology | Mathematics, 2013
Dillard University, New Orleans, LA
M.A. – Higher Education Student Affairs Administration, 2015
Louisiana State University, Baton Rouge, LA
Ed.S. – Applied Statistics, 2015
Louisiana State University, Baton Rouge, LA
Ph.D. – Educational Leadership & Research Methods, 2016
Cognate: Applied Statistics
Louisiana State University, Baton Rouge, LA
Runell J. King, Ph.D. serves as the Vice President of Institutional & Sponsored Research within the Office of the President at Saint Augustine's University (SAU).
As a scholar-practitioner, Dr. King engages in interdisciplinary research related to educational access, equity, student success, educational policy, and the intersections between race, gender, and education. Dr. King has also dedicated research toward High-Achieving African American male student-athletes at predominately white institutions. In his work, he employs qualitative, quantitative, and mixed methodological approaches and has an explicit focus on racially minoritized, underserved, and system-impacted student populations across diverse educational contexts.
Some of his current scholarship examines the socio-ecological factors that influence college success for youth impacted by poverty, barriers to college enrollment for marginalized students, and the role of institutional leaders in cultivating racially equitable and diverse campus environments. He has published over 15 scholarly publications that appear in a wide-range of outlets including high-impact, peer-reviewed journals such as Urban Education, Teachers College Record, Journal of Diversity in Higher Education, and Journal of College Student Development, to name a few.
He is also actively involved in the Association for the Study of Higher Education (ASHE), American College Personnel Association (ACPA), and American Education Research Association (AERA).
Drawing on his scholarly expertise and professional experiences in higher education, Dr. King has consulted with several colleges and universities, and frequently speaks at conferences and leadership academies on issues related to equity-minded leadership, race-conscious student success practices, and college student engagement and sense of belonging, among other important
topics, across a wide-range of disciplines and areas in higher education.
For his early career accomplishments, Dr. King has served in a variety of educational leadership roles ranging from K-12 through Higher Education. King served as Academic Coordinator, Principal,
Director of Admissions & Recruitment, and recently as Director of Data, Assessment, & Quality Enhancement Plan (QEP) at Southern University A&M College in Baton Rouge, LA.
Dr. King is a member of Alpha Phi Alpha Fraternity Inc. and is the recipient of multiple awards including 40 under 40 at his alma mater-Dillard University, National Principal Academy Fellow, and Most Outstanding Educator in Urban New Orleans, LA.