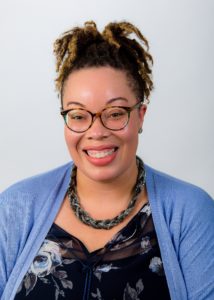 Erin L. Berry-McCrea, Ph.D.
Assistant Professor

Department of Media and Communications
Contact Info:
eberrymccrea@st-aug.edu
919.516.4371
Boyer Building Room 205
Educational Background
B.S. – Mass Communication
University of North Carolina – Pembroke
M.A. – Organizational Communications (Public Affairs)
Bowie State University
Ph.D. – Language, Literacy, and Culture
The University of Maryland, Baltimore County (UMBC)
Area(s) of Research
Language, Culture, and Communication

African-American Rhetoric, Intercultural Communication, Multicultural Education, Interpersonal Communication, Digital Media

Ethics and Research Methods in Media and Communication Studies

Womanist Standpoint and Hip-Hop Lyricism
Publication(s)
Refereed Journal Articles
2018 Berry-McCrea, Erin L. "To My Girls in Therapy See Imma Tell You This for Free…" Black millennial women speaking truth to power in and across the digital landscape." Meridians: feminism, race, transnationalism (In Press). https://www.jstor.org/stable/10.2979/meridians.16.2.17?seq=1#page_scan_tab_contents
2016 Daniels, A. and Erin L. Berry. "For Harriet, For Me: An Analysis of Black Feminist Safe Spaces in Digital Media." PHILLIS: The Journal of Research on African American Women. 3(1)79-90 (In Press).
Book Chapters
2018 Berry, Erin L. "African American Family Language and Literacy Practices in the Digitized World" In T.A. Flowers & L. A. Flowers (Eds.). Engaging African American Families in Literacy. Charlotte, NC: Information Age Publishing (Forthcoming).
Book Reviews
2018 Berry-McCrea, Erin L. A review of Wyletta Gamble-Lomax's "The lived experience of African American women mentors: What it means to guide as community pedagogues." Journal of Negro Education (Forthcoming).
2018 Erin L. Berry-McCrea and Loviglio, J. & A review of Sonja D. Williams' "Word Warrior: Richard Durham, Radio, and Freedom" Radio Journal: International Studies in Broadcast and Audio Media Vol 16:1 (In Press).
Commentaries (Peer-Reviewed)
2017 Flowers, T. A. & Erin L. Berry "21st Century Black Codes in K-12 School Policies Related to Black Hair". Teachers College Record: The Voice of Scholarship in Education (In Press).
Community Involvement
Member, National Council of Teachers of English (NCTE)

Member, National Women's Studies Association (NWSA)

Member, Association of Internet Researchers (AoIR)

Member, National Council of Black Studies (NCBS)

Member, National Communication Association (NCA)

Member, Southeastern Conference on Linguistics (SECOL)
Awards and Honors
2018 Language, Literacy, and Culture Program Graduate Student Dissertation Fellowship, UMBC; $2,000

2018 NCTE Early Career Educator of Color Leadership Award, NCTE; $1,000 https://goo.gl/f79U9J
2017 Dresher Center Residential Graduate Student Research Fellowship, Dresher Center for the Humanities, UMBC; $1,500 https://dreshercenter.umbc.edu/archives/previous-graduate-student-research-fellows/

2017 Towson University Diversity Faculty Fellowship (Individual Research Project); $1,500

2017 Towson University Diversity Faculty Fellowship Grant (Individual Research Project); $750

2016 Erin L. Berry and Talisha Dunn-Square. Co-Recipients of Academic Transformation Grant for Course Redesign of COMM 240: Introduction to Mass Communications, Bowie State University; $6,000

2015 Jodi Crandall Fellowship for Research in Language, Literacy & Culture at UMBC to support pre-dissertation research; $400

2015 Scholarly Development Award from the Dresher Center for the Humanities, UMBC; $1,000

2013 Outstanding Alumni Award for the College of Arts & Sciences, Bowie State University

2010 Second Place for Graduate Student Research, Eastern Communications Association Centennial Scholarship Program

2009 Institutional Merit Scholarship, Bowie State University; $750
Favorite Quote
"If I didn't define myself for myself; I would be crunched into other people's fantasies for me and eaten alive"– Audre Lorde