Saint Augustine's University Renovates and Expands Student Center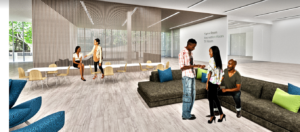 Great things are happening at Saint Augustine's University! A few months ago we reported on receiving a $3.5 million grant from the U.S. Department of Education to make post-hurricane renovations and repairs to three campus facilities. The Martin Luther King, Jr. (MLK) Student Center was one of the three facilities chosen by the university's administration for renovation to provide an accommodating and enriching experience for the modern student.
This project, known as the Martin Luther King, Jr. Student Center Reinvisioning Renovation Project, is a combination of a renovation and expansion of over 4000 square feet. The MLK Student Center will feature a 110 seat multi-media movie theater, student leadership space, a student lounge, and recreation space. The renovation will also include covered patios as well. The estimated completion date of the renovation and expansion is December 2021. The architect, Andre Johnson, explains the renovation in detail, "The design creates an open feeling for the building by introducing transparency at the major social and gathering spaces. The design incorporates much needed general classroom and meeting space, a movie theater, campus merchandise store, study and lounge areas and an enlarged student recreation and game area and Student Government Association (SGA) space with additional student meeting and collaboration areas."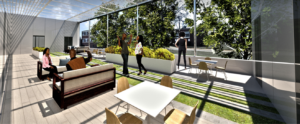 The Martin Luther King, Jr. Student Center Reinvisioning Renovation Project is near to the hearts of current SAU administration, who are focused on the student experience. "A student union is not just a noun, it is a verb—an active space for our students to engage in discourse, civic engagement, social justice, service, leadership and social engagement that informs their learning. The MLK Student Center is a lasting monument on this campus," said Dr. Maria A. Lumpkin. "It's a monument to student life and leadership and a campus hub that will play such a large role in deepening the intellectual climate of the university, and welcoming a variety of stakeholders to our campus.
Dr. Lumpkin continues, "With this renovated building comes growth, it was important to have a design team consisting of students and professional staff who helped to bring the vision of a vibrant and collaborative space to fruition. Our architect, Andre Johnson, synthesized the vision of what our campus hub can become." Johnson, has high hopes for the impact this renovation with have on the students. "The renovation and revitalization of the MLK Student Center provides a "new" campus hub for the university. The aging building is reinvigorated into an active hub that contains multiple student spaces that were lacking or under utilized before."
Not only will the interior of the building experience an overhaul, but the exterior will also be redesigned to make the environment comfortable and long-lasting. "The improvements to the building on the exterior improve the energy efficiency, visual connection and occupant health. The majority of the improvements include the introduction of ample natural light and views through glass, as wells as improved building thermal performance for most of the building," Andre Johnson comments. "The design takes advantage of the awarded grant to resolve moisture related damage from recent weather events as well as providing needed life safety and spatial improvements for an aging facility."