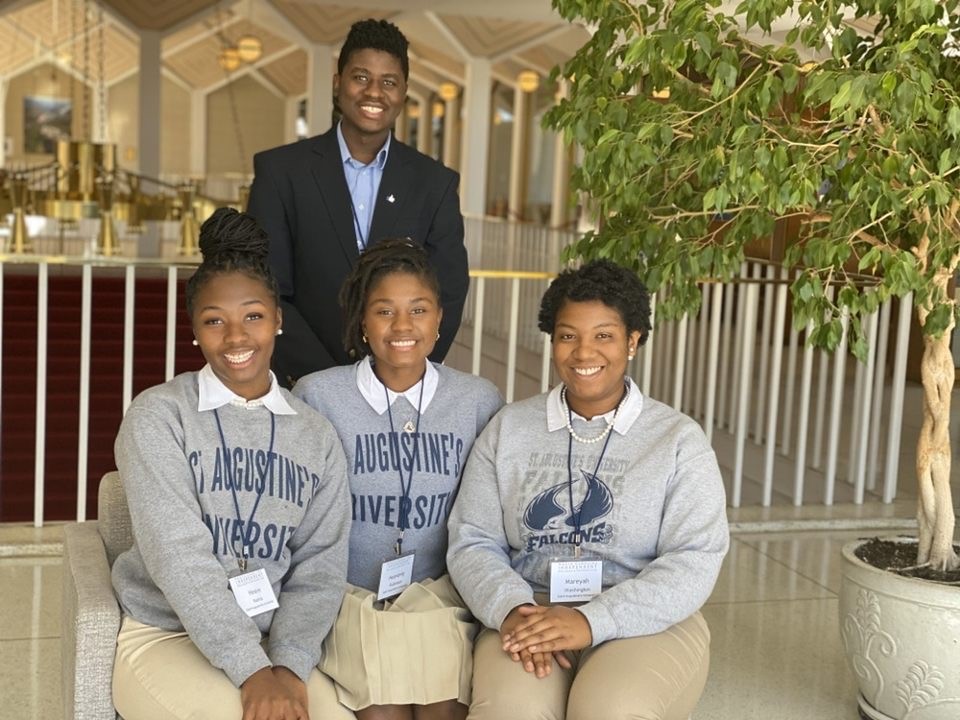 The Saint Augustine's University Ethics Bowl Team Participates in Collegiate Competition
On February 21-22, 2020, the Saint Augustine's University Ethics Bowl Team proudly represented their campus community through competition in the North Carolina Independent Colleges and Universities' (NCICU) 9th Annual Ethics Bowl. Under the advisory of Dr. Shirlkeymu L. Winston, student participants were Tinashe Kucherera (Sophomore), Heave Nahra (Junior), Heavenly Robinson (Junior), and Mareyah Washington (Sophomore).
After months of preparation, they debated various topics under the theme "Ethics in Agriculture". The team won three out of four back to back matches against Johnson C. Smith University, Gardner-Webb University, and St. Andrews University. They lost by one question to Meredith College, which kept the team from competing for in the semi-final round.
"All the participants demonstrated a high level of understanding of the complex issues presented to them," said NCICU President Hope Williams. "It was apparent that they had done considerable research in preparation for the Ethics Bowl and their conduct and commitment to the integrity of the event instills me with great faith in these future leaders."
Twenty-two of North Carolina's private colleges competed in the event which was held at the North Carolina Legislative Complex in Raleigh. More than 60 corporate, nonprofit, legislative and community leaders served as judges and moderators for the two-day event. High Point University was the winner of the competition.
Please help celebrate the SAU Ethics Bowl Team! Their hard work, dedication, and perseverance was admirable. They have intellectually demonstrated that Saint Augustine's University is dedicated to preparing its students to transform, excel and lead in statewide opportunities of friendly competition with our fellow independent institutions.