A Lesson on Black Women Breaking Barriers, Hosted by the North Carolina Museum of History
March 30 @ 7:00 pm

-

8:00 pm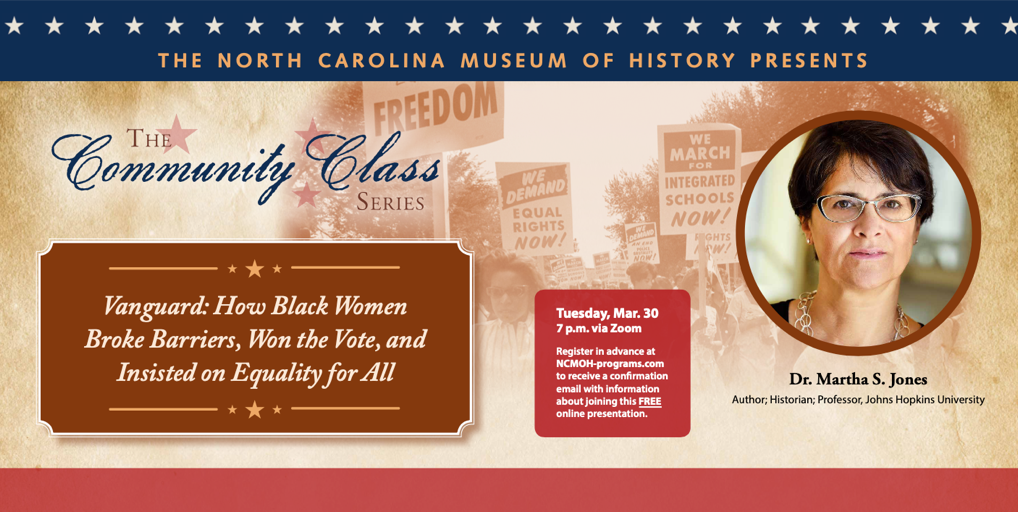 Celebrate Women's History Month with stories on Black women suffragists and activists.
Black activism is central to the fight for social justice, and Black activists are central to that fight. Women of color, as a matter of fact, have been at the center of that fight since the earliest days of the republic. In this session of Community Class, a series for educators, students, and community members at large, we will help conclude Women's History Month with stories of Black women activists, many with ties to North Carolina, who defied both racism and sexism to fight for the ballot.
Dr. Martha S. Jones is a past co-president of the Berkshire Conference of Women Historians, the oldest and largest association of women historians in the United States, and she sits on the executive board of the Society of American Historians. She is currently Society of Black Alumni Presidential Professor and Professor of History at Johns Hopkins University. In addition to Vanguard (2020), which was selected as one of Time Magazine's 100 must-read books for 2020, Jones is author of Birthright Citizens: A History of Race and Rights in Antebellum America (2018), winner of the Organization of American Historians Liberty Legacy Award (best book in civil rights history), the American Historical Association Littleton-Griswold Prize (best book in American legal history), the American Society for Legal History John Phillip Reid book award (best book in Anglo-American legal history), and the Baltimore City Historical Society Scholars honor for 2020, and author of All Bound Up Together: The Woman Question in African American Public Culture 1830-1900 (2007); she is also a coeditor of Toward an Intellectual History of Black Women (2015), and has written for the New York Times, the Washington Post, The Atlantic, USA Today, and more. 
All sessions are free but require advance registration. Register in advance at NCMOH-programs.com to receive a confirmation email with information about joining this online presentation. 
Related Events