Fall and Summer School Registration Opens 4/1/2020
SUMMER SCHOOL REGISTRATION
The completion of the following steps are required to be Cleared
Step 1: Registrar's Office – Students will receive information on what is needed to complete REGISTRATION!
Step 2: Academic Advising – Available to assist NEW Students and Undeclared Majors with schedules, find contacts here. View how to register for classes online below.
Step 3: Admissions – Submit and check for any missing documents in your CAMS portal under document tracking. (test scores, transcripts, etc.)
Step 4: Health Services – Provide HEALTH DOCUMENT FORMS and insurance cards if any changes occurred with personal health insurance coverage, learn more here.
Step 5: Financial Aid – URGENT!!! LOG IN to your SAU Student Portal (CAMS) to accept your FALL 2020 Financial Aid Award.
*Check Your Student Portal to see if there are any "Account HOLDS" or if you need to submit any documents to Financial Aid in document tracking.
Step 6: Pay Enrollment Deposit! – For New and Returning students, pay here.
Step 7: Cashiers – Pay remaining balances (Spring 2020 balances must be paid by August 16)
Ways to pay:
Make payments on

CAMS

(See step 7 on "How to Register for Classes" Step-by-Step Instructions below)

CallMs. Winston at 919.516.4127 

Pay in person in the Hunter Building, Room 2. Hours of Operations are Monday-Friday, 9 a.m. – 4 p.m.

Contact the Office of Scholarships for additional financial assistance at 919.516.4133 or erobinson@st-aug.edu

.

If you receive any outside scholarships or grants, please notify the Office of Financial Aid.

If you still have a balance, visit

 http://st-aug.afford.com 

to enroll in a payment plan.
***Students Must Visit The Steps Below In The Order As Listed***
*Step 8: Billing and Assessment – All students must CLEAR through business accounts to get their Student ID validated.
*Step 9: Deferred Payment Plan – Available for those students that need to set up payment plan through student accounts. View tuition and fees and payment here.
*Step 10: Housing – Verify your room assignment and that your room charges have posted on your bill. (Please refer to your CAMS student portal) If you haven't yet, fill out a Housing Application.
*Step 11: Registrar's Office – Q&A and Textbook Instructions. (All boarding students must show I.D. for all meals. Meal services will STOP if you are not CLEAR by Friday August 7, 2020) (SAU Security will have set days and time for I.D. printing and ID Card Validation)
View the academic calendar for important dates –  view here.
How to Register for Classes
Step 1: Please see Academic Advisor to discuss and get schedule approval for the selected term. 
Step 2: Make sure you are in the Fall of 2020 semester (20/FA). Click Registration on the left side of the screen under Administrative Services to select courses.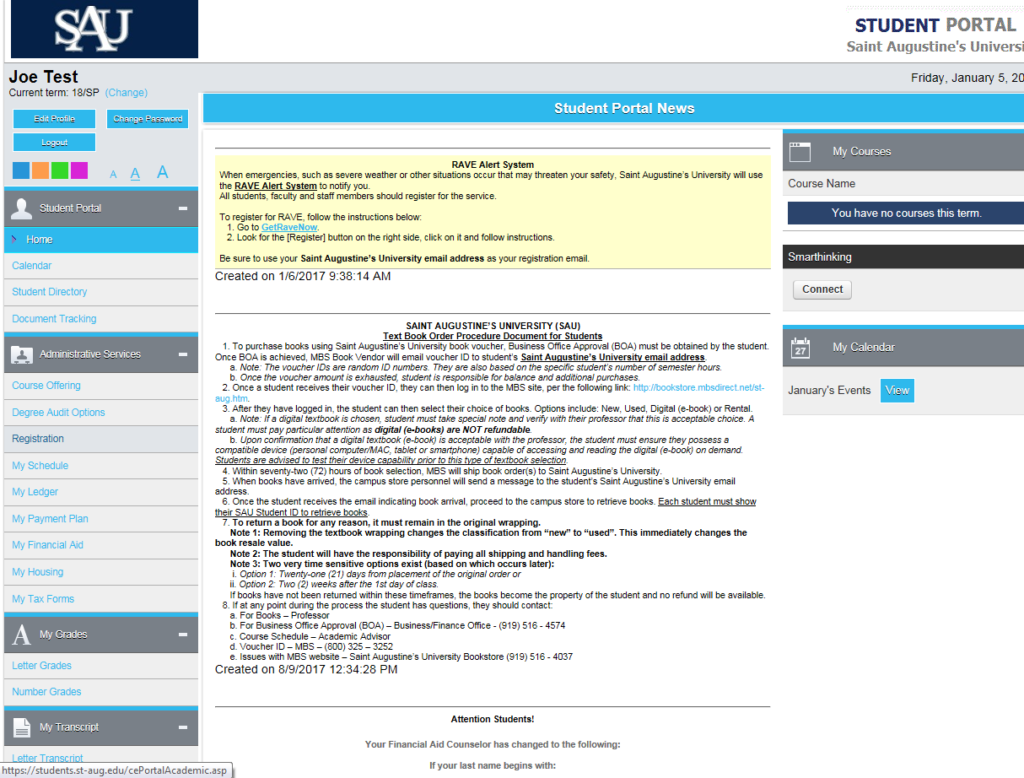 Step 3: Scroll down and select courses for your current term.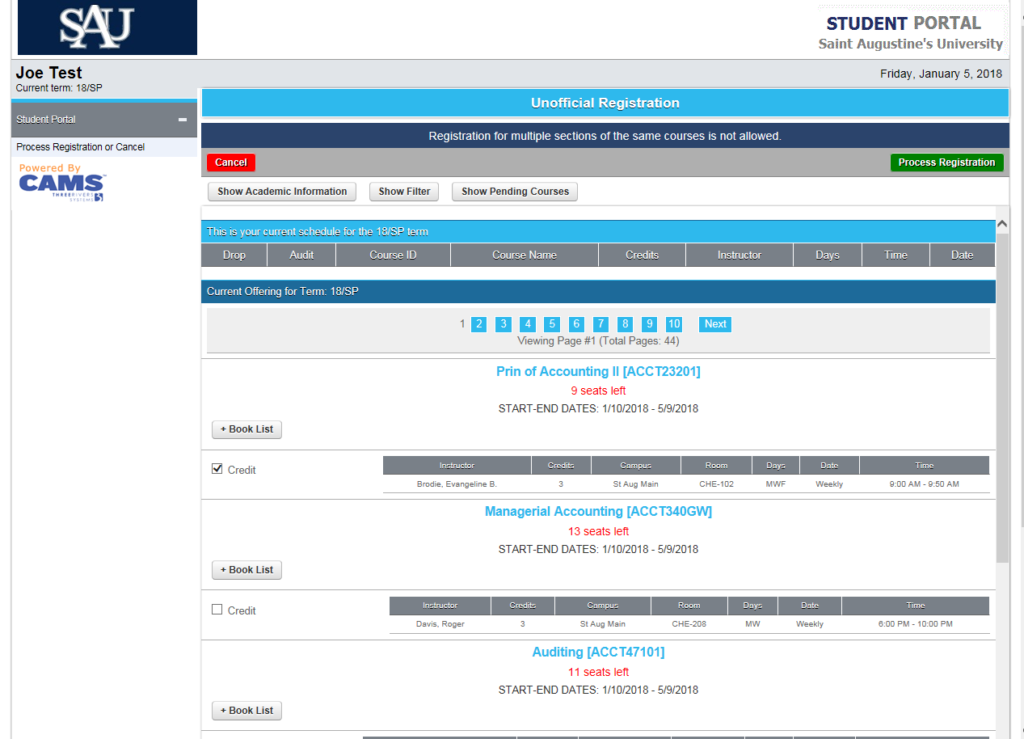 Once classes are selected click the green Process Registration button on the bottom right-hand side.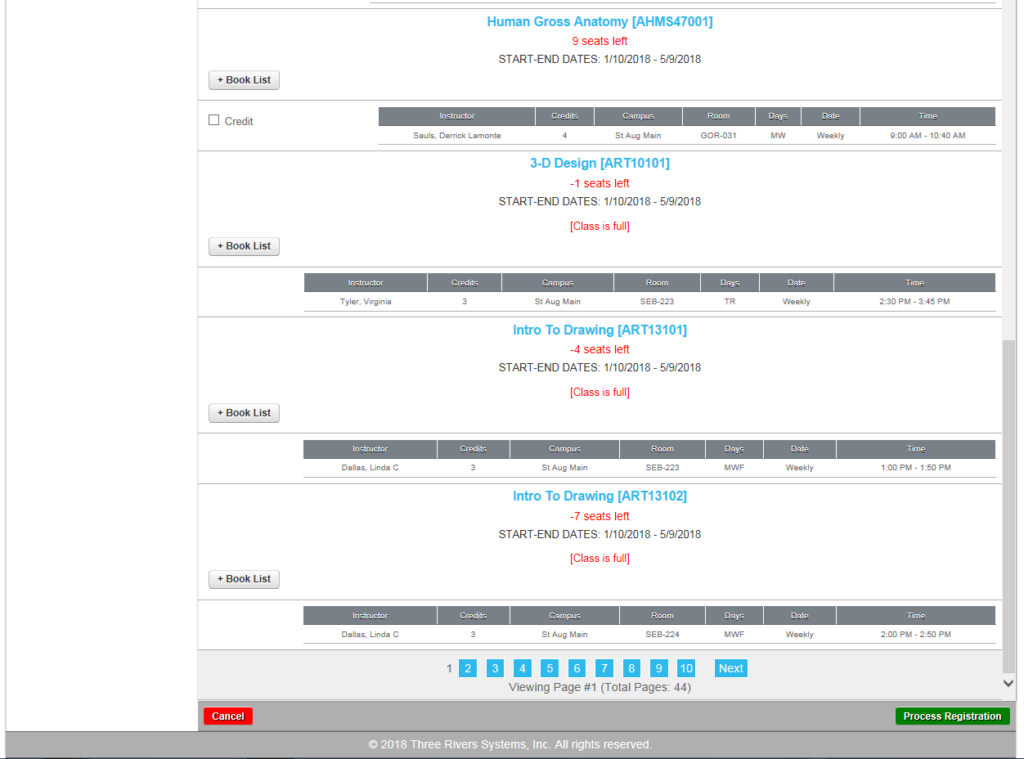 The computer will ask you: "Are you sure you want to process your registration now?" Click OK.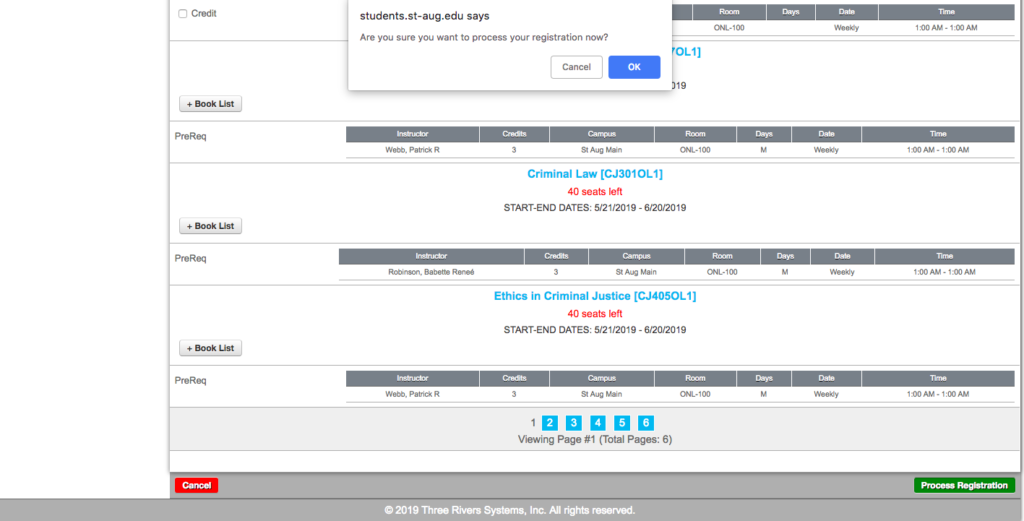 Your unofficial Registration Checkout will appear.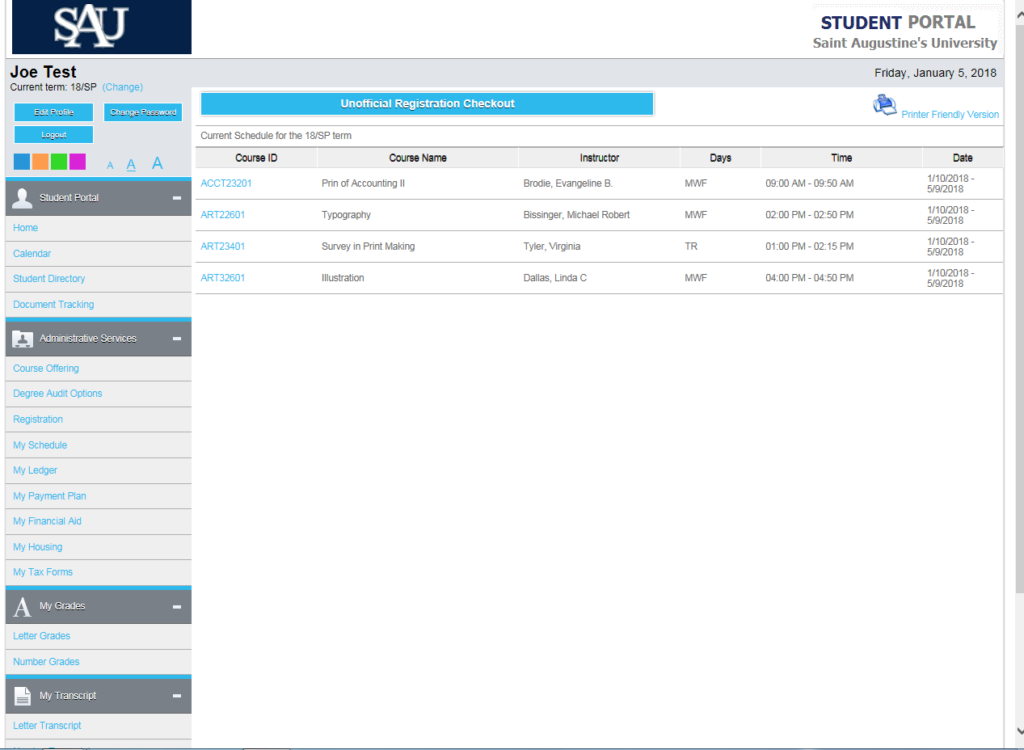 Step 4: Click My Schedule to see your detailed unofficial courses you selected for the term.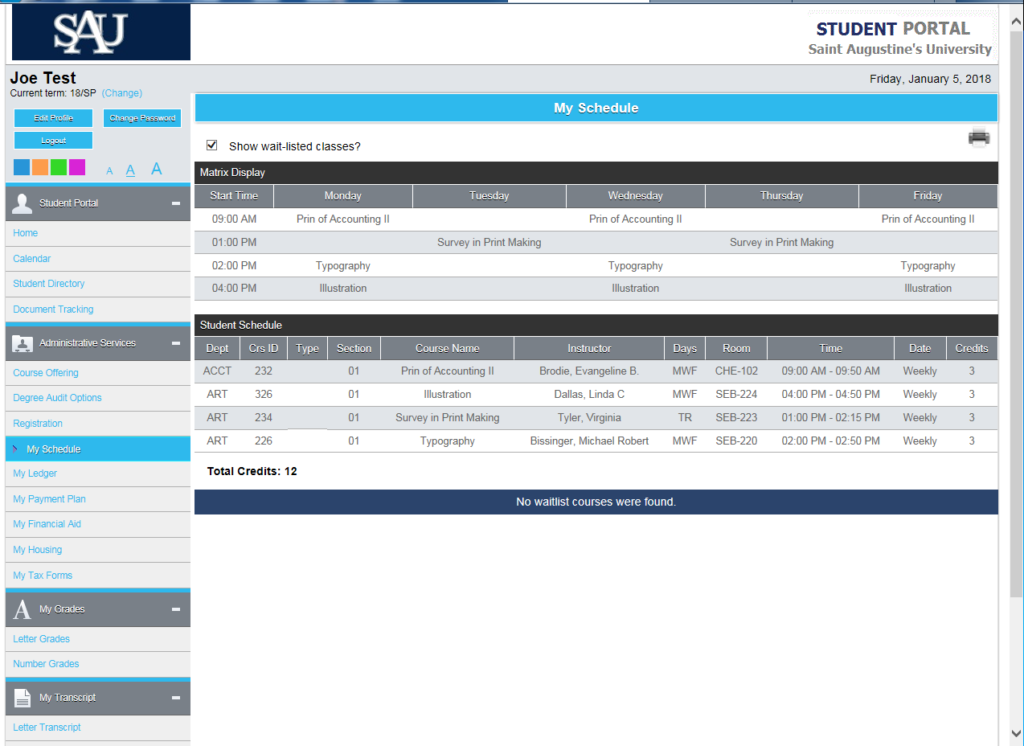 Step 5: Click My Ledger to see all charges for courses, housing, scholarships, and pending Financial Aid.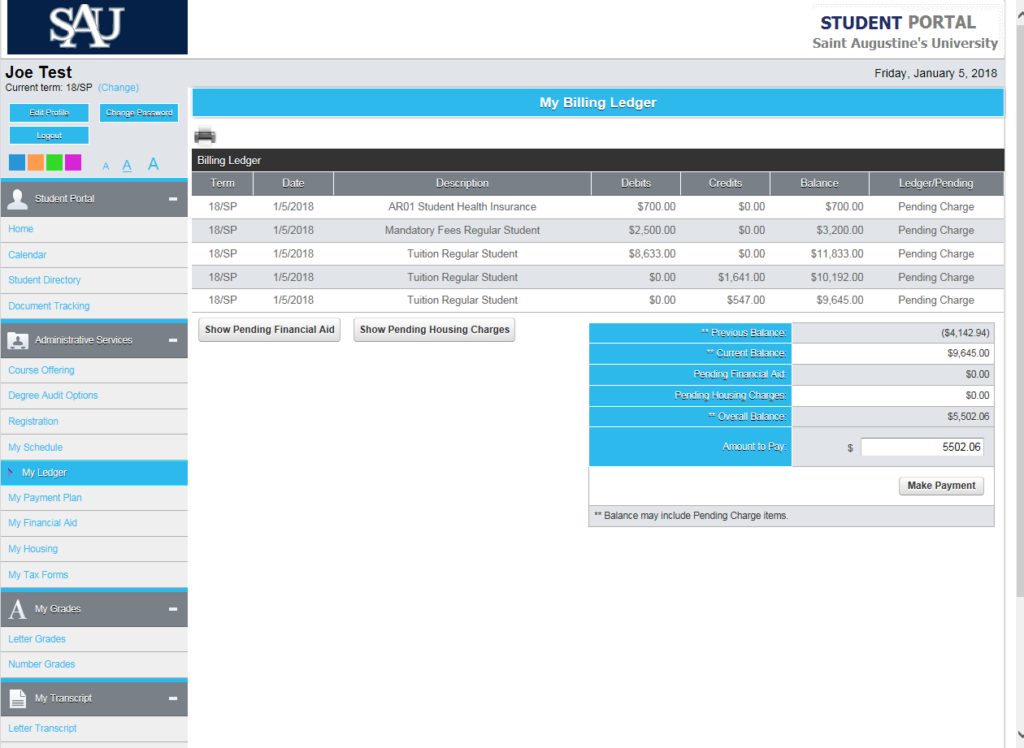 Step 6: Click My Financial Aid to accept or decline Financial Aid for the term. After you select your aid click Submit at the bottom of the page. A message will appear "Once submitted you will not be able to change your decision. Are you sure you would like to submit now?". Make sure you select all aid carefully and click OK.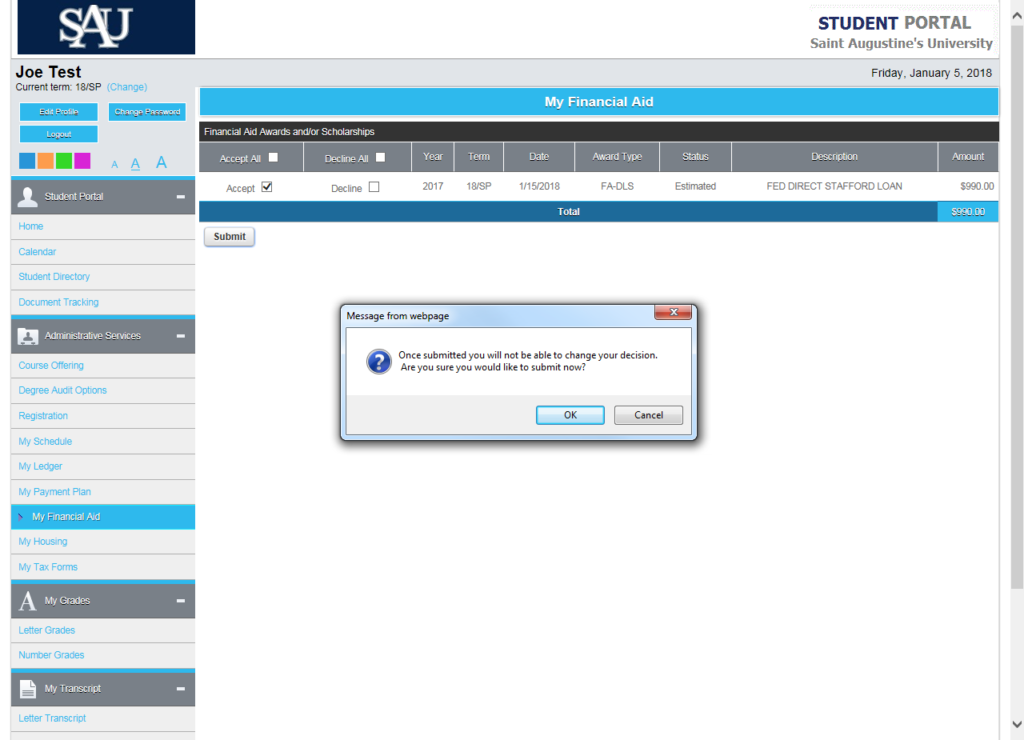 Step 7: Click My Ledger to see your Financial Aid applied to your account. Here you are able to see if you have a balance (which you can make a payment at the bottom of the Ledger by pressing Make Payment button) or you will see your refund in parentheses.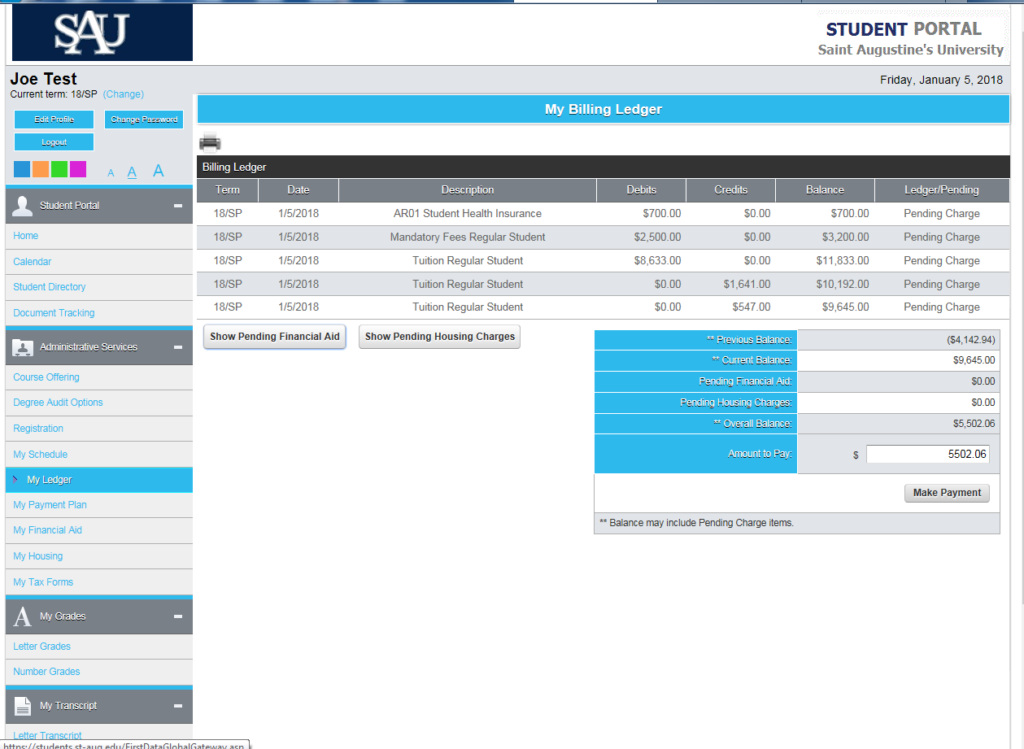 Step 8: Please see the Home screen for instructions for Text Book Order Procedure Document for Students or click here. (Different for summer/fall/spring)
Step 9: Please see the Business and Finance Office for Business Office approval.