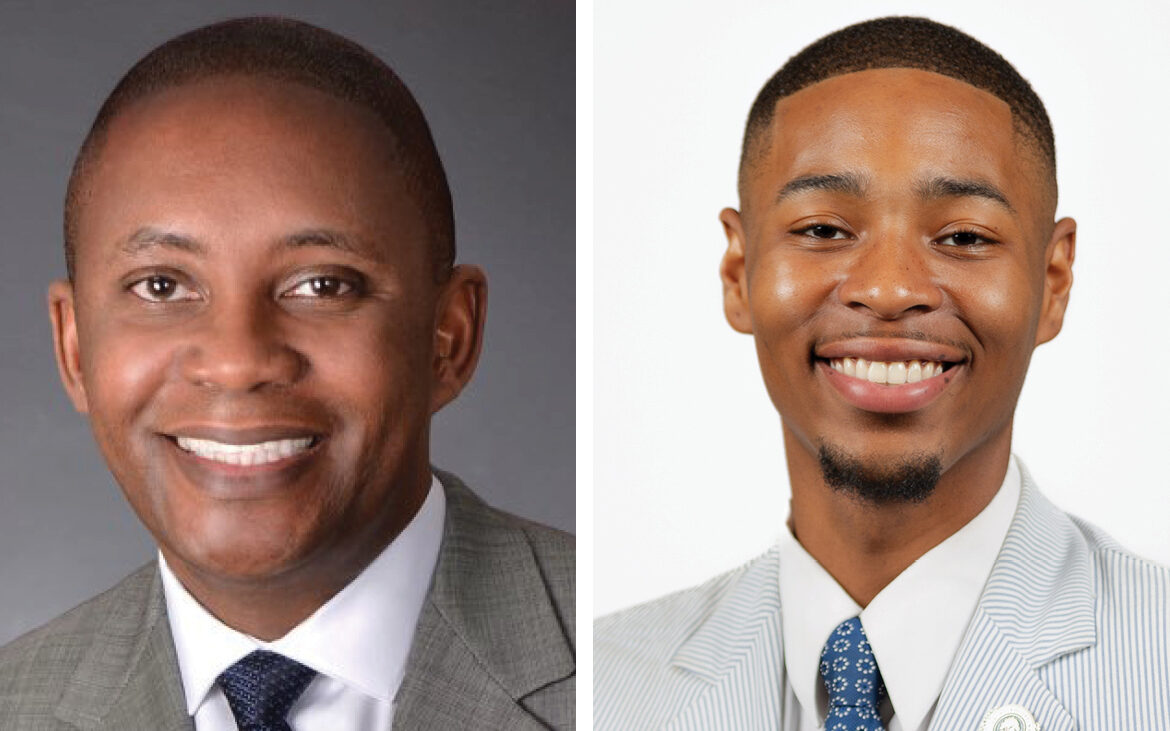 Two New Members Join SAU Board of Trustees
Rufus Montgomery, President of HBCU Change & student representative, Miles Beasley
The appointment of new leadership brings hope for historic financial and enrollment growth at Saint Augustine's University (SAU). The university's board of trustees selects Rufus Montgomery as the newest member and Miles Beasley as the latest student trustee representative.
"We are pleased to have Rufus Montgomery and Miles Beasley join our esteemed board," said The Honorable Justice James E.C. Perry, Chairman of the SAU Board of Trustees. "Mr. Montgomery's extensive experience in fundraising and business development, combined with Mr. Beasley's fresh perspective as a student leader, will provide valuable insights and enhance our commitment to student success and customer service. We are confident their contributions will help SAU thrive and remain a top choice for students seeking a transformative educational experience."
Rufus Montgomery brings a wealth of experience in fundraising and business development, particularly within the Historically Black Colleges and Universities (HBCU) community. He is the President of HBCU Change, a fintech company, and app dedicated to raising $1 billion for HBCUs over the next decade. Montgomery is also the President of The Cascon Group, LLC, a national business development firm. With his extensive track record of success, Montgomery has worked with over 31 HBCUs in various capacities. Montgomery has also served as the Chairman of the Florida A&M University (FAMU) Board of Trustees. He holds top honors from FAMU, including the Distinguished Alumni Award and the FAMU Legacy Award. Beasley will serve as a student representative and has a strong record of leadership, including President of the SAU Chapter of the National Association of the Advancement of Colored People (NAACP), the SAU Chapter of the College Democrats of North Carolina, and a student reporter for the WAUG Network.
"We are thrilled to welcome Rufus Montgomery to Saint Augustine's University Board of Trustees," said SAU President Dr. Christine Johnson McPhail. "His fundraising and business development expertise, particularly within the HBCU community, will be invaluable as we expand and strengthen our university's financial resources. We have great confidence that Mr. Montgomery's leadership and vision will contribute to the growth and sustainability of Saint Augustine's University."
Mr. Montgomery is a decorated Operation Desert Shield/Desert Storm veteran serving in Europe, Southwest Asia, and Georgia as a combat engineer in the U.S. Army. In the political arena, he has served as a legislative aide in the U.S. House of Representatives, a founding board member of the Conservative Policy Leadership Institute, co-chairman of the 20/20 Bipartisan Justice Center, member of the Electoral College and an advisor and staffer for congressional, mayoral, gubernatorial, senatorial and presidential campaigns.
"I am honored to join the SAU Board of Trustees and contribute to the mission and vision of this esteemed institution," said Montgomery. "I look forward to working closely with the board, faculty, staff, and students to enhance the financial growth and sustainability of Saint Augustine's University, ensuring that it continues to be a thriving institution of higher education."
Mr. Montgomery's civic affiliations include membership in the Veterans of Foreign Wars (Life Member), American Israel Public Affairs Committee (AIPAC) National Council, American Legion (Life Member), Atlanta History Center, FAMU National Alumni Association (Life Member), Friends of the Israel Defense Forces, High Museum of Art and Coverdell Leadership Institute. Montgomery resides in Atlanta, Georgia.
Miles Beasley is a native of Rocky Mount, NC, rising senior majoring in Communications with a broadcast concentration. Beasley also serves as the Student Government Association Director of Constitutional Affairs and Chairman of the SAU Student Action Committee of the NC Black Alliance.
"I am blessed and honored for the chance to represent my fellow students and make their voices heard in the decision-making process of my institution's governing body," said Beasley. "I am excited to work collaboratively with the board to positively impact the university community at SAU by improving student engagement and enhancing the overall experience of our students."