Falcons announce 2015 football schedule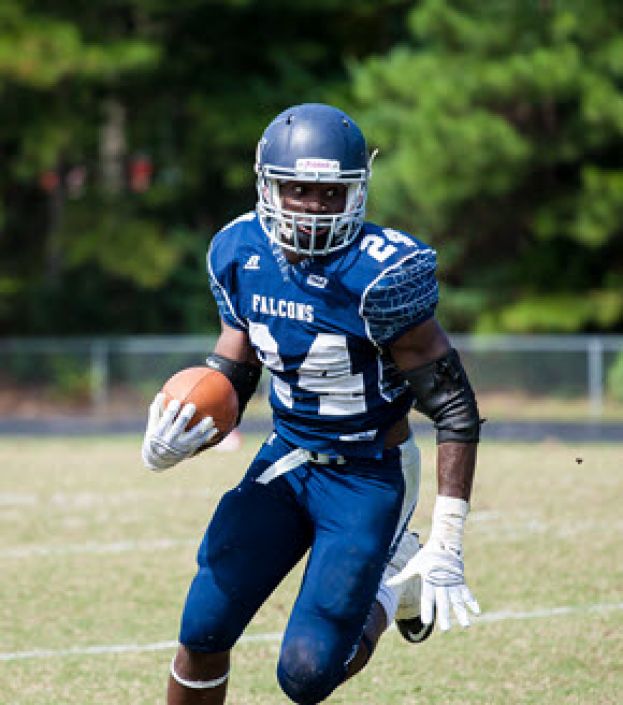 Five home games on campus and a non-conference road encounter against Division I North Carolina Central University highlight the 2015 Saint Augustine's University football schedule, which was released on Tuesday, June 9, 2015.
The Falcons will play their entire home schedule at the George Williams Athletic Complex for the first time ever. In the past three years, they hosted six games at the stadium including four Homecoming contests and two match-ups against crosstown rival Shaw University. Their record at the stadium is 5-1 including a 2-0 mark against Shaw.
"It is a blessing to have five home games on campus," said Michael Morand, who enters this season as the Falcons' full-time head coach after directing the team on an interim basis in 2014. "The team is really looking forward to playing on its home turf. What a way to start my first full season as head coach."
The Falcons begin the 10-game regular season Sept. 5 with an eye-opening road contest against state rival and Football Championship Subdivision (FCS) member North Carolina Central in Durham, N.C., at 6 p.m. In 2013, the Falcons nearly de-clawed the host Eagles in their season opener before succumbing 23-20 in two overtimes. The Falcons topped the Eagles in Durham in 2003 and 2005.
After tangling with North Carolina Central, the Falcons are home for two consecutive weeks against CIAA foes in non-conference affairs. They open their home schedule Sept. 12 against Virginia Union University and Sept. 19 against Elizabeth City State University with both games beginning at 1 p.m. The contest against Virginia Union is a rematch of the "Hurricane Game" in 2011 which was played in heavy rain and extremely strong winds in Richmond, Va. Elizabeth City State will visit the Falcons for the second time in three seasons.
The Falcons open the CIAA conference season with two away games. They travel to Chowan University Sept. 26 for a 1 p.m. kickoff in Murfreesboro, N.C., and visit defending CIAA champion Virginia State University Oct. 3 in Ettrick, Va., at 2 p.m. Last season, the Falcons edged Chowan at home 33-31 on a late touchdown and lost 42-35 to Virginia State after they rallied from a 28-point second-half deficit.
Two key Southern Division home games await the Falcons in mid-October. They take on Livingstone College Oct. 10 and Winston-Salem State University Oct. 17 with both contests beginning at 1 p.m. The Falcons have won their last seven games against Livingstone since the 2008 season including a 31-30 road win in 2014. Winston-Salem State is the four-time defending Southern Division champion, but the Falcons always contest the nationally-ranked Rams when they meet. The Rams won 36-13 last season, but the outcome wasn't decided until the fourth quarter.
The Falcons will attempt to snap a two-game losing streak to Fayetteville State University when the teams meet in Fayetteville, N.C., on Oct. 24 at 2 p.m. On Oct. 31, the Falcons will take on Johnson C. Smith University on Homecoming Day and Senior Day at 1 p.m. The Falcons have won their last three home contests against Smith, including a 34-15 Homecoming thumping in 2011 which was the first-ever game at the George Williams Athletic Complex.
The regular season concludes Nov. 7 against Shaw in Durham, N.C., at 1 p.m. The Falcons gained bragging rights after knocking off the Bears 16-9 at the George Williams Athletic Complex last season. This year's contest will be played on Shaw's Homecoming Day.
Below is the 2015 football schedule:
| | | | |
| --- | --- | --- | --- |
| Date | Opponent | Location | Time |
| Sept. 5 | at North Carolina Central | Durham, NC | 6 p.m. |
| SEPT. 12 | VIRGINIA UNION | RALEIGH, NC | 1 P.M. |
| SEPT. 19 | ELIZABETH CITY STATE | RALEIGH, NC | 1 P.M. |
| SEPT. 26 | Chowan* | Murfreesboro, NC | 1 p.m. |
| Oct. 3 | at Virginia State* | Ettrick, VA | 2 p.m. |
| Oct. 10 | LIVINGSTONE* | RALEIGH, NC | 1 P.M. |
| Oct. 17 | WINSTON-SALEM STATE* | RALEIGH, NC | 1 P.M. |
| Oct. 24 | at Fayetteville State * | Fayetteville, NC | 2 p.m. |
| Oct. 31 | JOHNSON C. SMITH*# | RALEIGH, NC | 1 P.M. |
| Nov. 7 | at Shaw* | Durham, NC | 1 p.m. |
| Nov. 14 | CIAA Championship | Durham, NC | 1 p.m. |
* – CIAA conference games
# – Homecoming
Home games in BOLD CAPS at George Williams Athletic Complex