Men's Track & Field are the Champions for the 19th Time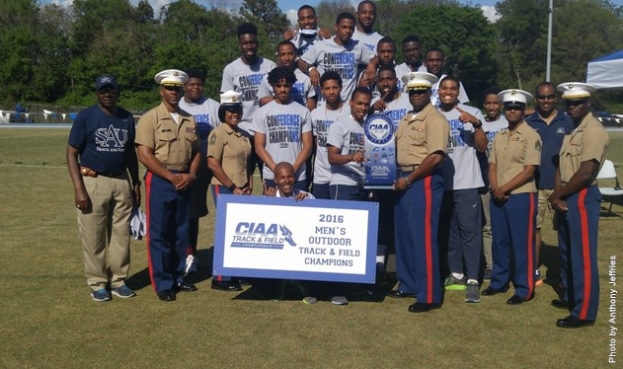 The Saint Augustine's University men breezed to its 19th straight title and the women took second in the CIAA Outdoor Track and Field Championships at the Irwin Belk Complex on Saturday, April 23, 2016.

The Falcons cruised to victory in the men's division with 203 points. Virginia Union was second with 139.83 points and Virginia State finished third with 107.33 points.
The Lady Falcons scored 156 points to capture second place. Johnson C. Smith won the women's crown with 165 points and Winston-Salem State placed third with 138.50 points.
Both teams, ranked No. 1 nationally in the men's and women's divisions, performed magnificently in the two-day championship meet as they produced eight national top 10 Division II times and marks. Tia-Adana Belle (Jr./St. George, Barbados) solidified her top-ranking in the women's 400 hurdles with a time of 55.82 which is the fifth-best in the world this year. It is also an Olympic qualifying time.
Team-wise, the Falcons were too much for the rest of the men's teams in the meet. Sparked by CIAA Track MVP Immanuel Hutchinson (Sr./San Jacinto, CA) and CIAA Field MVP Jumonne Exeter (So./St. Vincent), the Falcons won with their usual formula – depth in the sprints, jumps and long distance events. The Falcons started the day in second place with 41 points, but scored 162 points to surge past Virginia Union, who led after the first day with 61.83 points.
"The men did well," Legendary Falcons' Head Coach George Williams said. "I am really happy with 203 points. I hope we can compete at this same level in the NCAA Championships next month."