Alumni Spotlight: Dr. John T. Larkins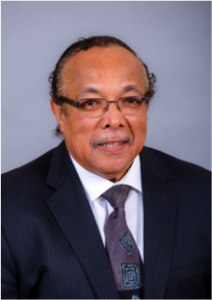 Dr. John T. Larkins, '66, has been a continuous supporter of Saint Augustine's University (SAU) for more than five decades. In the seventies and eighties, Dr. Larkins supported SAU's fundraising and recruitment efforts as an active alum and later President of the Greater Washington, DC Chapter. In February 1981, Dr. Larkins received the Distinguished Service Scroll from SAU from former President Dr. Prezell R. Robinson to recognize his contributions to the University. In addition, Dr. Larkins received recognition from the United Negro College Fund (UNCF) for his service and active support of the National Alumni Council and SAU. In the nineties, Dr. Larkins enthusiastically supported the Congressional Black Caucus and gave multiple presentations at their annual Black Caucus Week relating to funding for HBCUs.
Recently, Dr. Larkins led his Class of 1966 to raise over $50,000 for their 50th Class Anniversary in May 2016. In June 2021, he facilitated another $17,500 donation from the Class of 1966 for their 55th Anniversary.
Under Dr. Larkins' leadership as the current President of the National Alumni Association for Saint Augustine's University, alumni giving has consistently increased since 2018. Additionally, in 2019, Dr. Larkins led a fundraiser of over $200,000 to make necessary dormitory repairs. During his tenure as President, Dr. Larkins has personally donated over $60,000 to his alma mater.
Dr. Larkins has several decades of experience with mentoring through various community clubs and organizations, including a successful mentorship program with the Washington, DC Chapter. His experience proved valuable in starting SAU's first university-wide mentorship and retention program for all students in partnership with SAU's Office of Student Services.
Dr. Larkins is a lifelong partner to SAU's enrollment efforts, an advocate for the University at various events, and a promoter of increased alumni involvement in supporting their alma mater.