Saint Augustine's University Department of Police and Public Safety takes the safety and security of our campus community very seriously. As part of our continuous efforts to educate the campus community on crime prevention and emergency preparedness, we encourage you to review the "Run. Hide. Fight." video.
The 'Run. Hide. Fight.' Model is considered a best practice in crisis response, particularly in the event of an active shooter situation. Many organizations, including Saint Augustine's University, subscribe to this model in response to any immediate threat.
Please take a moment to familiarize yourself with the 'Run. Hide, Fight.' model.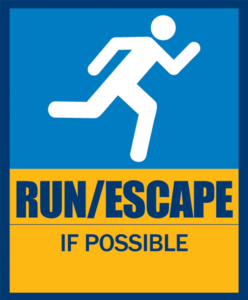 Have an escape route in mind

Evacuate and leave your belongings behind

Help others escape, if possible

Do not attempt to move the wounded

Prevent others from entering an area where there is an active shooter

Call 919.516.4911 or 911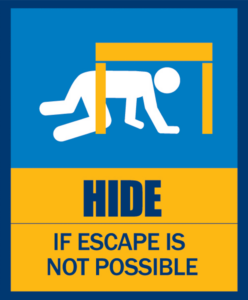 Hide in an area out of the shooter's view

Lock door or block entry to your hiding place

Silence your cell phone (including vibrate mode) and remain quiet
Fight as a last resort and only when your life is in imminent danger

Attempt to incapacitate the shooter

Act with as much physical aggression as possible

Improvise weapons or throw items at the active shooter

Commit to your actions, your life depends on it
TO REPORT AN EMERGENCY AT SAU ALWAYS DIAL 919.516.4911
FOR NON-EMERGENCIES DIAL 919.516.5202
METHODS OF EMERGENCY NOTIFICATION AND COMMUNICATION
HOME PAGE MESSAGE
In cases of emergencies or weather alerts, we will post notifications on the home page of our website.
BROADCAST EMAIL
Broadcast emails are delivered to all official University email accounts containing @st-aug.edu. If a different email address is listed as your preferred address, please sign up for RAVE and use that email address as an alternate form of contact.
CAMPUS HOTLINE
Call 919.516.5092 for weather alerts and closing announcements.
CAMPUS AND EXTERNAL MEDIA
WAUG (750 AM), as well as the Raleigh print and broadcast media, likely would cover or include information about emergencies on campus.
CRIME ALERTS
Used by campus police to send information to campus and seek assistance from the campus in situations involving a localized crime.
For periodic updates about campus safety initiatives, visit the University web page periodically. We are committed to working with all members of the campus community in continuing to make Saint Augustine's University a safe place to live and work.