A Talented Tenth: Ten 'Bs' of Black History
March 24 @ 11:00 am

-

1:00 pm
The English Department of SAU is calling for student submissions on the following outstanding Black leaders. Some of these luminaries became ancestors long ago, while others joined the ancestral chorus only recently. Each of these individuals made a lasting impact on Black America, the nation and the world. The student conference will be held virtually.
We invite proposals from across all academic disciplines. Proposals should consist of approximately 250 words and must be submitted no later than Friday, March 11. Send proposals to Dr. Janelle Jennings-Alexander (jjalexander@st-aug.edu)
Topics to consider:
How are these individuals relevant to the 21st century?
What are their major contributions?
What obstacles did they overcome to achieve success?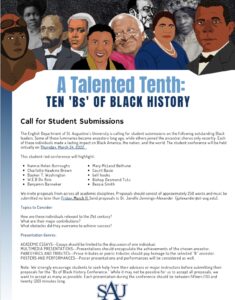 Related Events