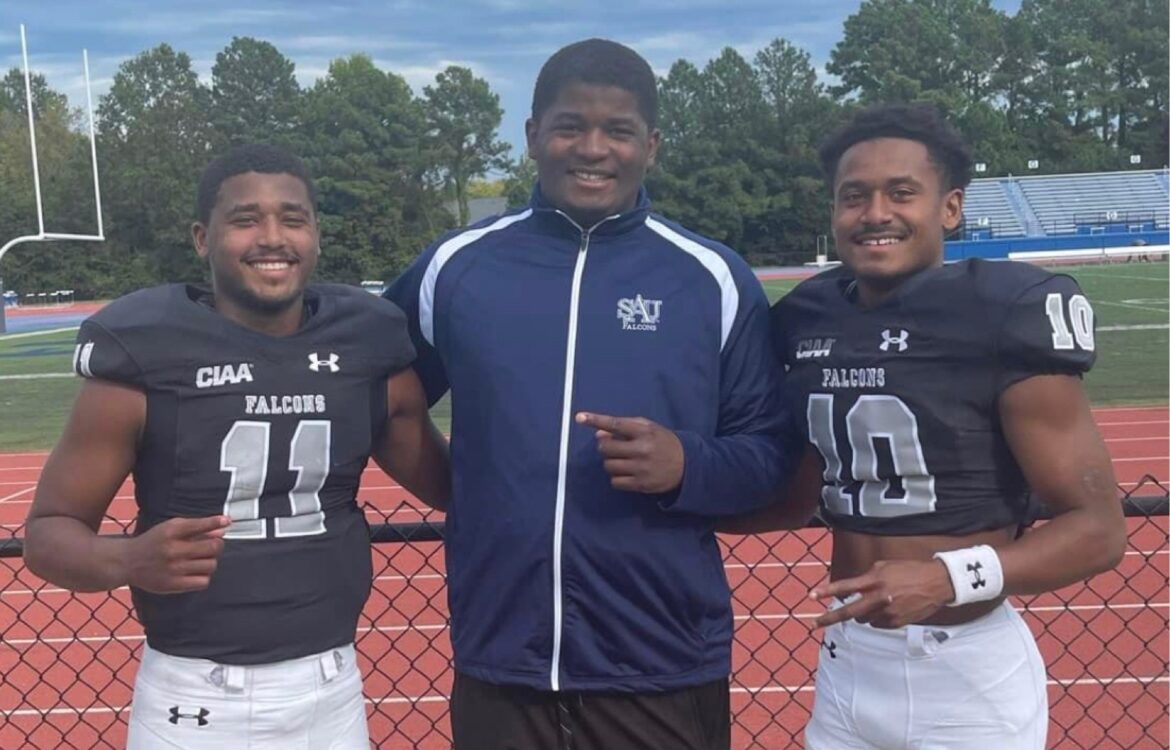 Football Playing Brewington Brothers Unite at SAU
By Dr. Larry Woods
Attending Saint Augustine's University (SAU) has been a dream for three brothers from Hope Mills, NC. Kevin, Bryan, and Donovan Brewington have always been close, sharing a love for sports and a desire to pursue higher education. Kevin and Donovan came to SAU in 2020, while Bryan joined them in the mid-fall semester of 2022. They're all attending the same university now, where they're pursuing their dreams and making a name for themselves in the world of athletics.
The Brewington brothers all played football at the same high school, South View High School in Hope Mills, NC. Now, they're all playing together in college at SAU, pursuing their passions for football and education. It's a rare college dream they had always hoped for and one they're living out to the fullest.
However, SAU was not the first college choice for any of them. Donovan played football at the University of North Carolina for his first year of college before transferring to SAU. Bryan began his collegiate career at the University of North Carolina at Pembroke before switching to Saint Augustine's mid-season. And Kevin was originally committed and signed to play football at Western Carolina University before eventually switching to SAU.
Despite the twists and turns that led them to SAU, the brothers couldn't be happier pursuing their education and passion for football together. Kevin came to SAU pretty much to play with his older brother Donovan. When Covid affected his plans to play football at Western Carolina, he switched to SAU so that he could play with his brother.
"We've always been close, so being able to attend the same school and play sports together is amazing," Donovan said. At SAU, Kevin and Bryan are both majoring in sports management, while Donovan is studying exercise science. They're all thriving on and off the field, pursuing their passions and developing the skills and knowledge needed to succeed in their chosen fields.
"We're all grateful to be here and to be able to pursue our dreams together," Bryan said. "It's been an amazing experience so far, and we're excited to see what the future holds." For the Brewington brothers, the future is full of endless possibilities. They're all committed to working hard and pursuing their goals on and off the field. And they're doing it all with a sense of purpose and a deep appreciation for the opportunities they've been given.
As they continue on their journey, Donovan, Bryan, and Kevin are an inspiration to anyone who has ever faced adversity or struggled to find their path in life. They prove that anything is possible with hard work, dedication, brotherly love, and a little luck.