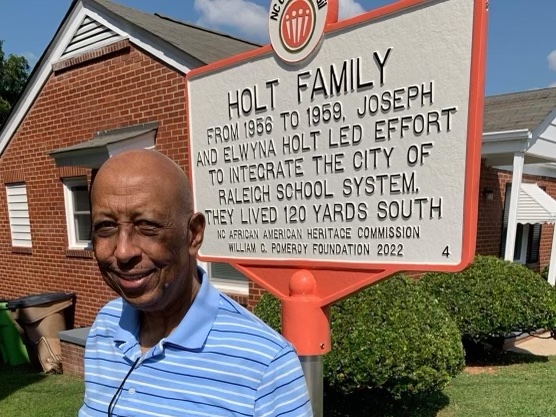 Joseph & Elwyna Holt's Home Site Inducted on the NC Civil Rights Trail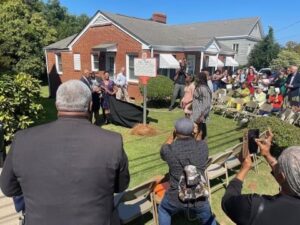 It has been a historic month for notable Saint Augustine's University (SAU) alumnus Joseph Holt, Jr., '64, as the NC African American Heritage Commission inducted his family home site into the NC Civil Rights Trail.
"The contributions made by the Holt family to the Civil Rights Movement reflect SAU's enduring fight for social justice," said SAU President Dr. Christine Johnson McPhail. "I'm proud that the NC African American Heritage Commission has recognized our alumnus Mr. Holt and his family's legacy in North Carolina's history."
See the full story submitted by SAU alumna Deborah Holt Noel, '89, below: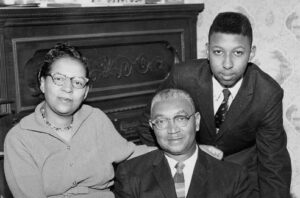 On September 17, 2022, Raleigh's first family to challenge the city's segregated public school system following the 1954 Brown v. Board decision was honored with a marker designating the home site of Joseph and Elwyna Holt as a stop along the North Carolina Civil Rights Trail.  The unveiling of this 18" x 32" cast aluminum sign which stands on a seven-foot aluminum pole, was accompanied by an invitation-only dedication ceremony at Wilson Temple United Methodist Church on Oberlin Road and was hosted by the Joseph H. Holt, Jr. family.  The marker was installed at 1027 Oberlin Road.  The public is now welcome to view the marker.
Many individuals and organizations enthusiastically sponsored Joseph Holt, Jr.'s effort to apply for the marker, including Exploris Middle School instructor Shannon Hardy and her eighth-grade students, Preservation North Carolina, the Raleigh City Museum, StepUp Ministry, Cary Academy, and Raleigh Charter High School.  Holt says, "This day has been a long time in coming, and I am filled with joy and gratitude to my parents for their courage and persistence in fighting for our right to equal education, and to my daughter Deborah for her determination and talent in portraying this story through a documentary she produced called "Exhausted Remedies: Joe Holt's Story".
The NC African American Heritage Commission leads the NC Civil Rights Trail with funding from the William G. Pomeroy Foundation and with support from Visit North Carolina and the North Carolina Office of Archives & History. The commission will work with communities across the state to designate up to 50 sites where trail markers will be placed, including 10 in Hometown Strong communities. An interactive web portal highlights these places and others to guide people to history and experiences from the past.  To learn more about the project or to apply for a marker, please visit aahc.nc.gov/programs/civil-rights-trail.