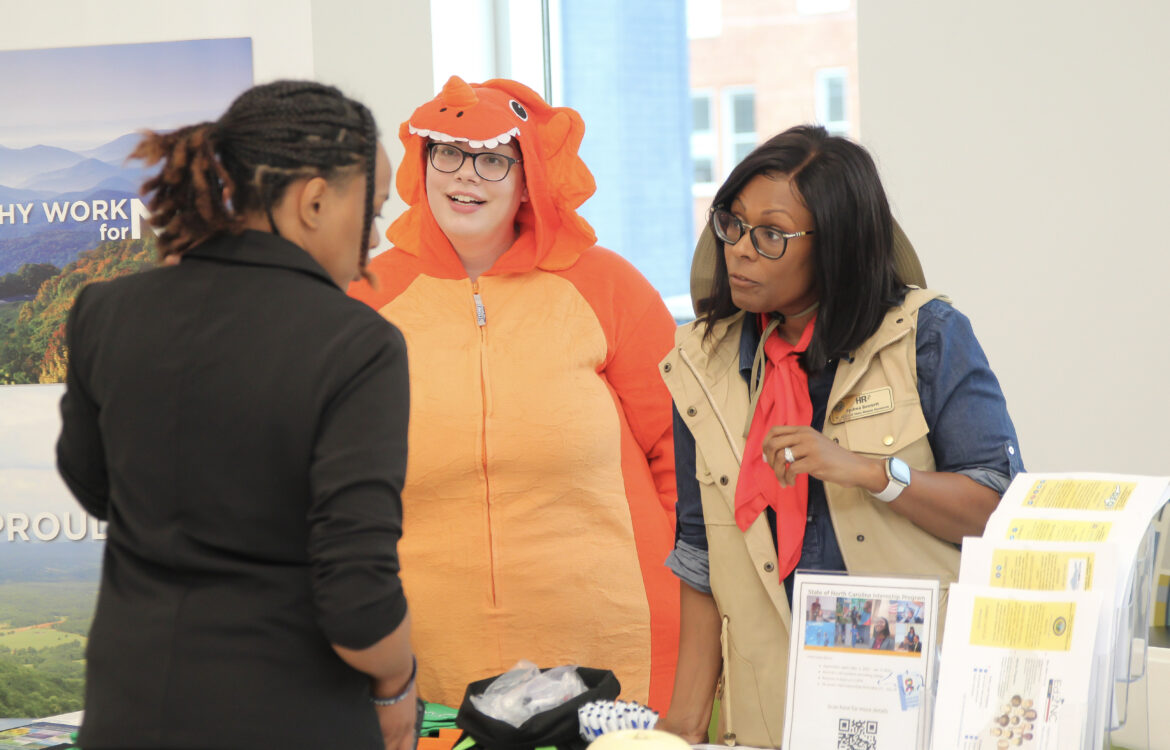 Professional Development and Career Services Celebrates Successful Halloween Career and Internship Fair
Lions, Tigers, and Bears, oh my!
On Wednesday, October 26, 2022, the Professional Development and Career Services Department held its first-ever Halloween Costume Career and Internship Fair and Soiree in the Martin Luther King, Jr. Student Center from 11 a.m. – 2 p.m.
The falcon students were greeted by 24 employers consisting of JP Morgan Chase, Bank N A, U.S. Secret Service, Wake County Sheriff's Office, Wake County Public Schools, Toshiba, The Office of State of Human Resources, NCDOT, I9 Sports, Spectrum, Orange Water and Sewer Authority, MetLife, Credit Suisse Securities, Greg Poole Equipment Company, Indigo Road Hospitality Group, ChannelAdvisors, Quinsite, YMCA, Rep for Deborah Ross NC, Brooks and Pierce Law Firm, Green Pest Management, Blue Cross Blue Shield, Girl Scouts, and North Carolina Department Public Safety. Our special guest was A-List Models & talent, who put on a mini–Dress For Success Fashion Show, Halloween style, and our surprise guest models were our very own Deonte Barnes and Jeremiah (Jerm) Reese. They hosted the Halloween Costume Soiree later that evening.
Our Employer Halloween Costume winners were Ms. Kathy Roberson from Toshiba, Mr. Shah Taj with JP Morgan Chase Bank N.A., and the employer table décor winner was the Wake County Sheriff's Office. There were no tricks, just all treats for the employers, students, faculty, and staff! See the full album here.
Thank you from the Professional Development and Career Services Center!