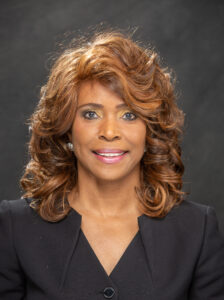 Dr. Cindy Love is a highly accomplished executive leader in higher education, with over 15 years of experience as a program director, School of Business adjunct professor, and university dean. Her areas of expertise include student professional development, career services, executive leadership, HBCU advancement, and Emotional Intelligence. She is recognized as an innovative, high-performing, and passionate leader who has been consistent in focusing on student success throughout her professional career.
In her role at the North Carolina Central University School of Business, she designed, implemented, and assessed the Student Professional Development Program. The program was four-pronged: core curriculum, career competencies, communication coaching, and corporate connections. She influenced the professional development of over 1,200 undergraduate and graduate students, while providing leadership for nine adjunct professors, two SPA staff members, and two graduate assistants. Dr. Love encourages students to maintain a global perspective as they prepare for leadership roles and was honored to lead student trips to Honduras, India, and Vietnam.
While at Saint Augustine's University, Dr. Love has had opportunities to contribute to the students, faculty, university, and community. Again, her focus has been on student success as demonstrated in the creation of the SAU Clothing Closet, an initiative for the male students, providing business attire to them at no cost. She has provided leadership for programs including First Year Experience, Academic Advising, Testing, Writing Center, Career Services, Falcon Works, and Faculty Fellows. Her brand is on display each year when she produces the highly successful SAU Career and Graduate School Expo.
Dr. Love's commitment to student success includes a commitment to K-12 students as well. She has served on the Voyager Academy (Durham, North Carolina) Board of Directors as a member, Vice Chair, and then as Chair during the 2018-2019 academic year.
Dr. Love is a proud graduate of North Carolina A&T State University (Doctor of Philosophy, Leadership Studies) and North Carolina Central University (MPA and B.A.). She has certifications in Emotional Intelligence, Myers-Briggs, and Corporate Etiquette and International Protocol.