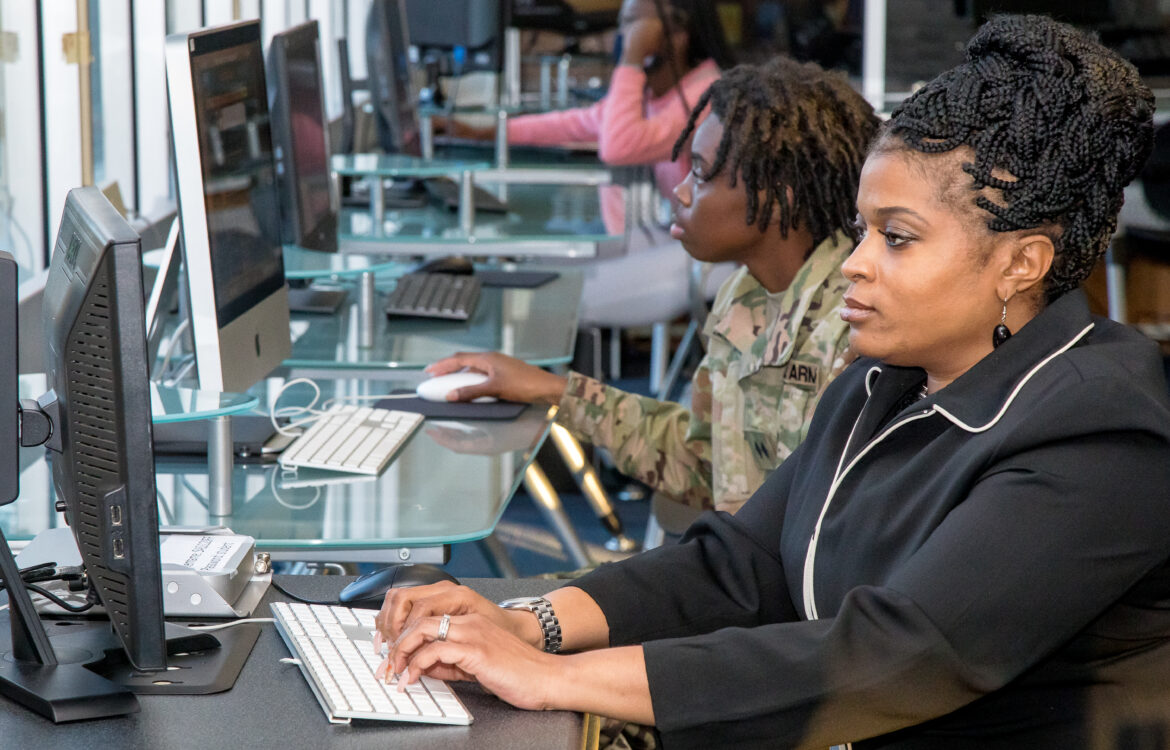 Saint Augustine's University Launches First Graduate Program in its 154-Year History
The Fully Online Master of Public Administration (MPA) Program will be One of the Most Affordable Advanced Degree Programs in the Region
One year after being approved by SACSCOC to offer online programs, Saint Augustine's University (SAU) has officially launched their first graduate program in its 154-year history. Starting this year, SAU will offer a fully online practitioner-oriented Master of Public Administration (MPA) Program. The MPA Program is a rigorous program of study designed to prepare career professionals to serve in leadership roles such as public administrators, public managers, and policy analysts with critical decision-making skills.
"Launching the MPA program is a new dimension that we have reached to support the workforce needs of the region," said Dr. Maria A. Lumpkin, SAU's Interim President. "Saint Augustine's educates change makers to build flourishing futures. Transformative leaders in the public and social sectors need education that helps to move organizations beyond the status quo. The academically rigorous program is accessible in price and format to be equitable for students and working professionals from every background."
Introducing a graduate-level program initiates a new chapter for SAU and the students that enter her gates, aligning with the school's vision of being nationally recognized as a comprehensive institution with high performing students, renowned faculty, focused community engagement and a strong alumni base of change agents.
"Gaining the SACSCOC Level III designation, which permits graduate programs, ushers in an entirely new frontier for SAU," said Dr. Michael Boone, Online Program Consultant. "I see the MPA Program as a great start along the path of offering many exciting new graduate degree programs. I am delighted to be a part of this development and am excited about the future benefits to students who pursue the MPA Program at SAU."
The Program operates in six (6), eight (8)-week sessions throughout the academic year and is designed to accept students regardless of their undergraduate degree background. Once students are accepted, the Program provides five (5) foundational courses that provide an understanding of the nature of public administration. After completing these courses, students move on to take remaining courses in the major areas of study. There is a total of thirty-six (36) credit hours required to complete SAU's MPA Program.
"The Masters of Public Administration (MPA) degree is one of the most sought-after degrees of this time period," said Dr. Josiah Sampson, III, Provost and Vice President of Academic Affairs. "It provides strategic value, insight, and ability to the individual holding it and the entities that hire those people. It leverages the ability to understand and develop policy with management of resources of all types; human, fiscal, and other. The added plus of the MPA from Saint Augustine's University is ability of individuals to flow through a cutting-edge program at an institution that is known for innovation, social action, and cultural awareness."
The SAU MPA program is one of the most affordable advance degree programs in the region, boasting a Tuition rate of $450 per credit hour (all program courses are three credit hours) and an administrative fee of $125 per session. It is designed to be a high-quality, affordably priced, fully online program of study leading to greater career and professional achievement. The SAU administration anticipates this program becoming one of the most desirable and practical advanced degree programs in the marketplace.
"I am thrilled about the continued impact that we at Saint Augustine's University will have on society with the newly-minted Master of Public Administration degree," said Dr. Wanda Coneal, Dean and Associate Professor of the School of Humanities, Education, Social & Behavioral Sciences. "Preparing individuals to create, implement, and evaluate public policies that concern quality of life issues is empowering. Certainly, by offering rigorous courses that require critical thinking and requiring authentic internship opportunities in leadership, the MPA graduates will be innovative problem solvers at all levels of government and business."
The MPA Program uses rolling admissions and is accepting applications to enroll students throughout the academic year. For more information about the SAU MPA Program's admissions requirements and program features, contact Dr. Shawn Lewis, Interim Director of the MPA Program at 919.516.4741 or email MPAsupport@st-aug.edu.
About Saint Augustine's University
Founded in 1867 by the Episcopal Diocese of North Carolina, the mission of Saint Augustine's University is to sustain a learning community in which students can prepare academically, socially and spiritually for leadership in a complex, diverse and rapidly changing world.