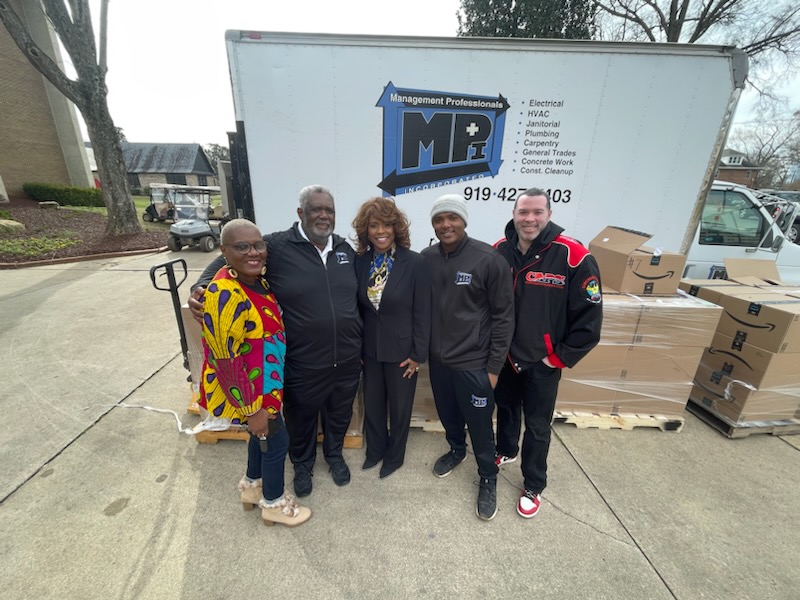 SAU Emergency Aid Pantry Continues to Receive Support from Members of the Community as well as from Institutional Partners
Last week, the pantry received two very generous donations from Management Professionals Incorporated (MPI) through its CEO, Mr. Alvin Midgett, COO, Mr. Terrell Midgett, Mr. John Debnam, and other members of his team. Mr. Midgett reminisced about his time in college and his struggle as a college student with little or no money. The company's donation included 800 pounds of assorted items, including food, toiletries, and stationaries.
In another development, Project Pivot, representatives Mr. Nick Robertson and Mr. Clarence Winn also visited the campus to support the pantry. The community outreach representatives confirmed their commitment to helping sustain the pantry.
Dr. Cindy Love, Associate VP of Professional Studies and Enterprise Services, Ms. Joyce Bannerman, Director of Testing and International Services Officer (ISO), and Miss Saint Augustine's University, Bre'cha Byrd, were on hand to receive the donations. Dr. Love thanked the representatives on behalf of the President, Dr. Christine Johnson McPhail, and the students for the kind gestures.