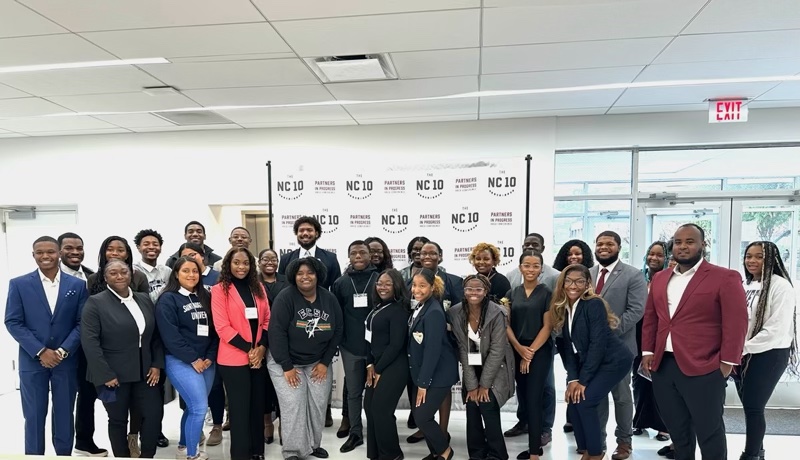 SAU Hosts Inaugural NC10 Conference
Pictured: Student leaders representing North Carolina's ten historically black colleges and universities
On November 16, 2022, Saint Augustine's University (SAU) served as the host site for the inaugural NC10 Partners in Progress HBCU Conference. The conference consists of educational organizations and leadership from all 10 accredited HBCUs in North Carolina hosted by The Center for Racial Equity in Education (CREED). This year's conference was made possible with the support of the Lumina Foundation, Burroughs Wellcome Fund, All of Us Research Program, Pearson Education, JP Morgan Chase, and BlueCross BlueShield of North Carolina Foundation.
"Inside of the inequity within the inequity is the small private historically black colleges & universities," said SAU President Dr. Christine Johnson McPhail. "Conferences such as these expose philanthropic organizations and corporations to the fact that not all HBCUs are the same and create opportunities for more meaningful and strategic partnerships."
In 2020, CREED led an initiative where they traveled to all 10 of North Carolina's HBCUs to converse with each intuition's leadership to learn more about the themes and challenges each one faces. The initiative is a collaboration with the John M. Belk Endowment and in partnership with myFutureNC and The Hunt Institute.
"This conference represents the next natural step in solidifying a collaborative approach to seizing opportunities among the NC10 institutions," said CREED Executive Director James E. Ford. "No other state is doing this work."
"NC HBCUs are undeniable economic and workforce development engines," said Veronica Creech, Vice President of Economic Development & External Engagement. "The NC10 is producing leaders of today and talent for tomorrow."
During the conference, CREED shared findings from all the conversations, and participants had the opportunity to provide feedback. 
"I might be in this Generation X body, but I have a Millennial mind," said Dr. Marc Barnes, UNCF Senior Vice President, Principal Gifts.
The conference concluded with a lunch conversation featuring Dr. Crystal A. deGregory, an HBCU historian and storyteller. 
"I want to thank SAU for their hospitality and all our speakers for their outstanding presentations," said Dr. Alesha K. Russey, NC10 Conference Lead. "Dr. Barnes' presentation specifically spoke volumes because the ongoing intergenerational 'Moses and Joshua' exchange is essential in sustaining our HBCUs."
Click here to learn more about CREED's NC10 initiative.