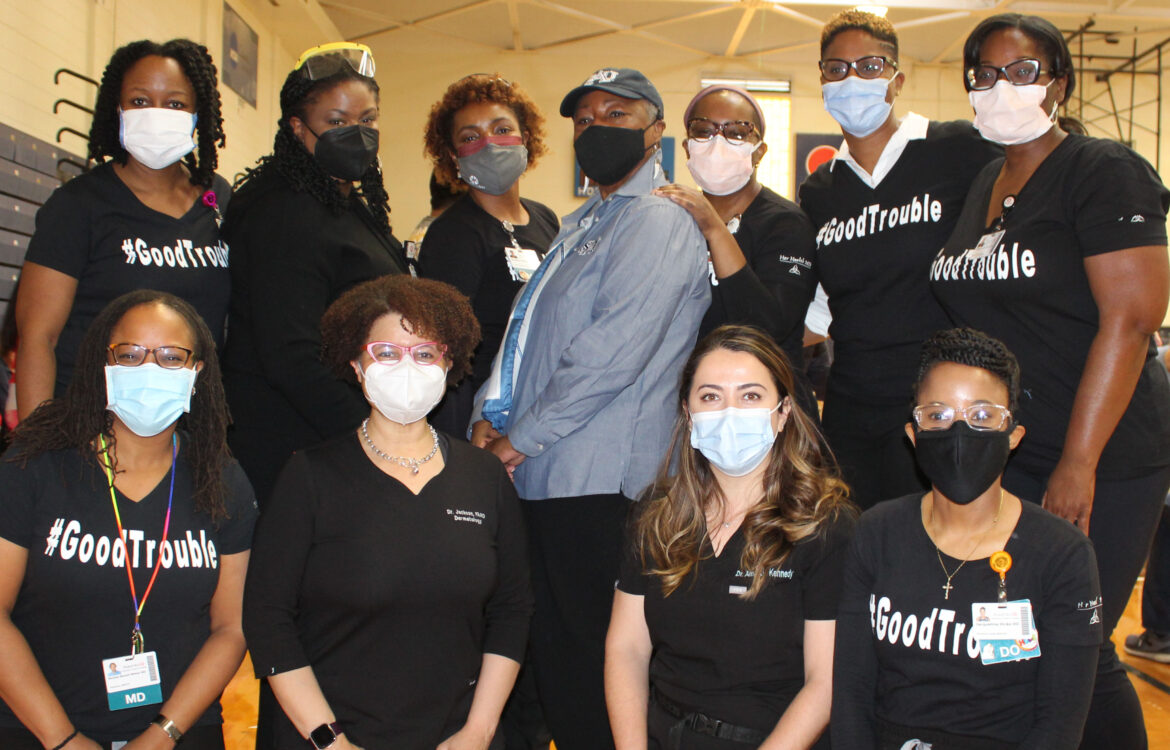 SAU Partnered with WakeMed's Health Equity Team to Host a COVID-19 Vaccination Event
SAU secured 300 slots for faculty, staff, and essential workers needing to receive their first dose of the COVID19 vaccine. The University and community-based organizations targeted individuals in the local community who are underrepresented in the vaccination counts: African Americans and Hispanics.
RALEIGH — Dr. Christine Johnson McPhail, Saint Augustine's University (SAU) President, issued a clarion call for the institution to do its part to serve the community in the fight against the COVID-19 pandemic.
"Many of you know that the COVID-19 situation is very personal as my family lost my husband in October," said Dr. McPhail. "We are on a mission here in this community to ensure that the message gets out to everyone from all sectors to take the precaution and to get the vaccination so that we all can be healthy."
On Saturday, March 20, 2021 SAU partnered with WakeMed's Health Equity team and community-based organizations to host a first dose vaccination event. The aim was to provide vaccine access to community residents who are underrepresented in the vaccination counts; namely, African Americans and Hispanics. Research shows that Whites are 1.5 times more likely to be vaccinated than African Americans and 4.2 times more likely than Hispanics.
SAU secured 300 vaccination time slots for its campus community (faculty, staff, and frontline workers) who were also able to share time slots with other community-based organizations, especially those organizations serving harder to reach community members. Additionally, 20 SAU students volunteered, 10 of which were student athletes from the SAU Volleyball team.
"This is a wonderful partnership between WakeMed and the university that is focused on caring for people that may not otherwise have an opportunity to receive care and a vaccine," said Steve Lawler, President and CEO of the North Carolina Healthcare Association. "It's a great example of how the public/private partnership really matters in each community."
SAU is located in the ZIP Code, 27610, with the highest number of COVID-19 cases in North Carolina. Approximately 1,500 individuals received their first dose of the Pfizer vaccine at the event. Event participants were overwhelmingly from the targeted populations.
40 community volunteers assisted, all of which were offered vaccinations. Of the 40 volunteer vaccinators that were present, many of the vaccinators were physicians of color dedicated to health equity.
"We know that we have been overrepresented in hospitalizations and deaths in Black and Brown communities and underrepresented when it comes to getting access to vaccines so that is our mission to promote equity in vaccine distribution," said Dr. Rasheeda Monroe, Medical Director of Primary Care Pediatrics at WakeMed and member of WakeMed's Health Equity Team. "We are thrilled to be here today to partner with SAU and Dr. McPhail. I know this mission is so personal to her."
WakeMed would like to host another vaccination event at SAU in April. SAU is also working with NC Independent Colleges and Universities to host a vaccination event for its students. For more information, call 919.516.4000 or email vaccine@st-aug.edu.