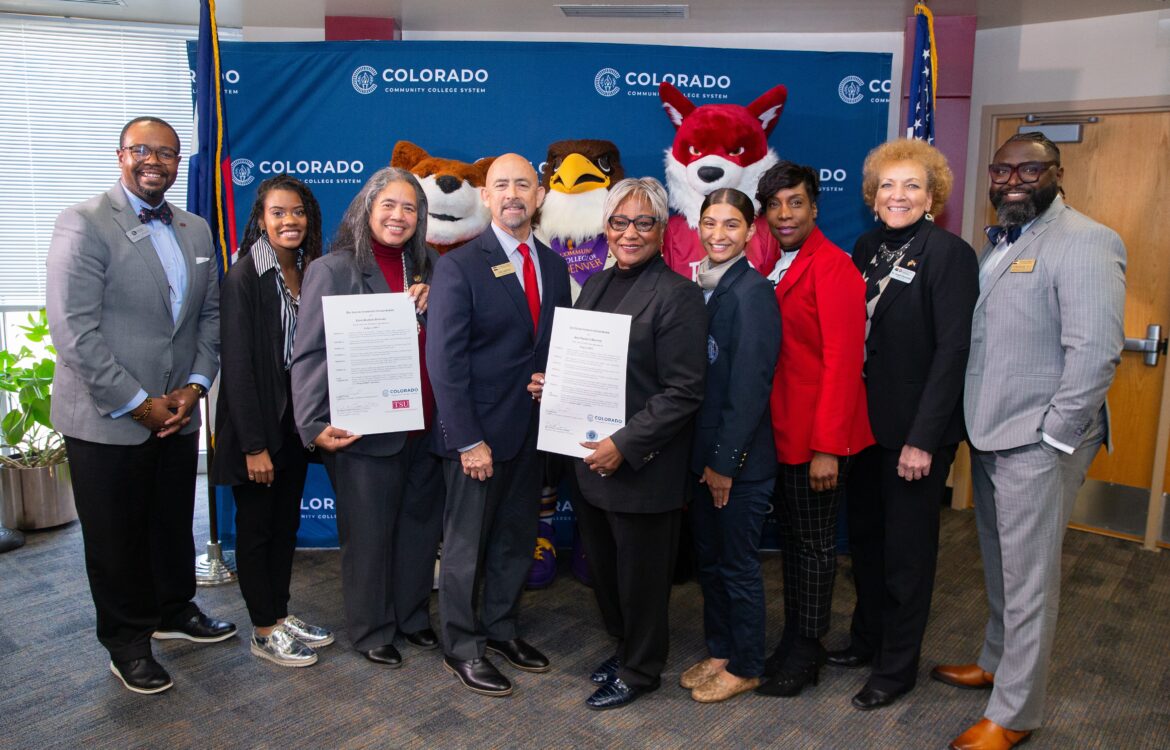 SAU Partners with Colorado Community College System to Advance Access in Enrollment
On Wednesday, April 5, 2023, the Colorado Community College System (CCCS) announced new transfer agreements with Saint Augustine's University (SAU) and Texas Southern University (TSU)— two Historically Black Colleges and Universities (HBCUs) in a historic partnership. The collaboration makes SAU one of only two HBCUs selected nationally to be a part of CCCS's signature Bridge to Bachelor's Degree Program, an initiative launched in 2020 that guarantees new, first-time students admission to participating four-year institutions upon completion of an associate degree.
Officials, students, and staff from the institutions celebrated the partnership at a signing ceremony hosted at the Community College of Aurora. Joe Garcia, chancellor of CCCS, called the agreement "groundbreaking."
"We are constantly looking for ways to expand options for students and ensure they can live out their college dreams," said Chancellor Garcia. "We are proud to have TSU and SAU join our roster of transfer destinations and excited to see students take advantage of this unprecedented opportunity."
Through the agreement, SAU and TSU will become the program's first out-of-state transfer options and provide students with a seamless pathway to an HBCU. Although many state colleges and universities are federally designated Hispanic Serving Institutions or Minority Serving Institutions—including seven CCCS colleges—there is no dedicated HBCU in Colorado. In addition, after establishing partnerships in Detroit, MI, and Fresno, CA, this agreement now creates SAU's third HBCU Urban Access Hub in the country.
"I am thrilled to collaborate with Chancellor Joe Garcia and open new pathways for CCCS graduates to access opportunities offered at Saint Augustine's University," said Dr. Christine Johnson McPhail, president of SAU. "Through the creation of the SAU HBCU Access Hub at CCCS, our institutions will successfully bridge the geographical access gap and bring the HBCU experience to Colorado students."
"Texas Southern University is pleased to partner with the Colorado Community College System in providing pathways for students to continue their education at our esteemed university," said Dr. Lesia L. Crumpton-Young, president of TSU. "This cooperative effort provides accelerated opportunities for students to earn a bachelor's degree and ultimately secure the career of their dreams. Together, we will transform lives and foster the next generation of leaders."
Starting this fall, students may select SAU or TSU as their intended transfer destination. Once enrolled, Bridge to Bachelor's participants receive early advising from their destination college and benefit from additional services, such as academic counseling and financial aid. Students do not have to take specific tests or pay transfer application fees.
SAU will also provide scholarships to CCCS Bridge to Bachelor's students as part of their agreement.
"Our partnership with CCCS will provide students with financial resources to complete their bachelor's degree, leadership opportunities, and global exposure to ensure career preparation," said Dr. Leslie Rodriguez-McClellon, SAU senior vice president of student experience. "I am excited to work with the many great faculty and staff of CCCS and look forward to the success of this collaboration."
Each year, about 20% of CCCS students—or 16,460—transfer to a four-year college or university, saving students an average of $10,000 in tuition costs by starting at a CCCS college. Since Bridge to Bachelor's launched in June 2020, nearly 6,800 students have registered for the program. More than 270 are now eligible to transfer to their destination college or university to continue their baccalaureate.
Click here for more information on the Bridge to Bachelor's Degree program.