Show your love for SAU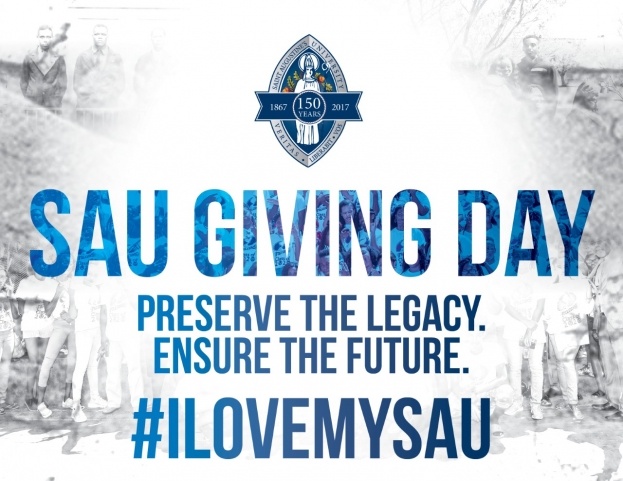 The Office of Institutional Advancement at Saint Augustine's University (SAU) kicks off its first ever Giving Day on Friday, May 5, 2017.  The university is encouraging alumni, family and friends of the university to give tax-deductible donations to help us secure the next 150 years.
Dr. Steven E. Hairston, Vice President of Institutional Advancement and Chief Operating Officer, states, "This is one of the many opportunities that have been extended to promote giving to Saint Augustine's University. I encourage everyone to make an investment in the future through their philanthropic giving." 
SAU Giving Day kicks off the final 45 days of fundraising for the university. Fundraising events during this period include:
1) the annual Stone of Hope Gala, which will be held on May 12, 2017 at the Sheraton Imperial Hotel and Convention Center in RTP at 7 p.m.;
2) Classes in Reunion and Alumni Weekend held May 11-14, 2017 on the campus of SAU,
3) the 150 Club,
4) SAU Men's Basketball Team Golf Tournament, which will be held on May 22, 2017 at River Ridge Golf Club in Raleigh, NC, and
5) a "Dollars for Scholars" fundraising drive, sponsored by the student leaders, to assist fellow students who need emergency financial assistance.
Supporters of the university can give online at giving.st-aug.edu, by phone at (919) 516-4092 or by text2give following the instructions below:
1. Text (919) 666-3142 on your mobile phone
2. Enter GIVE and the amount of your donation 
3. Press send   
 Let everyone know you support SAU by using the hashtag #ILoveMySAU!