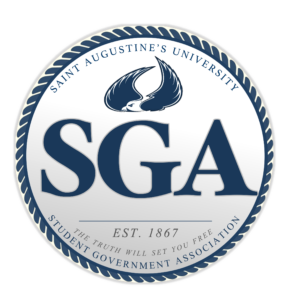 Student Government Association is the prime student representative body. Its purpose is to represent and voice student ideas/concerns to appropriate authorities. Freshmen, Sophomore, Junior, and Senior classes are represented in this organization. Class Presidents, Vice Presidents, Secretaries, and Queens are selected through a class election process.
Their respective Presidents appoint class treasurers and representatives. All Saint Augustine's University students can attend SGA meetings. Student participation in this process significantly enhances the effective governance of the campus and is important to the growth and educational process of the individual student.
Each student has a voice in the election of officers and interaction with respective class representatives. The Student Member of the Board represents the SGA on the Board of Trustees of the University. This person is responsible for reporting student concerns and ideas directly to the University's governing body.
Purpose:
The purpose of the Student Government Association is to receive assessment from authorities of the institution and forward it to the student body; to represent the student body in progressive student opinion and to refer them to proper channels; and to act as an effective three-way communication between the student government, administration, and all other organizations.
There are no upcoming events at this time.