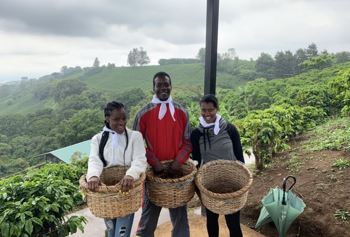 Summary of Study Abroad Programs at Saint Augustine's University (SAU) Summer 2019
The summer service-learning project in Costa Rica, as part of the Public Health Science Global Health course, served to increase the number of students who are exposed to and participate in study- abroad opportunities. The purpose of the site visit with Barcelona Study Abroad Experience in Barcelona, Spain, was to strengthen existing global partnerships in order to promote equity and increase access to study- abroad programs for underrepresented students.
Costa Rica Service Learning Trip June 2 – 9, 2019
Dr. Selena Judon-Monk coordinated a faculty-led, service-learning project as part of the summer global health course. Students increased their global awareness of the Sustainable Development Goals (SDG), a blueprint to address global challenges. The project focused on the local and regional culture of various provinces in Costa Rica. The soaring mountains and lush rainforests helped students learn more about the environmental aspect of the SDG while in the Heredia province. In the Alajuela province, students gained a better understanding about sustainable economic growth at the Starbucks Hacienda Alsacia, a global research and development farm. This interactive learning experience allowed students to gain insight on the coffee process from seed to cup and the ongoing challenges faced by coffee farmers. Students spent the majority of their time in the San José province, where they participated in activities at the National Stadium of Costa Rica (Estadio Nacional de Costa Rica) with Dr. Gustavo Castillo Quirós, medical physician for the Costa Rican Institute of Sports and Recreation (El Instituto Costarricense del Deporte y la Recreación). They interacted with patients to learn more about common sports injuries among athletes, perform basic physical therapy procedures, explore the major tropical diseases that threaten the health of athletes, and practice and improve their Spanish. The students who participated were Aziza Pope and Ayinde Pope. ¡Pura Vida!
Barcelona Study Abroad Experience (BSAE) Site Visit July 9 – 14, 2019
In 2018, SAU became an affiliate partner with BSAE to facilitate student participation in learning abroad through financial and advising support for students who participate in BSAE programs. This summer, Dr. Judon-Monk along with over 20 faculty and staff from universities and colleges across the United States participated in a modified BSAE program. It included pre-departure and onsite orientation sessions; Spanish architecture and politics courses; educational excursions to Barcelona's historic city center, the Gothic Quarter, Ciutadella Park, Parliament of Catalonia, Girona, Costa Brava, and various universities; and interactive cultural activities such as Spanish/Catalan cooking, flamenco dance, and Spanish coffee.
Learn more about BSAE's commitment to diversity and inclusion in learning aboard at https://www.barcelonasae.com/diversity/