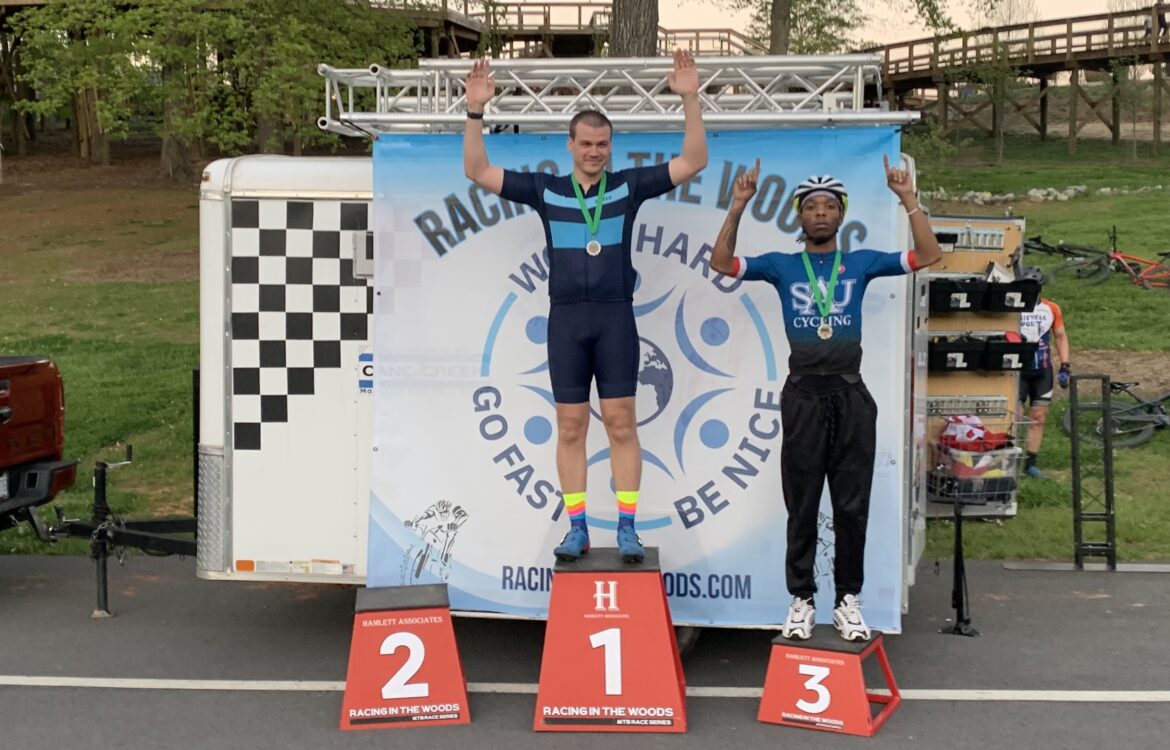 Terric Buchanan Earns Mountain Bike Podium, New HBCU Milestone Reached
April 12, 2023 – Greensboro, NC: The SAU cycling team made the trek to Greensboro's Country Park to kick off the Wednesday night Racing in the Woods mountain bike race series. About 100 total cyclists raced multiple laps on a 5-mile, technical single-track racecourse around the park.
The SAU riders navigated the root-covered terrain on new mountain bikes provided by team sponsor Canyon Bikes. Terric Buchanan (JR) earned a third-place finish and podium in his category. Coach Finote Weldemariam and Coach/Professor Mark Janas also competed. Kenneth Hart (FR), a newcomer to the team, also got his first taste of mountain biking on the course.
It was another "HBCU first" for the university and the team, as the SAU cycling team is the first known HBCU team to compete in a sanctioned mountain bike race event. Previously the team had only competed in cyclocross, gravel, criterium, and virtual cycling events.
About SAU Club Sports:
The Saint Augustine's University (SAU) club sports program is managed by the sports management program in the School of Business, Management, & Technology (SBMT). SAU club sports include cycling (the first HBCU team in the country), BMX, rowing (the first HBCU ladies' team in the country), Ultimate (the first HBCU team in the country), SIM golf, and SIM motorsports. Sports in development include flag football, pickleball, paddling, VR tennis, 3v3 basketball, and adventure racing. The program is designed to support the SBMT curriculum as well as to introduce sports not typically part of the HBCU experience. For more information, visit www.sauclubsports.com.