ABOUT THE FATHER N. GREEN SPEAKER SERIES
The Father Joseph N. Green Speaker Series is an initiative established at Saint Augustine's University by a generous donation made to the university by Father Green and friends of Father Green, a 1949 graduate, former Chaplain and a current Trustee of Saint Augustine's University. The lecture series will be offered in the spring and fall from the historic Saint Augustine's Chapel, where Father Green worshipped as a student, served as Chaplain and was proud to have mentored 11 students who went on to become Episcopal Priests.
The objective of this series is to bring high-profile speakers to Saint Augustine's University, offering students, faculty, staff and the broader community insightful perspectives and intellectual enrichment on topics in religion, ethics, science, the arts and more. The series will help prepare the students, our next set of leaders, for a complex, diverse and rapidly changing world.
UPCOMING SERIES
APRIL 19 AT 11 A.M.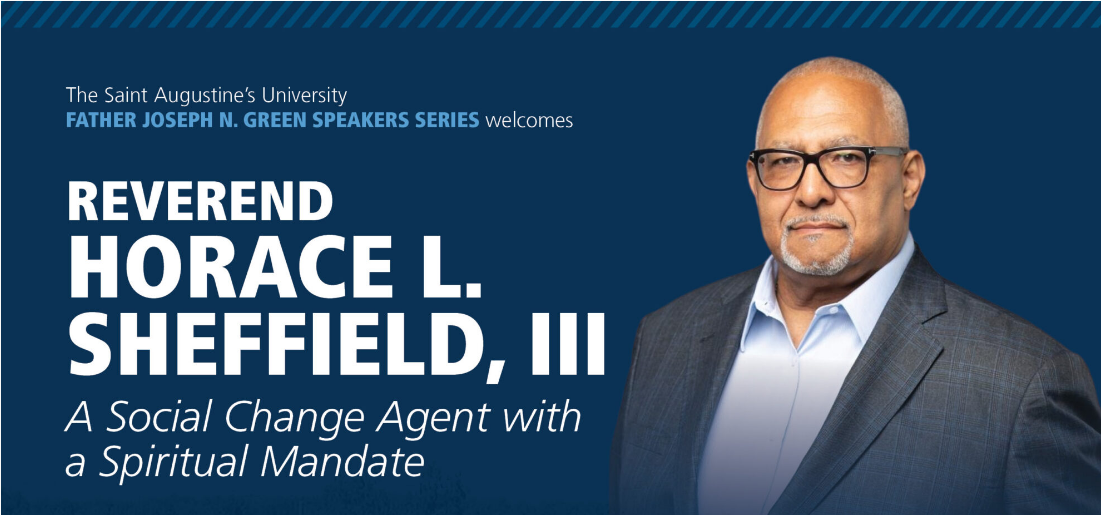 ABOUT REV. HORACE L. SHEFFIELD, III
The Rev. Horace L. Sheffield, III, was born in Detroit, Michigan, during the midst of the Civil Rights and Labor Movements to Horace L., Jr. and Mary Sheffield. Through the work and legacy of his father, Horace L. Sheffield, Jr., who was the Vice President of the Negro American Labor Council (NALC) under A. Philip Randolph, its Founder and President, Rev. Sheffield, III, was providentially exposed to various enduring models of "servant leadership" and "prophetic societal challenge,"
Called to preach in June 1965 at eleven years of age while listening to his father raise money for the Lowndes County Movement, Rev. Horace L. Sheffield, III, was licensed to preach on October 18, 1978, at the First Baptist Institutional Church of Detroit, Michigan and was subsequently ordained there by his spiritual father and ministry mentor the Reverend Dr. Howard B. M. Fauntroy, Jr.
As a dynamic leader, his church has since expanded to include more than 2,000 members with over ten ministries. New Destiny Christian Fellowship is driven to provide outreach and resources to people and families who are experiencing temporary setbacks due to unemployment, illness, or other life-changing events. Rev. Sheffield continues to help people realize their purpose by providing a welcoming space for all.
Text GIVE and the DONATION AMOUNT to
919.373.6799
Checks (made to Saint Augustine's University) and cash donations are also accepted.