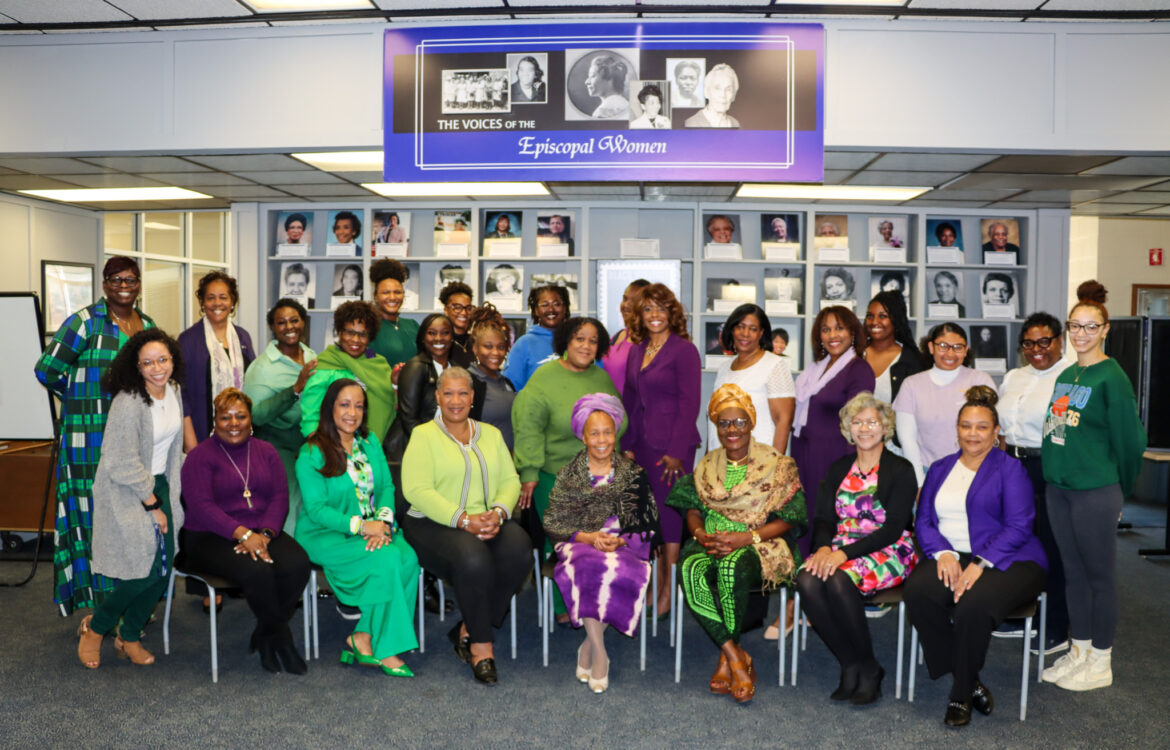 The Women of SAU Celebrate Women's History Month and International Women's Day
Saint Augustine's University celebrates Women's History Month as a time to highlight women and their contributions to society. In the 1970s, educators, historians, and advocacy organizations highlighted the need for more attention to women's role in American history. Then-President Jimmy Carter responded by proclaiming the week of March 8, 1980, as Women's History Week, which later became Women's History Month in 1987.
"Too often, the women were unsung, and sometimes their contributions went unnoticed," Carter said in a statement. "But the achievements, leadership, courage, strength, and love of the women who built America were as vital as that of the men whose names we know so well."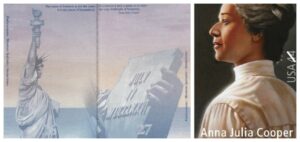 The celebration of Women's History Month also would not be complete without the acknowledgment of SAU alumna Anna Julia Cooper, who stands alone — as the only woman and African-American — who is quoted on the U.S. Passport for her advocacy of freedom as a birthright of humanity.
"The cause of freedom is not the cause of a race or a sect, a party or a class — it is the cause of humankind, the very birthright of humanity."
Today, the following women at SAU took a few moments to reflect on the significance of this celebration and acknowledge the women who affected their lives.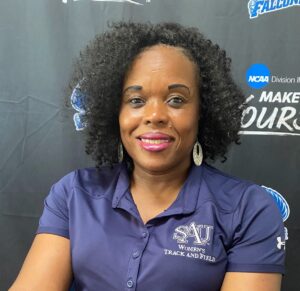 Elizabeth Gary, '92
Head Women's Track & Field Coach
In Honor of Women's History Month and as the First Female Head Coach of Women's Track & Field at SAU it is an honor and a privilege to be recognized. The most powerful and influential woman that I have ever known is my grandmother, Louise Elizabeth Peartree. She helped shape and mold me into the person that I am today.  She recently passed away at 109 years old!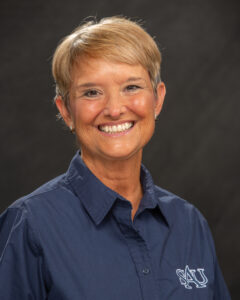 Nancy Crouse
Senior Administrator and Coordinator of Special Initiatives
This year's theme for Women's History Month is ' Celebrating Women Who Tell Stories .' This theme honors and recognizes the important role that women have played in storytelling throughout history. What a perfect reminder of those fabulous women that came before me and trailblazed a path for generations to come. The woman that has been most influential in my life is my grandmother, Julia Mozina. My great-grandfather immigrated from Slovenia to western Pennsylvania for a better life for his family. My grandmother served as a WAC in the U.S. Army during World War II and retired from the U.S. State Department. She married late in life and adopted my mom, who was 11 years old at the time. Not having children of her own, she was the most compassionate, loving, and nurturing person that I have ever met. At the age of 89, she was diagnosed with colon cancer, but never complained about her illness. She passed away at 91 years of age with such dignity and grace. Indicative of a life well lived. The stories that she used to tell my brother and I about serving in the Army, the Slovenian way of life, and advice on how to live your best life will remain in my memory forever and have shaped me into the woman that I am today.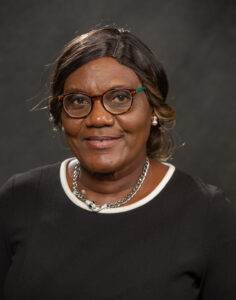 Joyce Bannerman
Director, Testing & International Services Officer (ISO)
For me, Women's History Month is a time set aside to recognize and appreciate those strong women on whose shoulders we so proudly stand on today. It's a time to reflect on their efforts and bravery that helped our gender shatter many glass ceilings.  The Lady who most influenced me, is Mrs. Angie Brooks Randolph. In 1969, Mrs. Angie Brooks, of Liberia became the first African woman to serve as President of the 24th session of the United Nations General Assembly. Her appointment began my dream towards a pathway in International Relations and Diplomacy.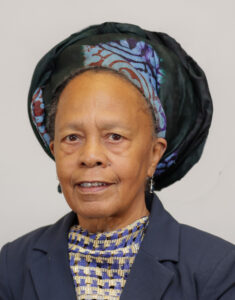 Dr. M. Iyailu Moses
Chair, Department of Education, Assistant Professor and Elementary Education Program Coordinator
Aza Lea Kirby Davis Gillins, my mother, who demonstrated to me humility, honesty, and humor. Nettie Wright, my first teacher and exemplar of a non-graded classroom. Dr. Lillian Weber, my City College mentor, who pushed me to follow my dreams. Dr. Anna Julia Cooper, whose life of determination is a constant inspiration. Harriet Tubman, another Moses, whose Yaa spirit lives in me.
Women are too often marginalized in the affairs of the presently male-dominated world. Their contributions are ignored and often forgotten. Women's History Month is one small, but necessary opportunity, to bring those contributions to light in celebration of all women everywhere and their necessary role in the society.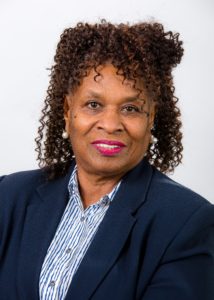 Dr. Joyce Russell
Professor, English and Humanities
Influential Women in My Life are Dr. Helen Chavis Othow, Dr. Thelma Roundtree, Dr. Johnnetta B.Cole, and Dr. Dorothy Height.
Women's History Month is important to me because it causes men and women to keep their eyes on the ball! Some individuals, academics and non-academics alike, erroneously assume that women have achieved parity. That simply is not true here or abroad. For one example, in some countries, America included, young girls are forced into marriage. There was a recent report of a nine- year-old Afghan girl whose family sold her to a much older man who intended to marry her. These sorts of abuses against females must demand our outrage and our action. # Too Young to Wed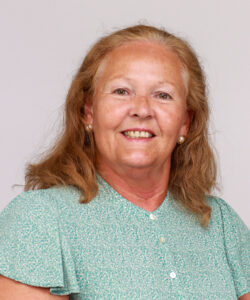 Barbara Clausing
Benefits Administrator, Human Resources
My Mom, Gram (no relation) and my BFF Harriet Greenfield.
Mom was a working mother before it became the norm. She always balanced the family's life with her nursing career and taught me God and family come first. She always showed up no matter what I was doing – choir, plays, tennis and her least favorite, field hockey. Gram lived across the street and is the woman who taught me to be young irrespective of age and to just be myself. Gram was always curious and showed the importance of love in service to others. Harriet whom I have known for 50 years! She showed me there is no deadline in life to achieve your dreams, always is an optimist and encourager, brilliant and humble. She helped me in the early 1970s to establish a girls tennis team at my high school right after Title IX was passed so I wouldn't have to continue playing on the boys team. It took two years but we got it done!
Women build on the achievements of those who came before us and work building each other up. I learn something new every year about what women have accomplished and what they are now working on.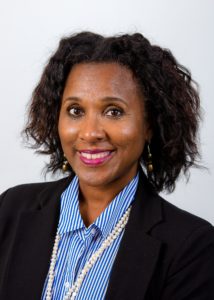 E. Ophelia Johnson
Assistant Professor & Film Program Coordinator, Department of Arts & Communications
All the women in my family on both sides of my DNA gene pool have influenced me. My mother, Suzette, is a compassionate educator and scholar, and her mother, Ethel Ophelia, was a lifelong scholar and matriarch. I would be remiss if I didn't mention my late mother-in-law Katie Johnson Duncan, who recently transitioned last fall at the age of 100.
This is a day of rededication and URGENCY! We must love and uplift all women, everywhere. Praise God!
Learn more about how SAU celebrates Women's History month here.