U. S. Environmental Protection Agency Hiring Webinar
Tuesday, January 18, 3:00 p.m. EST | Join Teams meetingWednesday, January 19, 3:00 p.m. EST | Join Teams meeting
FIND OUT ABOUT
Job opportunities for students and recent graduates

How to apply to federal positions

Creating a USAJobs profile and saving searches

Education and transcript requirements

Federal pay, benefits, and retirement

EPA's work toward Diversity, Equity, Inclusion, and Accessibility
Virtual Career Fair Opportunities in Federal Government
Thursday, January 27, 2022, 1 p.m. – 5 p.m. EST
Are you passionate about public service and eager to make a difference in your community and in the world? Have you thought about working in government, but aren't sure how or where to start? Are you interested in making an impact?  
Join us on January 27, 2022, from 1 p.m. – 5 p.m. Eastern Time for a virtual career fair focused on career opportunities in the federal government appropriate for undergraduate and graduate students, at agency headquarters and throughout the country. You'll have the opportunity to speak directly with federal recruiters eager to meet mission-driven students like you.
This event is free to attend. 
Target – Prepare to Launch Conference Series
Next Event: January 28 | 2 p.m. – 3 p.m. EST/1 p.m. – 2 p.m. CT
Free, Virtual Conference by Target Women in Science & Technology to help students learn the "Must Have" skills to launch into their career.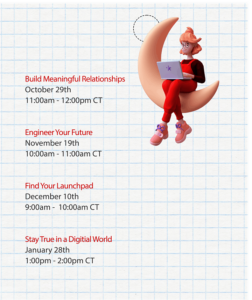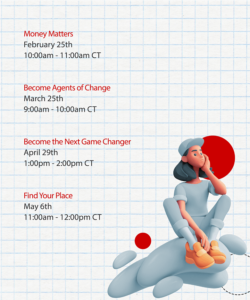 Careers in Focus: Shining the Spotlight on Opportunity and Inclusivity
January 19, 2022 | 1:00 – 5:00 p.m. EST
WHO SHOULD ATTEND: Students currently enrolled with anticipated graduation dates of 2023, 2024, and 2025 A half-day virtual experience open to HBCU students who are looking for internship and early career opportunities in the entertainment industry. Students will have the opportunity to learn more about the internship recruiting process, attend professional development workshops, hear from our executive speaker, and join in on various panels. These panels are tailored to HBCU students to assist with opportunities beyond graduation.REGISTRATION:Registration is open and will stay open right up until the day of the event.
This event is also listed on Handshake
Eastern NC Career Alliance (ENCCA) Virtual Career Fair
February 16, 2022  |  11 a.m. – 4 p.m.
Various Job Positions, Graduate & Professional Schools
HBCU/MIHE Internship Information Seminar for 2022 Summer Internships
February 21, 2022  |  4 p.m. – 5 p.m.
For juniors, seniors and graduates only
CIAA Career Expo – Baltimore MD
Virtual – February 22, 2022  |  3 p.m. – 6 p.m.
In-Person – February 24, 2022  |  10:00 a.m. – 2:00 p.m.