Army ROTC is an educational program combining college electives in military science with practical leadership training to prepare men and women to become U. S. Army officers. Traditionally, Army ROTC is a four-year program with the first two years of the program comprising the Basic Course. There is also a special program for juniors and graduate students who did not take Army ROTC during their first two years of college. To enter the two-year program, a student must first participate in a five-week basic leadership instruction course. After successfully completing this course, students may qualify to join ROTC as an Advanced Course Cadet. The Advanced Course will impart valuable experience in leadership development, military history, time management and military customs and courtesies.
ROTC training goes beyond the typical college classroom in that students will not only learn skills one would expect to find in an Army officer including how to motivate co-workers, cope with the unexpected and organize large, complex tasks, but they will also learn skills such as teamwork, tact and effective communication which are in demand in both the civilian and business world.
Army ROTC awards scholarships to many qualified students based strictly on merit to the most outstanding students. Army ROTC Advanced Course students also receive a tax-free stipend from $300 to $500 per month. Scholarship students receive tuition, the monthly stipend and additional funding of approximately $1,200 each school year for books. Students entering the Advanced Course must agree to complete a period of military service such as Active Duty, Army Reserve or Army National Guard upon graduation. Students successfully completing the ROTC course will graduate with a diploma and a commission as a Second Lieutenant in the U.S. Army.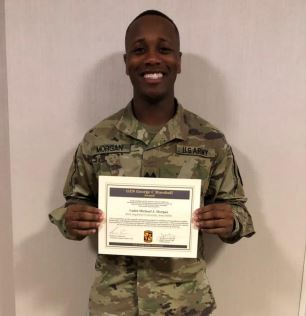 Falcon Battalion Cadet Spotlight: Cadet Michael Morgan
Cadet Michael Morgan is a senior at Saint Augustine's University majoring in Sociology. Cadet Morgan serves as the Falcon Battalion Commander, where he is responsible for leading over sixty cadets.
Cadet Morgan was recently selected to attend the George C. Marshall Leadership and Awards Seminar at Fort Leavenworth, KS, where he received the George C. Marshall Award. This award is given to cadets who show academic excellence, leadership and physical fitness within their programs.