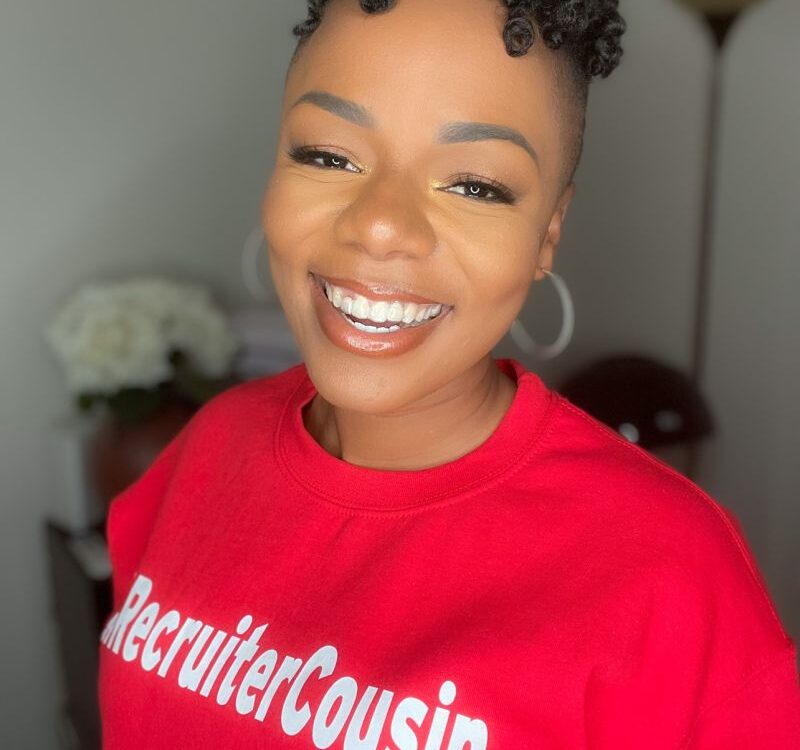 Alumni Spotlight: Chenae Erkerd, J.D., RACR
From not passing the North Carolina Bar Exam to building a brand as a Technical Recruiter with a LinkedIn following of over 85,000, Saint Augustine's University (SAU) alumna Chenae Erkerd, '11 pivoted into a successful career in Human Resources.
The Camden, NJ, native graduated from SAU with a degree in political science in 2011 and graduated from North Carolina Central University School of Law with a Juris Doctor in 2015. Erkerd made a life-altering career change after not passing the North Carolina Bar Exam.
"Fortunately, I didn't pass the NC Bar, so I pivoted into HR. I said 'fortunately' for a reason," Erkerd says in her LinkedIn post. "After not passing the bar, I drove Lyft and temped with Duke Temporary Svc (Duke University Talent Identification Program), where I got into recruiting during my second assignment. I fell in love with it. I gained experience recruiting in higher education, healthcare, and tech."
Erkerd now owns a brand known as #recruitercousin, where she helps the community learn networking techniques to catch the eye of recruiters and hiring managers with jobseeker templates, events, and individual sessions.
"My brand is the #recruitercousin because I want people to feel like they are family when they talk to me," said Erkerd. "I provide a lot of tips & tricks that help jobseekers reach their greatest potential."
As a Technical Recruiter for Microsoft, Erkerd states that in the past six months, she has helped more than seventy people land jobs, planned five successful virtual events, partnered with industry leaders to get more minorities into tech, participated in panel discussions to help vets who are about to separate from the military find jobs in corporate America, and co-hosted a session at the National Society of Black Engineers (NSBE) conference.
Erkerd is a member of Delta Sigma Theta Sorority, Inc. and has authored three books of poetry entitled "Vent: The Different Faces of Me," "I Almost Held On," and "Woman."
Click here to learn more about Chenae Erkerd.
Click here to visit her LinkedIn page.