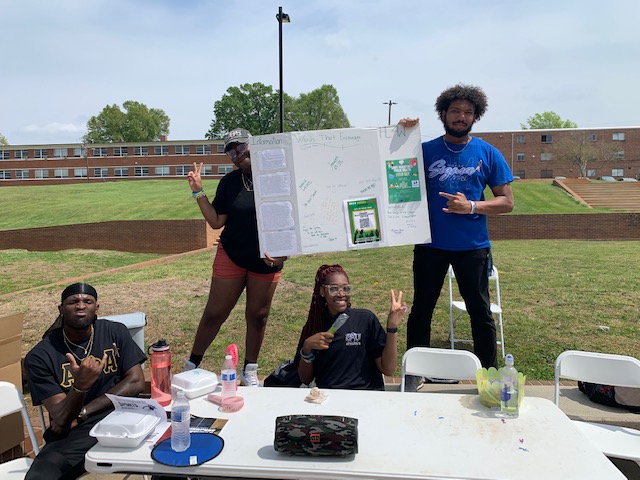 SAU Hosts National Public Health Week in Multi-Organizational Collaboration
On April 6, 2023, during National Public Health Week on the campus of Saint Augustine's University, HealthLit4Wake (or HL4W) students served as peer educators and ambassadors to promote COVID-19 education by having a table to distribute educational material, masks, and COVID-19 take home tests to students, faculty and staff on campus. The purpose of this initiative is to address COVID-19-related health disparities among minority populations through improved health literacy initiatives coordinated by HealthLit4Wake, a multisector health equity collaborative. The students who work within HealthLit4Wake are referred to as Community Health Student Ambassadors (CHSA), partnered with other organizations on campus such as SafeFalcons, Active Minds, Delta Research and Education Foundation (DREF), and Taylor Wellness Center to promote overall well-being on campus.
In addition to planning events, the labor these students execute includes evaluations with qualitative data. This work includes collecting data from Community Health Workers who use NC CARE360 doing their duty work in neighborhoods and turning that data into a codebook. Doing so helps narrow down the root problems of Covid-19 causes in the community and the needs these families face.
The CHSA's also responsible for hosting communication events. Some examples are Ask the Doc and Listening Sessions. The Ask the Doc sessions provide an opportunity for people in the community to get answers in regard to health-related questions and services. The listening sessions help as informational meetings, helping increase the health literacy of the community, not only increasing health knowledge but also promoting the use of health services.