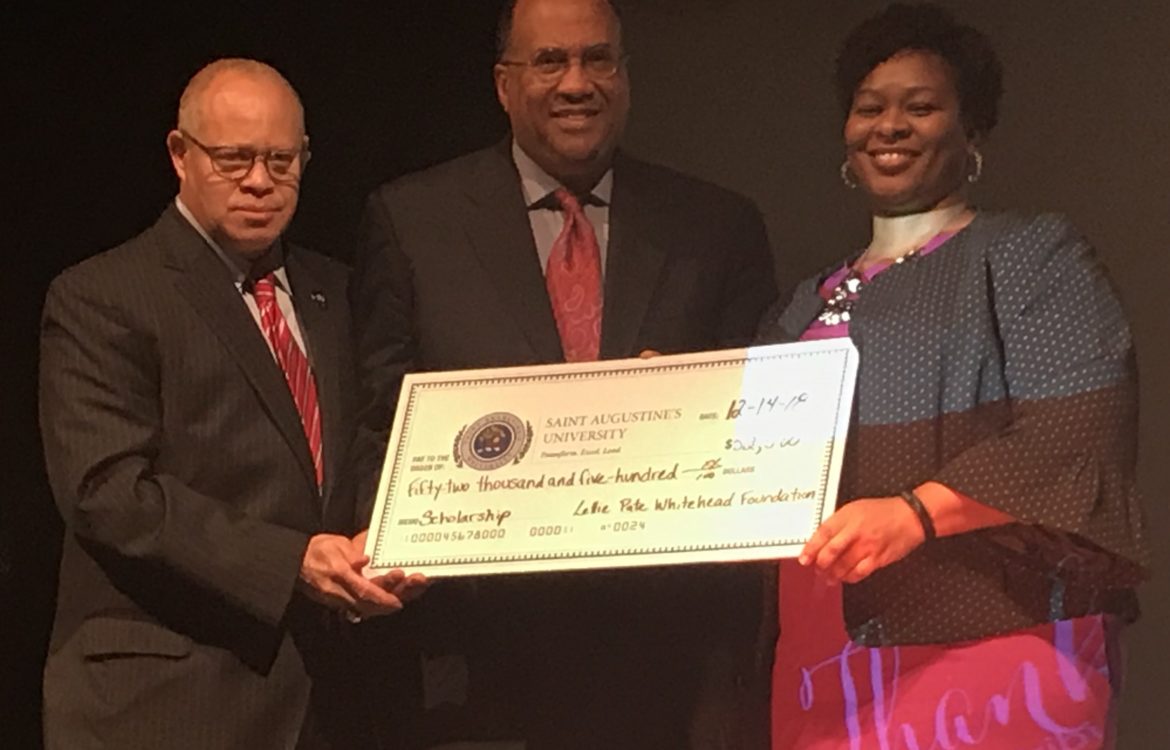 Saint Augustine's University Receives Record Setting Year-End Donations
(Raleigh, NC) – Saint Augustine's University (SAU) reported a record-setting number of donations during its 2018 calendar year-end closeout campaign. The "Tis the season to give to SAU" campaign ran from December 14 through December 31, 2018 and raised a total of $239,323.23. The successful campaign follows the Southern Association of Colleges and Schools Commission on Colleges (SACSCOC) Board of Trustees vote last month to remove SAU from probationary status. Community and foundation support for SAU has increased following SACSCOC's announcement.
The University received the bulk of these donations from alumni, faculty, staff and students. This year a surprising number of foundations and community organizations participated in the campaign. Foundation and community organization support came from the Janet Harmon Bragg and Summer Allen Bragg Foundation; the Lettie Pate Whitehead Foundation; The Dereck Whittenburg Foundation and the Black and Silver Senior Girlfriends of RDU. A new partnership was formed with the Fellowship Raleigh Church, who sponsored a 5K road race in late December, to benefit the 1K scholarship fund at SAU. Due to the success of the event, SAU received a $5,000 donation for student scholarships.
This historic calendar year-end closeout campaign comes off the heels of the most successful GIVING TUESDAY campaign on November 27, 2018 in which the University received $67,093.28. These campaigns combined – raised $309,416.51 during a 30-day period.
"We are extremely grateful to all of our donors who have given their treasures to the university during the year. Our Institutional Advancement Department staff have been working our fundraising efforts based on our strategic plan and the results have been fantastic, said Dr. Steven E. Hairston, Vice President for Institutional Advancement and Development. "But we are not letting up, we have a number of important events that we are really anticipating being successful in the coming months."
Saint Augustine's University will sponsor two major fundraising events in the coming months:
* CIAA Jazz Brunch, March 1, 2019, at CenterStage @ NoDa, Charlotte, N.C.
* Stone of Hope Gala, May 10, 2019, Hilton North Raleigh Midtown Hotel, Raleigh, N.C.
For additional information, contact the SAU Office of Institutional Advancement and Development at 919.516.4092.
###
About Saint Augustine's University
Founded in 1867 by the Episcopal Diocese of North Carolina, the mission of Saint Augustine's University is to sustain a learning community in which students can prepare academically, socially and spiritually for leadership in a complex, diverse and rapidly changing world.