SAU and Shaw University Team up to Promote Tobacco-free Policies on NC HBCU Campuses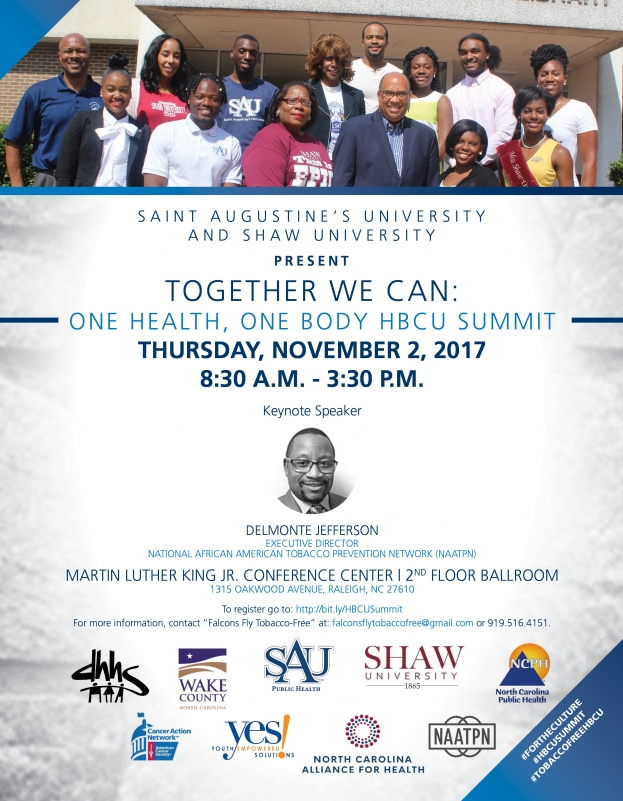 On Thursday, November 2 at 8:30 a.m. in the Martin Luther King, Jr. Conference Center Ballroom, Saint Augustine's University (SAU) and Shaw University will host the "Together We Can: One Health, One Body" HBCU Summit. SAU and Shaw University have joined together to put a positive spin on the rivalry week football game scheduled for Saturday, Nov. 4. Both universities are now 100% tobacco-free and are rallying representatives from all North Carolina HBCUs to implement similar policies. Mr. Delmonte Jefferson, Executive Director of the National African American Tobacco Prevention Network (NAATPN) will deliver the keynote address. The summit is free, and breakfast and lunch will be provided. Those interested in attending should register online at http://bit.ly/HBCUSummit. 
SAU senior and Public Health major, Keshawn Carter has spearheaded the planning process for the event. He stated, "We are dedicated to making our campus healthier for everyone. With this new policy, our hope is to serve as a model for our neighboring community to use to take action as well." 
This event is just one of many hosted by SAU targeted towards the betterment of the community. On Saturday, December 2, SAU will host "Beyond the Gates" a conference focusing on the health disparities that exist in the local community.