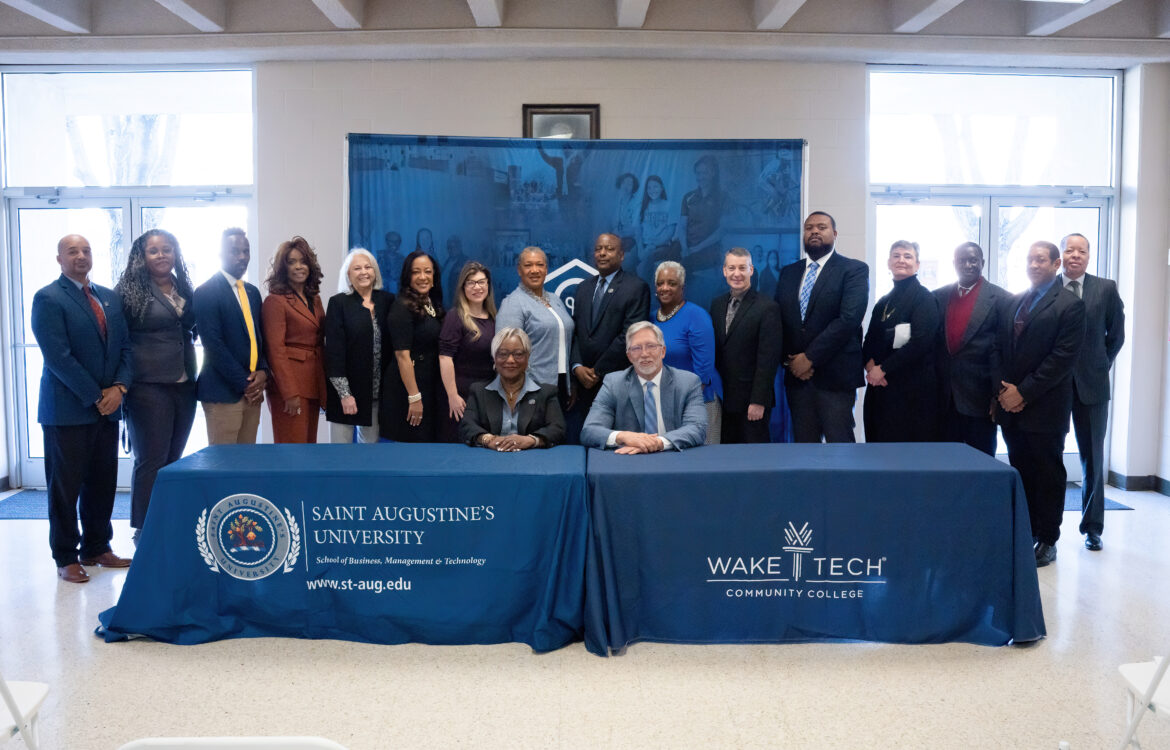 SAU and Wake Tech Expand Partnership to Strengthen Transfer Pathways
Saint Augustine's University (SAU) and Wake Tech are expanding their educational partnership allowing associate degree graduates more opportunities to pursue bachelor's degrees.
Thanks to a new articulation agreement, Wake Tech graduates of any associate degree can now transfer up to 64 credits toward a four-year degree in an applicable degree program at the private historically black college/university (HBCU).
Since 2012, the two institutions have offered transfer options for two Wake Tech Associate in Applied Science (AAS) degree programs — Business Administration and Criminal Justice Technology – allowing students to complete four-year degrees in those program areas. These agreements were updated today to reflect recent course changes to the programs of study, and the new agreement adds transfer opportunities for the rest of Wake Tech's AAS degree programs.
Saint Augustine's University President Dr. Christine Johnson McPhail and Wake Tech President Dr. Scott Ralls signed the three articulation documents today during a ceremony at SAU.
"This agreement reaffirms our commitment to our common goals, opening new pathways for students and creating new learning opportunities," said SAU President Dr. Christine Johnson McPhail. "We want to replicate the quality students receive at Wake Tech when they come to Saint Augustine's University. Therefore, we commit to the City of Raleigh and the State of North Carolina to deliver on the promise of the quality, integrity, and rigor of providing access to higher education."
"Wake Tech and Saint Augustine's University have partnered to open advanced degree pathways for criminal justice and business administration students for more than a decade," said Wake Tech President Dr. Scott Ralls. "And now we are excited to offer broader opportunities for more of our students to earn four-year degrees at SAU."
Under the new transfer agreement, students must complete an associate degree at Wake Tech with an overall GPA of 2.0, and earn a grade of "C" or better in transfer courses. Students who meet the minimum transfer qualifications are eligible for a $2,000 per year scholarship. Students with a 2.8 or higher GPA with 40 hours of documented community service are also considered for Community College Tuition Transfer Grant (CCTTG), a value of nearly $9,000 per year.
Students in Wake Tech's University Transfer degree programs (Associate in Arts and Associate in Science) have long had the opportunity to continue their education at Saint Augustine's University under the statewide articulation agreement with North Carolina Independent Colleges and Universities.
About Saint Augustine's University
Founded in 1867 by the Episcopal Diocese of North Carolina, the mission of Saint Augustine's University is to sustain a learning community in which students can prepare academically, socially, and spiritually for leadership in a complex, diverse, and rapidly changing world.
About Wake Technical Community College
Wake Tech is North Carolina's largest community college, serving more than 70,000 adults annually, with six campuses (a seventh campus under construction), two training centers, multiple community sites, and a comprehensive array of online learning options. Wake Tech offers more than 250 associate degrees, diplomas, and certificates that prepare students for university transfer or immediate employment.
Wake Tech has partnerships with dozens of four-year colleges and universities, including four HBCUs, through a variety of transfer agreements.