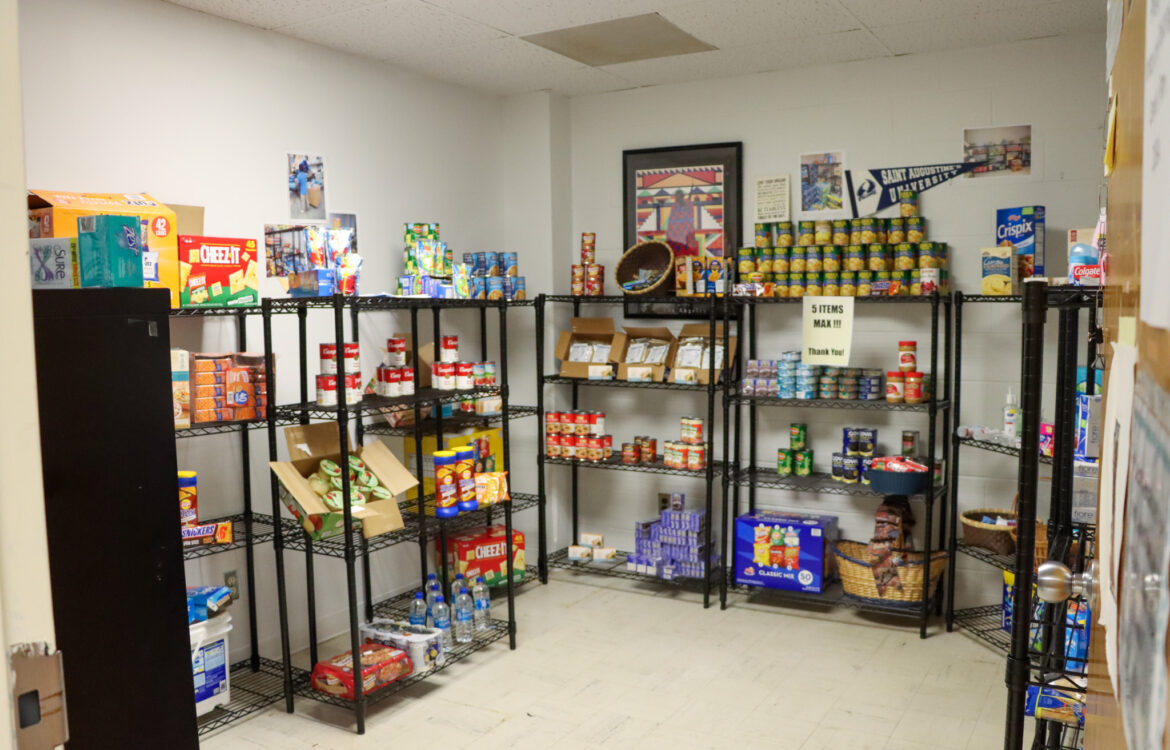 SAU Food Pantry Receives Various Donations in the Month of January
The Saint Augustine's University Emergency Aid Pantry, located in the Boyer Building, 2nd floor, is a service available to SAU students who need additional resources. Headed by Mrs. Joyce Bannerman, the pantry is open Monday through Friday from 10 a.m. to 4 p.m. Students can choose from water, snacks, cereal, Gatorade, toiletries, laundry detergent, and much more. During January, the pantry was the recipient of a few donations.
On January 25, in observance of its 14th anniversary, members of Alpha Kappa Alpha Sorority, Inc., Chi Rho Omega, Knightdale chapter donated food, drinks, and toiletry items to the Emergency Aid Pantry at Saint Augustine's University pantry.
Students present at the event expressed their appreciation to members of Alpha Kappa Alpha Sorority, Inc., Chi Rho Omega, Knightdale chapter for the donations. They spoke of the importance of having this resource on campus for them. Mrs. Joyce Bannerman also thanked Dr. Tiwanna Nevels and the sorority members for their generosity and for choosing Saint Augustine's University as their designated university to celebrate its 14th anniversary.
The group continues to focus on surrounding colleges and universities by giving their time and donations to support HBCUs' student success and retention efforts. Last year, the organization donated masks to the SAU Library.
In another donation, Raleigh-Wake Jack & Jill Associates Group members donated various items, including food, snacks, drinks, and toiletries, to the SAU Emergency Aid Pantry. Ms. Joyce Bannerman extended thanks and appreciation for the kindness shown. The group was represented by Ms. Shirley Wilkins- Nimmons, Ms. Vanessa Clarks, Ms. Pam Bright, Ms. Karen L. Parker, and Ms. Paulette D. Motley. The group promised to do more to support the pantry and other areas on campus. Again, a Big THANK YOU, and may God continue to bless the works of your hands.
And finally, Saint Augustine's University's very own Miss SAU, Bre'cha Byrd, also donated to the SAU Emergency Aid Pantry. One of her initiatives as Miss SAU is "Pack the Pantry," where she addresses and spreads awareness about food insecurity and asks for donations for our food pantry. Her initiative ties in with Food Lion Feeds. Food Lion is the Official Grocer of the CIAA. As the CIAA 2023 Basketball Tournament approaches, the Miss CIAA Scholarship Contest is on now, of which Ms. Byrd is in the running. If she wins Miss CIAA, Ms. Byrd will win a $2,500 scholarship to donate to the pantry. Please support her by voting for her here. Voting begins at 9:00 a.m. EST on February 1, 2023, and will end at 11:59 p.m. EST on February 23, 2023. Voting is unlimited, just refresh the web page after each vote. You can also view Ms. Bre'cha Byrd's Food Lion Feeds campaign video here.