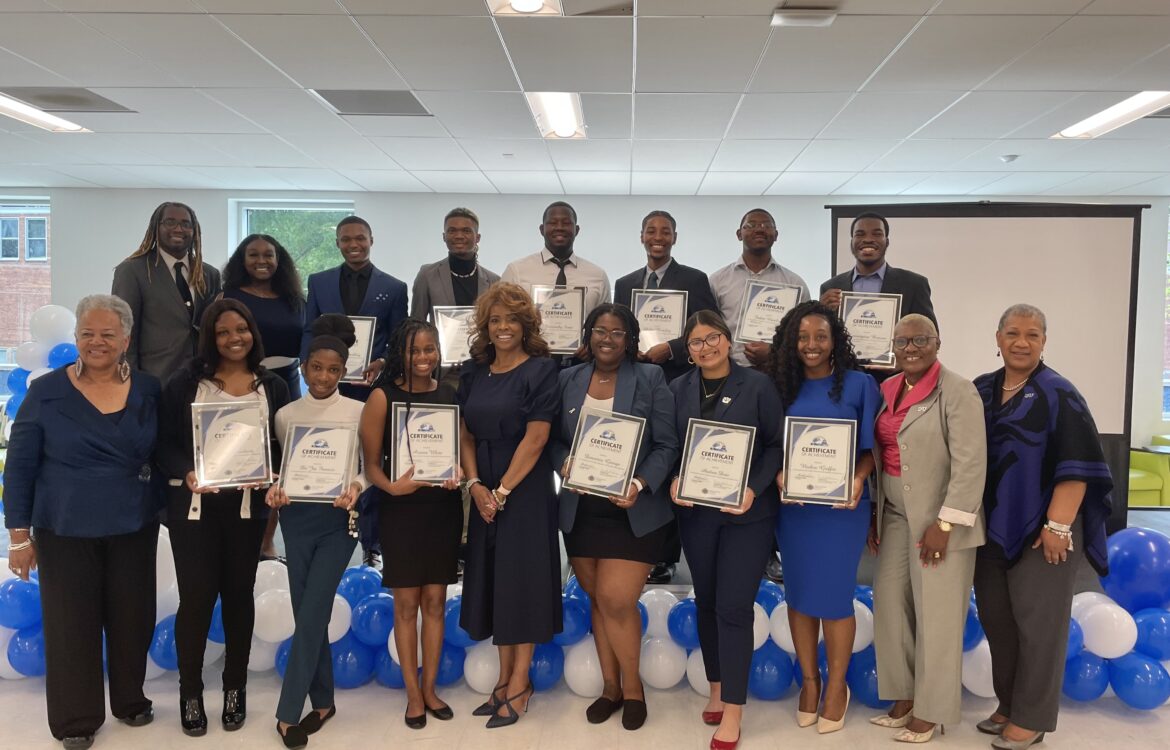 SAU Hosts Student Global Leadership Fellows Institute Closing Ceremony to Advance Economic Development Initiatives
Saint Augustine's University (SAU) continues to deliver on its mission to prepare students for global leadership. On Saturday, April 22nd, the university completed its second annual Students Global Leadership Fellows Institute, where the Student Fellows were honored at their Closing Ceremony by receiving two certificates. 
The theme for this year's class was "Why Economic Development Matters: Empowering Students to Make a Difference." In addition, the following student fellows received certificates:
Khiyanna Montford, Senior, Psychology

Jaden Hambric, Sophomore, Criminal Justice

Donovan Blackley, Junior, Exercise Science

Akilah Williams, Sophomore, English

Jovensky Seme, Junior, Biology

Jarvis Dudley, Senior, Health & Physical Education

Kensington Brown, Junior, Film

Arianna White, Junior, Criminal Justice

Demetris George, Senior, Psychology

Jalen Little, Junior, Business Management

Chyna Marbury, Junior, Psychology

Nickea Griffin, Sophomore, Film

Ashley Weekes, Senior, Accounting

Andrea Diaz, Freshman, Business Management

Miles Beasley, Junior, Communications-Broadcasting

Cameron Moore, Sophomore, Business Management

Dejai Francis, Junior, Computer Information Systems
The fellows received a Student Global Leadership Fellows Institute Certificate of Completion for their hard work and for utilizing the theme in their Capstone Projects. The Capstone Project focused on the SAU Five Pillars of Innovation to assist with developing an understanding of economic development and how global competitiveness intertwines the whole process. The Five Pillars of Innovation are:
Entrepreneurship

Global Competitiveness 

Public Health

Social Justice

STREAM (Science, Technology, Research, Engineering, Arts, and Mathematics.)
Students were divided into teams to explore and develop a project paper from the selected capstone topics. The teams presented their findings at the Closing Ceremony. The Capstone Topics are as follows: 
Economic Development The new Urban Homeless

Economic Development and Entrepreneurship 

Urban Development & City Planning around Historically Black Colleges and Universities

Economic Development and Social Justice 

Economic Development and STREAM
The student fellows also received a Conflict Management and Resolution Certificate of Participation, where they learned about meditation and role-played the steps to facilitate a conflict through meditation. The skills acquired were active listening, adaptability, communication, collaboration, cooperation, and more.  
On Sunday, May 7th, the student fellows and staff will travel to The Bahamas to learn about the cultural and economic development and education. They will also meet with the Honorable Prime Minister and her cabinet to learn more about the needs and progress made to support economic growth for the area. Students will present their presentations and highlight their findings. We aim to establish a partnership, develop synergy, and discuss a student exchange program. The student fellows will be in for a treat.
Click here to learn more about the Student Global Leadership Fellows Institute.