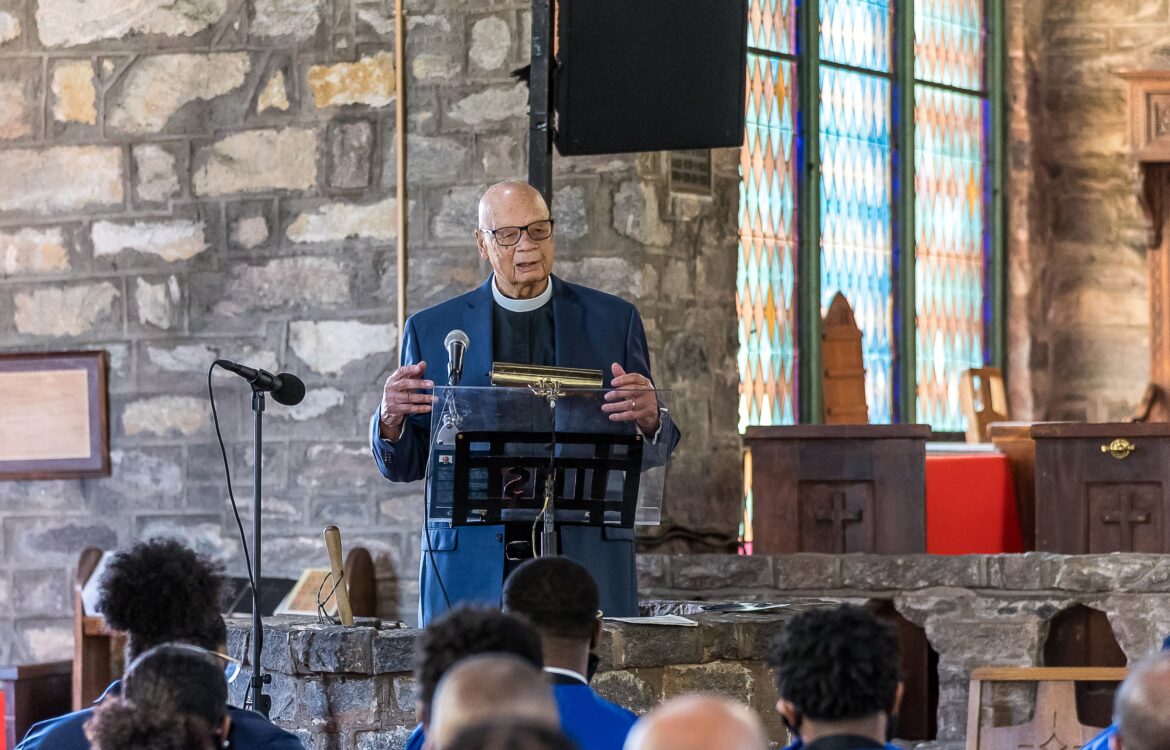 SAU mourns the loss of Board of Trustees Member and Alumnus, The Hon. Rev. Dr. Joseph N. Green, Jr.
The Saint Augustine's University (SAU) family mourns the passing of Board of Trustees Member and class of 1949 alumnus, The Hon. Rev. Dr. Joseph N. Green, Jr.
While attending SAU, Father Green was a charter member of the Beta Xi Chapter of Phi Beta Sigma, Fraternity, Incorporated, in 1948. In addition, Father Green served as the university's chaplain from 1958 to 1963. In 1985, he received an honorary Doctor of Civil Law from SAU, and later served over 25 years on the Board of Trustees before his death.
"I am very saddened about the loss of Trustee emeritus, The Hon. Rev. Dr. Joseph N. Green, Jr.," said Board of Trustee Chairman, The Honorable Retired Justice James E.C. Perry. "Father Green was my chaplain as a student at SAU. His love for this university is unmatched, and his leadership and wisdom made him an asset to the advancement of our alma mater."
Father Green served as Rector at The Grace Episcopal Church in Norfolk, for 30 years from 1963 to 1993. In 2020, he was designated as Canon Theologian at Christ and St. Lukes Episcopal Church.
In the community, Father Green was the first African American since Reconstruction elected to the Norfolk City Council, where he served for twenty years, ten as Vice Mayor. Before that, he served on the School Board. – and was a transformational civil rights leader and fighter for equal rights.
"Trustee emeritus Green was a trailblazer in The Episcopal Church and a revered community leader in the City of Norfolk. He was also a life-long advocate for student success and university sustainability at SAU," said SAU President Dr. Christine Johnson McPhail. "Father Green's life and leadership embody SAU's historical commitment to social justice. Our thoughts and prayers are with his family and friends as we honor his legacy through the speaker series he gifted to the university to enrich our students."
A native of Jenkinsville, SC, Father Green received his Bachelor of Arts in 1949 from Saint Augustine's College (now university) before earning his Master of Divinity at Philadelphia Divinity School in preparation for his ordination to Holy Orders. In 1965, he earned a Master of Sacred Theology (S.T.М.) from the School of Theology at the University of the South in Sewanee, GA. In doing so, he made history as one of the first of two African American students to earn a degree from the University of the South. His cousin, William (Bill) Fletcher O'Neal, also graduated in 1965 with an STM.
In addition to receiving an honorary doctorate from SAU, Father Green also received numerous honorary awards from several institutions, including the University of the South, Doctor of Canon Law, 2010; the School of Theology, The Dubose Award for Service, 2009; Old Dominion University, Martin Luther King Jr. Memorial Award, 1990; and Virginia Theological Seminary, Doctor of Divinity, 1988.
In addition, Father Green's service on the city council included promoting mass transit and forming a public housing tenant on the Housing Commission, along with efforts to establish a downtown campus of Tidewater Community College. As a result, Tidewater Community College's campus in Norfolk named the administration building in Green's honor, and the city council also named a street after him.
Click here to watch an interview describing his experience as a student and chaplain at SAU and his journey as a black priest in The Episcopal Church.