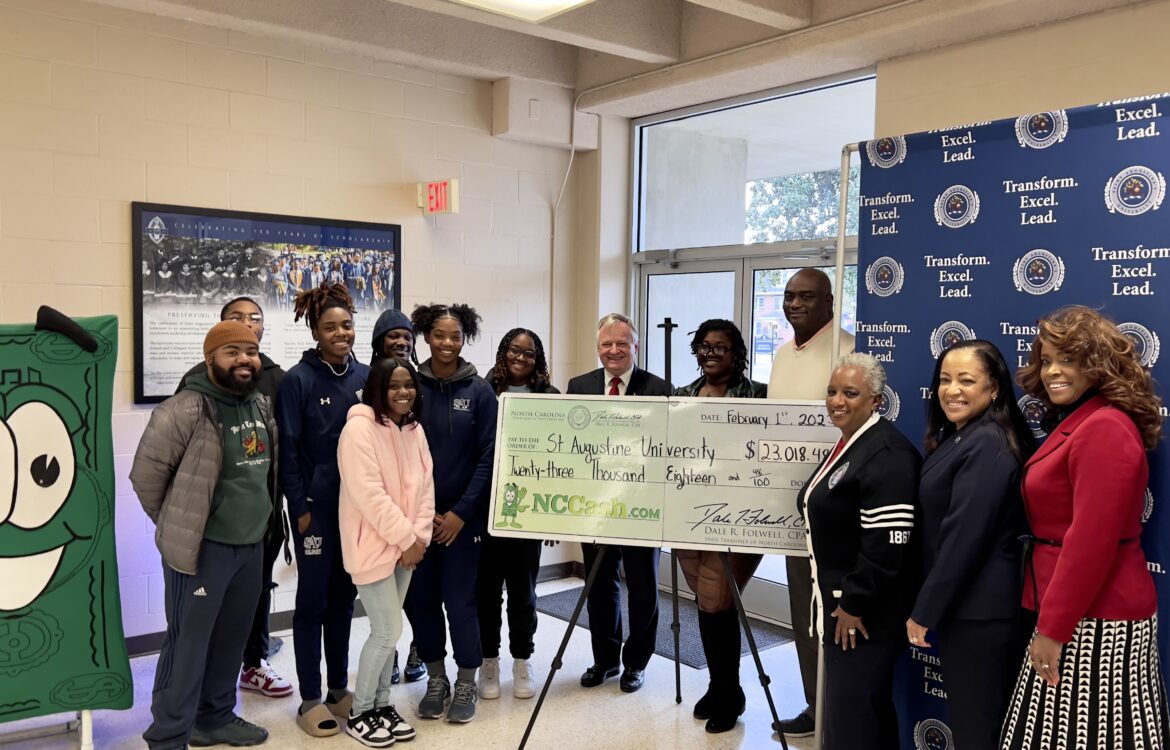 SAU Receives $23,018 from State Treasurer Folwell in Honor of University's Legacy
Saint Augustine's University (SAU) received a visit from State Treasurer Dale R. Folwell, CPA, because of a review of data in the Unclaimed Property Division (UPD), commonly called NCCash.com, in which the Department of State Treasurer (DST) staff identified $23,018 belonging to the university.
"A strong state is an essential partner to the success and the sustainability of a strong university," said SAU President Dr. Christine Johnson McPhail. "The SAU community thanks Treasurer Folwell and the DST for their leadership and support of our students."
During his visit, Treasurer Folwell paid tribute to the university by presenting a check to Gwen Kea, SAU vice president of finance and administration, and Dr. Carolyn Carter, vice president of institutional advancement. 
"The Falcon community inherited a can-do spirit of overcoming the odds that was forged during a period of history that posed daunting challenges. Saint Augustine's Chapel, the oldest building on campus, embodies that heritage," Treasurer Falwell said in a statement. "It was constructed from stone that students carved from surrounding rock quarries in 1895. As we begin the celebration of Black History Month today, I am honored to return this money and help to put another brick in the university's financial wall."
"Saint Augustine's has a well-deserved national reputation in the sports arena for producing track champions and Olympic gold medal winners. But it has attained global renown for putting its students on a different track, one in which they are academically and socially equipped for the challenges ahead in their career pursuits, and spiritually prepared to run the good race," Treasurer Folwell said in a statement.
The DST reports that NCCash.com is the repository for 17.7 million properties valued at $1.02 billion under DST's custody. The money is awaiting return to the rightful owners after being lost, misdirected, or overlooked. More than 19 million owners are associated with the properties being safeguarded by DST. 
"The money will be used to help our students, and for some infrastructure and programs," Kea said in a statement. "Programs are always the most important piece."
UPD paid 178,857 claims amounting to more than $105 million during the 2022 fiscal year that ended June 30. Both numbers were historical records. The returns are on pace to set another record this fiscal year. Through Nov. 30, UPD has paid 74,979 claims totaling over $44 million from NCCash. Part of that total has been disbursed through the NCCash Match program, a no-hassle, expedited system that eliminated paperwork processing. As of Nov. 30, DST paid 44,200 Cash Match claims totaling about $12.6 million.
"It was so easy to go in and process. We uploaded the forms, and the folks who contacted me back were extremely helpful," Kea said in a statement. "I would just say don't let that money lay there. It belongs to you."
Click here to read the full story from the DST.
Click here for more information, including how to find out if you are owed money.