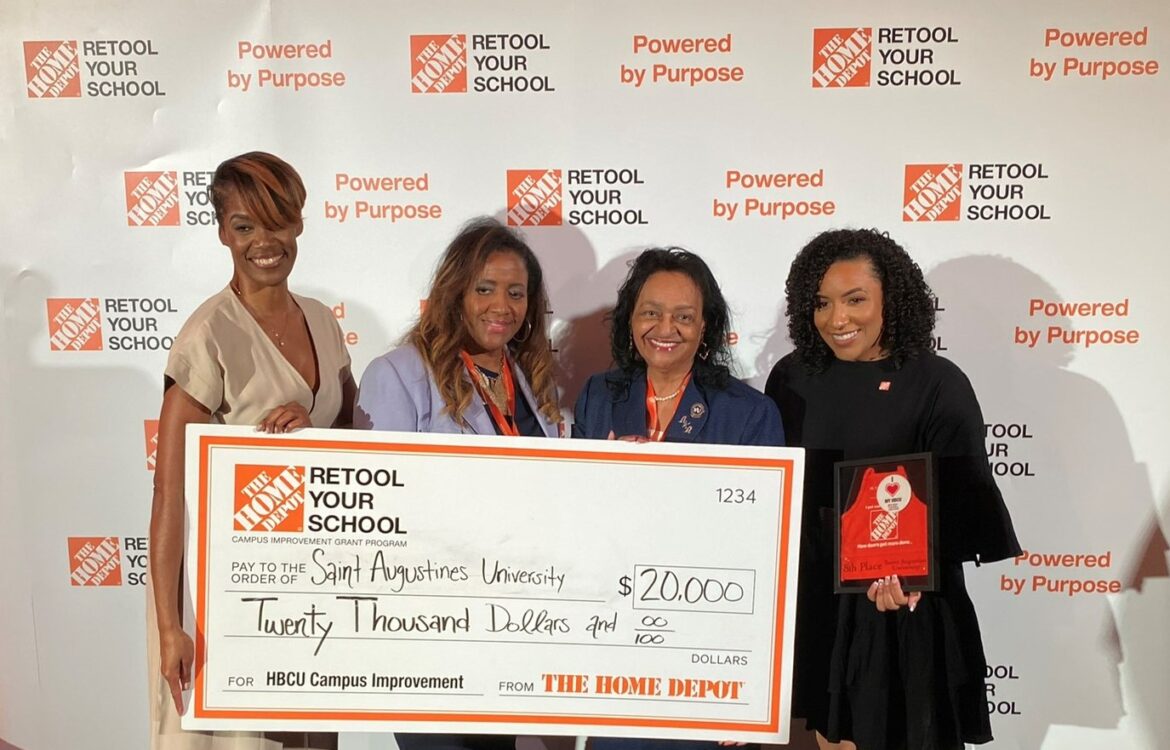 SAU Receives First $20K Award from the Home Depot Retool Your School Program
Saint Augustine's University (SAU) was one of 30 winners in The Home Depot 2022 HBCU RETOOL YOUR SCHOOL Program. This was the university's first year recognized as a participant and as an award recipient in the program.
SAU was awarded $20,000 as one of the top 10 universities with the highest votes in Cluster 3 (student enrollment of 1,200 or less). With the support of the entire "Soaring" Falcons family, SAU received over 370,000 votes.
"It was exciting to see the students, faculty, staff, alumni, and supporters of the university come together to help get the votes that we needed in order to finish in the top ten," SAU Athletic Director David Bowser said.
The grant will fund the restoration of an outdoor basketball court to give SAU students, faculty, and staff, the much-needed multi-purpose space, to buffer against COVID-19 health impacts. The outdoor space provides for recreation/social gatherings, physical activity, outdoor PE classes/meetings, and community basketball events/camps, hosted by the university.
"This award gives our university a tremendous boost towards our strategic health and wellness initiatives," said SAU President Dr. Christine Johnson McPhail. "I'm very proud of the spirit of collaboration exhibited by all of our stakeholders to reach this goal."
The Winner's Ceremony was held in Atlanta on Tuesday, April 26, to celebrate the participating schools and the 2022 voting season.
The event was hosted by actor and HBCU alumni Laz Alonso. In addition, actor, entertainment reporter, model, and HBCU alumnus Terrence J participated in a fireside chat.
"Since its launch in 2009, The Home Depot's RETOOL YOUR SCHOOL Campus Improvement Grant Program has provided support to almost 70 percent of the nation's HBCUs through more than 180 grants," said Derek Bottoms, Chief Diversity Officer for The Home Depot.
Click here to rewatch the 2022 Winner's Ceremony Announcement and view a complete listing of the winners.