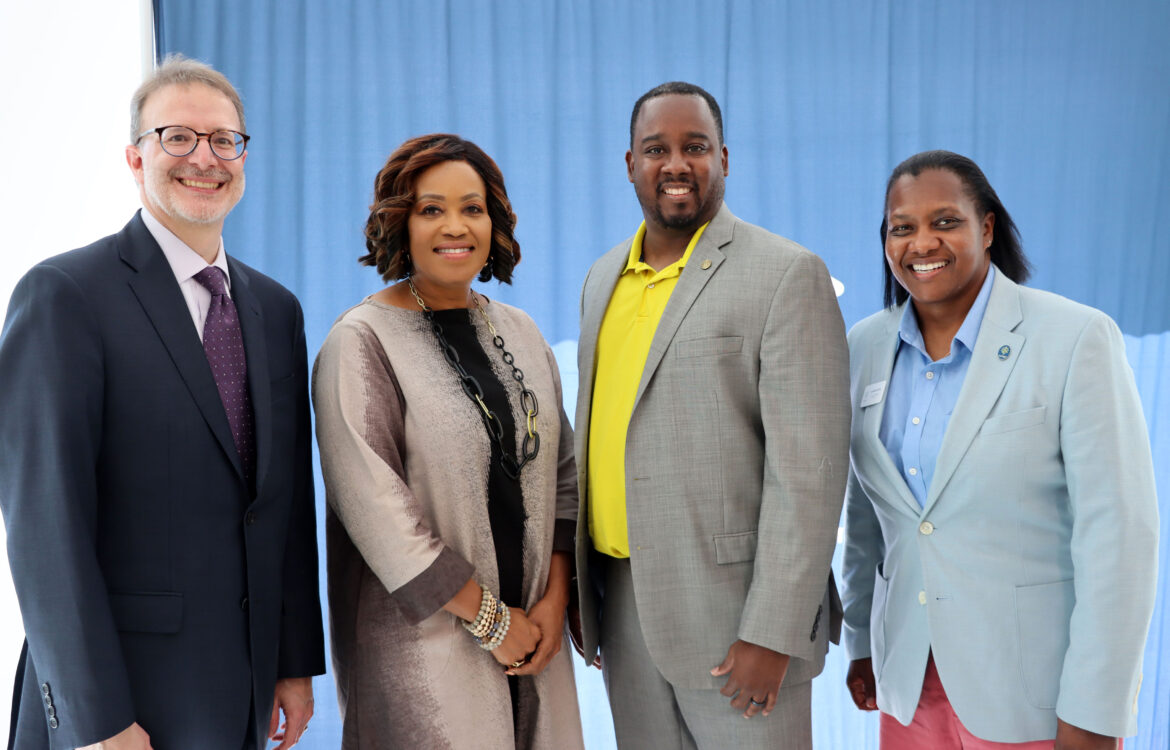 U.S. Economic Development Administration Deputy Assistant Secretary and Chief Operating Officer Dennis Alvord Visits SAU
 (Pictured left to right) US EDA Deputy Assistant Secretary Dennis Alvord, NC Secretary of Commerce Machelle Baker Sanders, Raleigh Mayor Pro Tem Corey Branch, and Raleigh City Councilor Stormie Forte.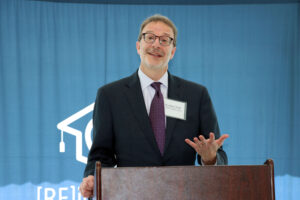 On Monday, May 9, 2022, U.S. Economic Development Administration (EDA) Deputy Assistant Secretary and Chief Operating Officer Dennis Alvord met with local and state leaders at Saint Augustine's University (SAU) to discuss a recent $400,000 EDA American Rescue Plan grant awarded to support workforce training efforts and strengthen public health and health equity resources at the university. 
"Saint Augustine's University has a strong legacy of providing high-quality education and training, as well as promoting equitable access to healthcare," Alvord said. "It was truly inspiring to hear about the shared vision and coordinated effort already underway for the St. Agnes site from both state and local officials, and to learn from student leaders about the impact that the University has had on their educations – and their futures. EDA is honored to work with Saint Augustine University and our nation's other HBCU's to advance equitable economic development." 
The funding is a part of the EDA's $500 million American Rescue Plan Economic Adjustment Assistance Program, which is helping hundreds of communities plan, build, innovate, and put people back to work through projects designed to meet local needs.  
"I am excited to see that the EDA recognizes the value that our university brings to reimagining the community around us," said SAU President Dr. Christine Johnson McPhail. "The preservation of St. Agnes plays a critical role in executing our strategic initiative to address the complex needs of our surrounding community." 
Erected in 1896, the national landmark St. Agnes Hospital served as a training school for Black nurses and as the only hospital caring for African Americans regionally for many years. Most Black nurses who fought in World War II received training at Saint Agnes. Most notably, after being turned away at other hospitals, former heavyweight champion Jack Johnson died at Saint Agnes from injuries he sustained in a car accident in 1946. The hospital closed its doors in 1961, but its remnants remain standing in the shape of a cross.  
"The feasibility study can share with us what we can do there and how to best preserve what remains," said SAU's Vice President for Economic Development and External Relations, Veronica Creech in a statement. "We want to honor that history and all that happened there." 
ABC 11 Eyewitness News coverage of the visit can be found here.  
Click here to learn more about SAU's reimagining of St. Agnes Hospital. 
About Saint Augustine's University 
Founded in 1867 by the Episcopal Diocese of North Carolina, the mission of Saint Augustine's University is to sustain a learning community in which students can prepare academically, socially and spiritually for leadership in a complex, diverse and rapidly changing world. 
About the U.S. Economic Development Administration (www.eda.gov) 
The U.S. Economic Development Administration's (EDA) mission is to lead the federal economic development agenda by promoting competitiveness and preparing the nation's regions for growth and success in the worldwide economy. An agency within the U.S. Department of Commerce, EDA invests in economically distressed communities to create jobs for U.S. workers, promote American innovation, and accelerate long-term sustainable economic growth.