SAU Reports Highest Freshmen Enrollment in 10 Years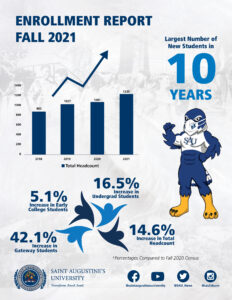 Saint Augustine's University (SAU) is pleased to report that they have had the highest freshmen student enrollment (459) in ten years (461 in 2011). This is a 15% increase since last year (399).  
In 2020, SAU saw a 5.3% increase in total headcount (1081) from 2019 (1027) and in 2021 there has been close to a 15% increase (1239) over the last year.  
"We are excited to welcome the largest class of future leaders in the last decade," says SAU President Dr. Christine Johnson McPhail. "As we 'reimagine' Saint Augustine's University, this type of growth is essential in supporting our current operations and ensuring the university's long-term sustainability." 
The University has also experienced a 42.1% increase in the enrollment of Gateway Program (Adult Education) students and a 5.1% increase of Early College Program students, which were garnered through a partnership developed with the Wake County Public Schools System.