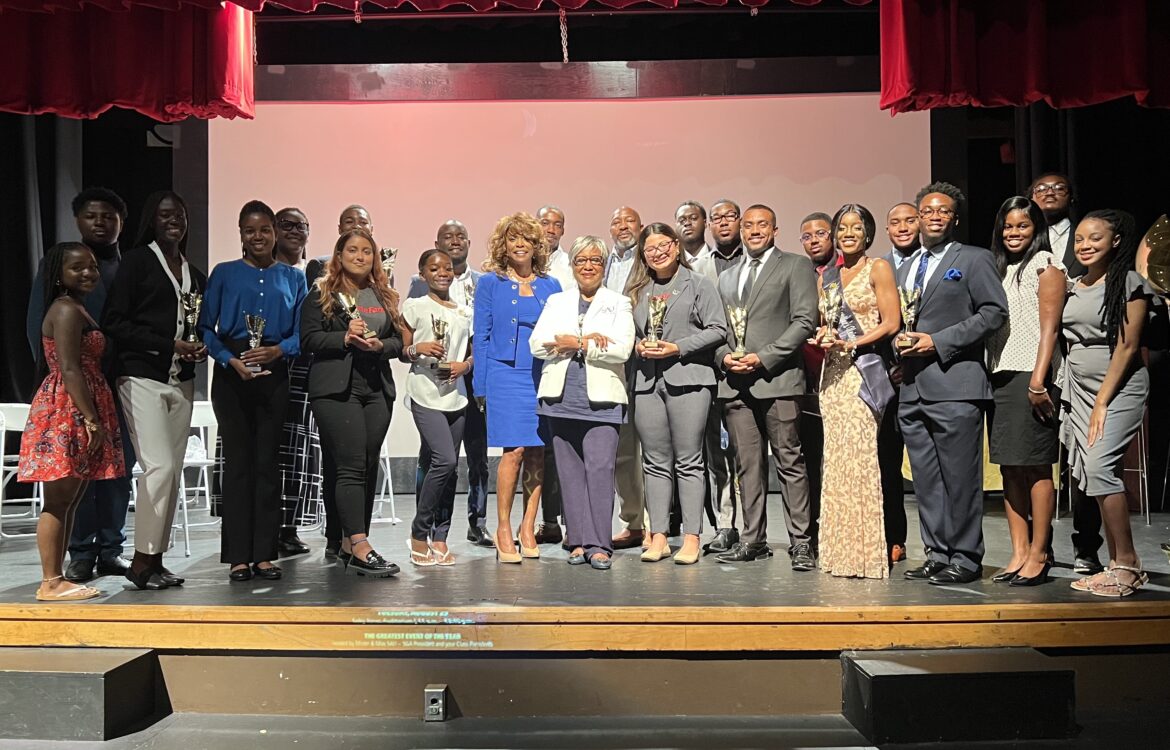 SAU Students Recognized for Outstanding Summer Internship Achievements at Oscars Internship Awards
In a summer filled with extraordinary opportunities and remarkable achievements, students from Saint Augustine's University (SAU) have triumphed nationwide, completing over a dozen high-profile internships that have captivated industries and sparked a buzz among recruiters. From one of the top accounting firms in the nation to the cutting-edge technology labs of premier research institutions, these talented individuals have made their mark and cemented their place as the rising stars of tomorrow. To celebrate these outstanding achievements, the SAU Professional Development and Career Services Center hosted their prestigious "Oscars" Internship Awards last month to recognize the remarkable accomplishments of SAU students who excelled during their internships.
"Watching our students receive the Oscars Internship awards for their summer internship experiences was an incredibly proud moment for our institution," said SAU President Dr. Christine Johnson McPhail. "These outstanding students have showcased their talent and dedication, representing SAU with distinction and making a lasting impact in prestigious organizations nationwide. Their achievements exemplify the transformative power of internships in shaping successful careers, and we are excited to witness their continued growth and success."
The students recognized at the awards ceremony were as follows:
Ashley Weekes, Deloitte, Raleigh, NC.

Louis Keenan Lowndes, Deloitte Consulting, Charlotte, NC

Tadiwanashe Rukasha, Toshiba Global Commerce Solutions, Durham, NC

Emmanuel Bryant, CliftonLarsonAllen, Charlotte, NC

Peter Musenge, Hewlett-Packard Inc. (HP), Spring, Texas

Cameron X. Moore, Deloitte, Charlotte, NC

Sthepanie Sierra Medina, Zonya Autmon, State Farm Insurance, Durham, NC

Andrea Diaz, Zonya Autmon, State Farm Insurance, Durham, NC

Imani Crosby, NC Department of Natural and Cultural Resources

Nathan Swain, NC State University, Raleigh, NC

Miles Beasley, United States House of Representatives, Washington, DC

Sheree Wright, NC State University, Raleigh, NC
"Both myself and Ms. Michele Johnson, who serves as the Director of The Professional Development and Career Services Center, agree that the students at SAU are outstanding and make every effort to grow, learn, and lead in their prospective professions as they become our next generation of world leaders," said Dr. Love, Associate Vice President of Professional Studies and Enterprise Services. "We are proud of their accomplishments from their experiential learning experiences during the summer 2023 term. Our goal is to continue to support their growth and development while connecting them to community partners globally."
In addition to the students recognized at the Oscars Internship Awards program, Saint Augustine's University is proud to have had over 70 students participate in summer internships across various industries and institutions. Some of the remarkable companies and educational institutions where SAU students interned include the following companies and institutions:
Ball State University, Graduate Program, Muncie, IN

TT Madrid TEFL Certification, Madrid, Spain

Southeast Raliegh Promise (SERP), Raleigh, NC

Wells Fargo Human Resources, Charlotte, NC

Granahan Investment Management, Boston, MA

Credit Suisse Technology, Raleigh, NC

Savannah State University, Savannah, GA

YMCA, Raleigh, NC

Omnicon Media Group, Charlotte, NC

University of North Carolina Chapel Hill, Chapel Hill, NC

University of Virginia, Charlottesville, VA

University of Delaware, Newark, DE

Davidson College, Davidson, NC

Woods Hole Partnership Education Program, Woods Hole, MA
Click here to view the gallery from the Fall 2023 Oscars Internship Awards
Click here to learn more about The Professional Development and Career Services Center.