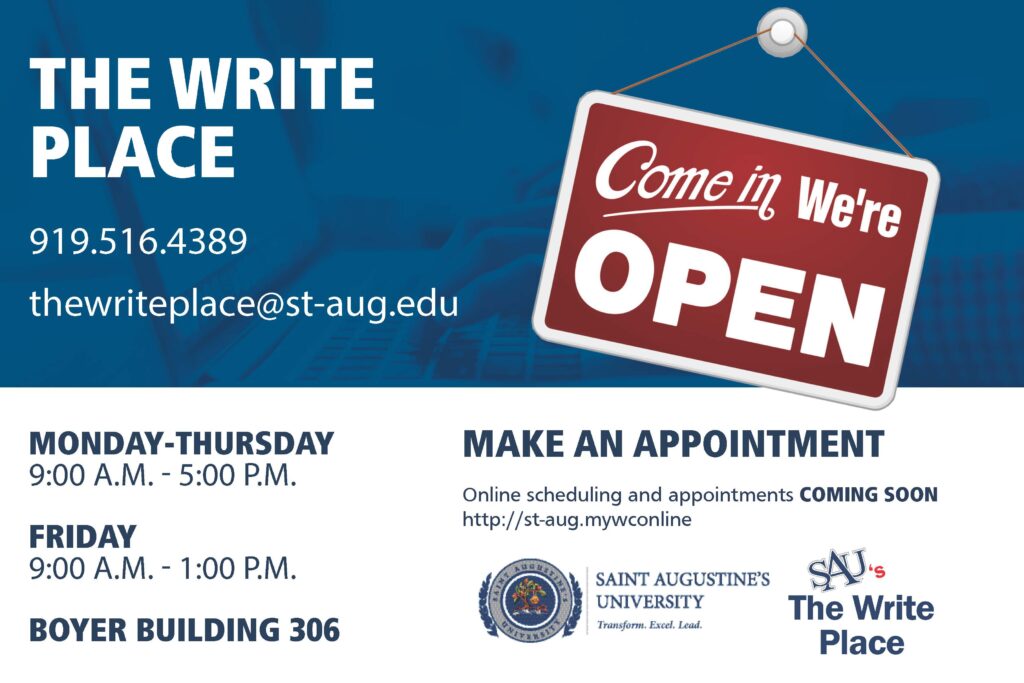 THE WRITE PLACE QUESTIONNAIRE
Pose your writing questions here. Get answers without scheduling an appointment.
ONLINE SESSIONS 
The Write Place conducts all online sessions using WCOnline. Online appointments can occur on the day/time you select and drafts can be uploaded prior to the appointment. To have an online session, you will need to create an account in WCOnline and follow the instructions for registering.
The Write Place is designed to address the writing needs of students across the curriculum and to encourage academic discourse in a casual setting. Assistance is provided for the identification of writing issues and clear directions are given on how to make writing improvements. Through personalized one-on-one consultations, writing ideas are discussed with goals of alleviating writing fears, promoting creative ideas, and to make the practice more enjoyable. In an encouraging and enriching setting, writers are supported through any stage in the writing process, including prewriting, drafting, revising, and editing. Collaborative assistance is also provided with various writing genres and documentation styles.
To make a positive impact on students' attitudes toward writing

To develop partnerships and collaborations with faculty, staff, and departments

To provide useful feedback through writing consultations

To encourage repeat visits

To impact skill retention and application
What does the Writing Center Offer?
Assistance with any writing tasks at any stage of the writing process

Individualized and personalized writing consultations both onsite and online

Computers with printer access

A quiet, yet stimulating environment and study area

A resource center covering various writing-related topics, documentation guidelines, and research tips
MONDAY – THURSDAY
9 a.m. – 5 p.m.
FRIDAY
9 a.m. – 1 p.m.
Evening, weekend, and online hours by appointment, dependent upon staff availability each semester.
Boyer Building, Room 306
919.516.4389
thewriteplace@st-aug.edu
UPCOMING WRITE PLACE EVENTS
There are no upcoming events at this time.
Visit Boyer 306 to view our space or to schedule an appointment. In the meantime, the FAQs provide information about services and policies.
All Saint Augustine's faculty and staff are encouraged to become familiar with The Write Place and its services. You are always welcomed to come to Boyer 306 to visit, ask questions, speak with a writing consultant, or volunteer.
Can I drop off my paper?
No. The Write Place is not a proofreading, editing, or paper-finishing service. Our priority is to provide assistance and resources so that you can improve as a writer. For that, we need to discuss your writing with you. Remember that the role of the writing consultant is to offer support and guidance, not to tell you what to write or to correct all your errors for you.
Will a writing consultant correct my paper?
Consultants will help you to identify errors and equip you with strategies for improving current and future assignments. Strategies include understanding patterns of errors that affect the comprehension and flow of your paper as well as addressing grammatical needs. It is highly suggested to visit The Write Place far in advance of a paper being due as you will have time to meet with a consultant and apply suggestions.
When and why should I visit the Write Place?
In order to give yourself time to apply what you've learned in your consultation, plan to visit The Write Place prior to your assignment's due date as revision takes time. Scheduling appointment hours (or minutes) before a paper is due is not an effective way to improve your writing.
Writing is a difficult task to complete in isolation. At The Write Place, you'll get a chance to discuss your writing with a trained consultant. Our goal is to have you leave with high-quality advice and plenty of useful tips, strategies, and resources. Consultants will assist you with learning the skills you need to write with more clarity and confidence.
What happens during a consultation?
You will have a 30 or 60-minute conversation with a consultant about your writing. Some discussion topics include assignment requirements, concerns, and areas of focus. You also will set goals during the consultation. The consultant will often have you to read your paper aloud. He/she will read along with you while asking questions to clarify your ideas, sentences, and paragraphs. You will discuss strategies for making your writing stronger. Any aspect of the paper or process may receive attention, including (but not limited to): organization of content, development of ideas, clarity and precision, audience and purpose, research and sources, documentation and formatting, style and tone, and grammar and mechanics.
How will my professor know that I've had a consultation in The Write Place?
After your session has ended, the consultant will file a Writing Center Report Form. This form provides official documentation of your visit along with your Agenda Form. A copy of the Writing Center Report Form will automatically be emailed to you. You can forward it to your instructor, or print it out and hand in a hard copy—or provide us with your instructor's email address, and have one directly sent to his/her inbox.
Will I be guaranteed a better grade if I visit The Write Place?
Consultants will not grade your paper. They will discuss your assignment with you and provide strategies for improvement. There will not be any speculation made pertaining to grades.
How do I set up an appointment?
Call 919.516.4389 or stop by Boyer, room 306 to schedule an appointment. Appointments will be entered into www.st-aug.mywconline.com. Walk-ins are welcomed but will vary based upon the availability of the consultants and appointment scheduled.
What should I bring to my appointment?
If you have a draft, bring 2 copies of it to your appointment. (You can print in The Write Place.) You'll keep one copy and the other copy will be kept in The Write Place. You should also bring your assignment sheet, course syllabus, notes, and the research or materials you used to write the paper.
What kind of writing can I get help with during an appointment?
We welcome all types of writing: academic essays, research papers, lab reports, reflections, memos, press releases. We prioritize academic work, but we can also help with scholarship essays, cover letters, resumes, and personal statements.
What should I do if I need to re-schedule or miss my appointment?
Call 919.516.4389 or stop by Boyer, room 306 to reschedule. We have a 24-hour no show policy. If you do not show for a scheduled appointment and do not give a 24-hour notice, it will count as a "no show." If three scheduled appointments (no-shows) are missed, then no additional appointments can be scheduled for the rest of the semester. You are allowed to a have a consultation as a walk-in according to availability.
There are not any appointment times to fit my schedule. What can I do?
Check the schedule on WCONLINE several times a day. Students occasionally cancel appointments and the time can become available.

Call 919.516.4389 for cancellations or availabilities.

Visit The Write Place at the top of the hour and let the receptionist know that you want to be seen as a walk-in (even though the schedule is full). If someone fails to show up for an appointment, you will be given that time.
"The writing center helped me effortlessly. I've improved in placing my punctuation in the right place and making my sentences flow. I came to the writing center with a C 76% and I received a 92% in English the first semester and an 90% second semester. I enjoyed the writing center and my teacher Professor Sparrow enjoyed my papers over time. I ended my year with a 3.6 accumulated GPA. I'm currently taking 18 credits each semester in hopes to graduate with class of 2022."