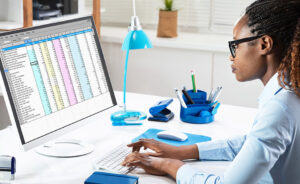 BECOME A MICROSOFT OFFICE SPECIALIST WITH EXCEL
Microsoft Excel sets the standard for spreadsheet and data use, respectively. Developing skills and experience with Excel allows you to work independently and solve problems. This 100% online course will teach you the skills you need to work with Excel. Upon successful completion, you will be prepared to take and pass the Microsoft Office Specialist (MOS) Expert certification exam for Microsoft Excel. Enrollment includes optional voucher to cover exam fee.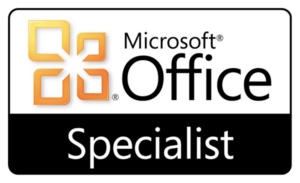 JOB OUTLOOK FOR MICROSOFT OFFICE SPECIALIST WITH EXCEL
Business operations and office support positions are among the fastest-growing career areas in the current economy. From administrative assistants to specialists in business presentations and data analysis, many of today's most promising career areas involve expertise in Microsoft Excel.

Among the Office and Administrative Support Occupations listed by the US Bureau of Labor Statistics (BLS), those that require MOS skills offer the highest levels of pay and future opportunities. For example, Payroll and Time Keeping Clerks earn an average of $46,180 per year.

According to PayScale.com, holders of the MOS certification earn an average of $54,000 per year. With skills in a specific domain such as legal or financial, the pay can increase to $67,000 or higher.
MICROSOFT OFFICE SPECIALIST WITH EXCEL FAQs
To create, modify, and manage Excel workbooks

To use formulas, functions and work with tables

To use conditional formatting and styles

To create pivot tables and charts

To import and export data

Become a certified Microsoft Office Specialist (MOS) Expert in Excel
PREREQUISITES AND REQUIREMENTS
There are no prerequisites to take this course. However, you should be comfortable using a personal computer and be familiar with operating Windows Office software.  
Introduction to Microsoft Excel

Intermediate Microsoft Excel

Advanced Microsoft Excel

Microsoft Excel Final Exam
REGISTRATION AND ENROLLMENT
This course is open enrollment. You can enroll and begin any time.
Tracy Berry
Tracy Berry has been a senior graphic designer/programmer, instructor, and consultant since 1993 and has developed hundreds of logos, marketing materials, websites, and multimedia solutions for customers worldwide. She was also involved in several large corporate software rollouts. She has helped many organizations optimize and streamline data solutions. She teaches both onsite and online courses and has her CTT (Certified Technical Trainer) certification. Tracy specializes in teaching graphics, desktop publishing, web design, and reporting/productivity applications.