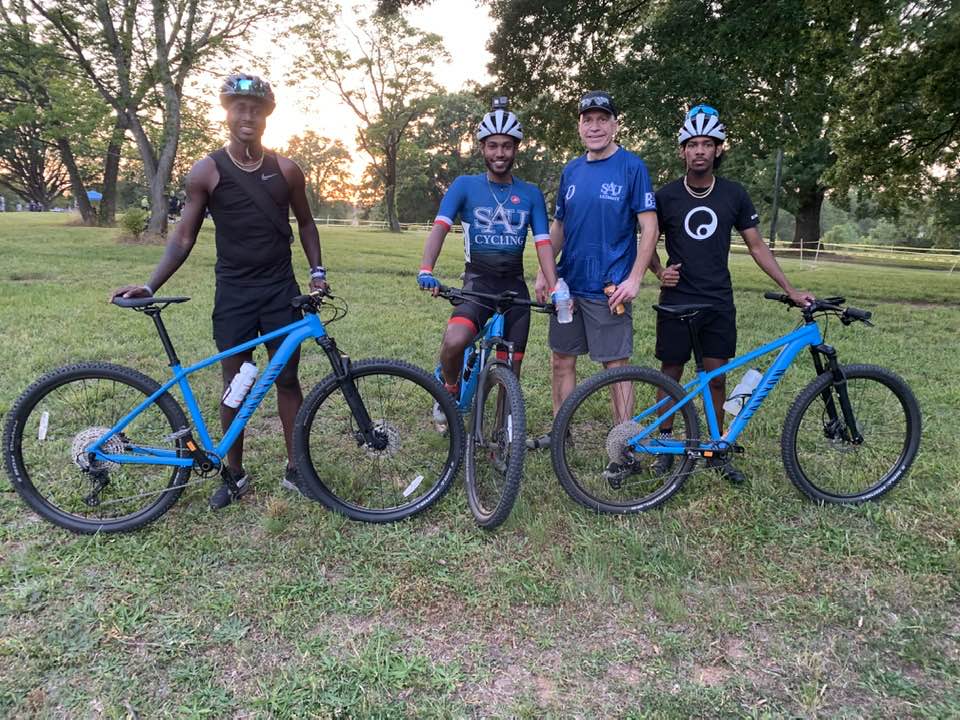 SAU Cycling Begins Mountain Bike Short Track Summer Race Series
May 11, 2023 – Raleigh, NC: The SAU cycling team began its summer race season at Dorthea Dix Park in the first race of the Berger Hardware Bikes Short Track Series. About 80 total cyclists raced on a 1.25 mile looped course that included several rollers, jumps, hairpin turns, and loose dirt. Several local professional racers and recent national cycling champion from UNC, Owen Cole, also raced in the event.
SAU coaches Finote Weldemariam, Brandon Valentine-Parris, and Dr. Mark Janas competed on bikes provided by team sponsor, Canyon. Prospective SAU BMX racer Kadain Roper was also in attendance and participated in pre/post-race rides.
"These short track races are a blast for the racers. They require a lot of attention to race tactics and the ability to find just the right maximum 20-minute pace, all while dealing with a face full of dust in a crowd of bikes. One mistake and a podium finish turns into something closer to the back of the pack. These races are also fun for spectators who can cheer for their favorite riders at several places on the course each lap. The SAU team looks forward to hosting a similar cyclocross event on campus this Fall," comments Dr. Janas.
The SAU cycling team plans to compete in several more races this summer, including both upcoming Berger series races and the Unbound Gravel race in Kansas in June 2023. BMX track workouts will also begin this month for several new SAU riders.
About SAU Club Sports:
The Saint Augustine's University (SAU) club sports program is managed by the sports management program in the School of Business, Management, & Technology (SBMT). SAU club sports include cycling (the first HBCU team in the country), BMX, rowing (the first HBCU ladies' team in the country), Ultimate (the first HBCU team in the country), SIM golf, and SIM motorsports. Sports in development include flag football, pickleball, paddling, VR tennis, 3v3 basketball, and adventure racing. The program is designed to support SBMT curriculum, as well as to introduce sports not typically part of the HBCU experience. For more information, visit www.sauclubsports.com.