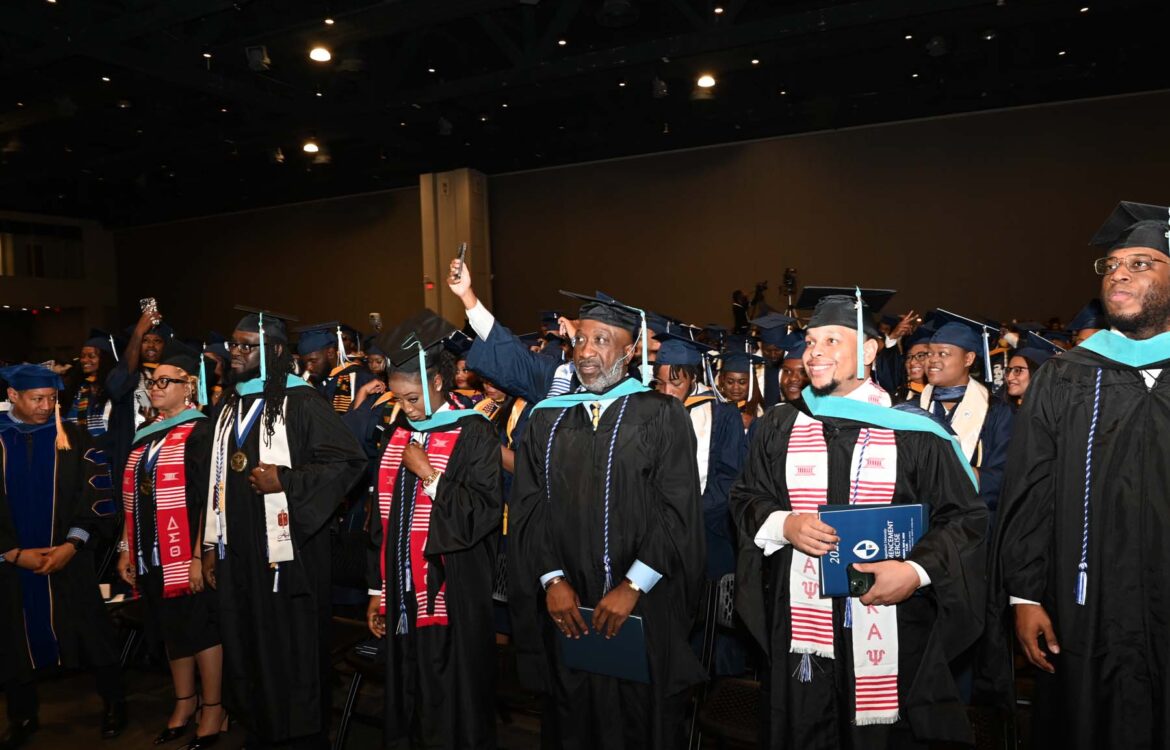 SAU Graduates Make History as First Master's Degree Recipients
Eight students received a Master's Degree from SAU for the first time in the university's history
On Saturday, May 6th, eight students made history as the first to receive a master's in public administration (MPA) from Saint Augustine's University (SAU) in the institution's 156 years during its 92nd commencement ceremony at the Raleigh Convention Center. 
"I offer my sincere congratulations to each member of the first MPA cohort for helping to make this a history-making moment for the university," said SAU President Dr. Christine Johnson McPhail. "These graduates have completed a rigorous program that prepares them for leadership roles in public service, nonprofits, and government agencies. We do not doubt they will significantly contribute to their communities and beyond. As a university, we remain committed to providing programs that equip our students with the skills and knowledge they need to succeed in their respective fields. We are delighted to celebrate this milestone with our graduates today."
Of the eight, alums Gia Minnis, '21, '23, Ronald Mitchell, '19, '23, and Cynthia Whitney, '13, '23, who previously received their bachelor's degree from SAU, became the university's first "Double Falcons." 
"I'm proud to be a part of this historic moment etched in time. The School of Graduate and Extended Studies has soared and reached this inaugural pinnacle of graduating not one but eight Master of Public Administration students that have persevered and stayed the academic course," said Dr. Shawn A. Lewis, Dean of the School of Graduate and Extended Studies. "I am so proud of them, and I will continually develop and implement innovative and pioneering online programs. As a result, we have spread our wings and are reaching new historic heights."
The complete list of MPA graduates is as follows:
Fabian Alford

Quinton Grant

Sherard Johnson (The first student admitted into the program)

Juwan Manning (The first student-athlete to receive a master's degree from SAU)

Kevin McClain

Gia Minnis, '21 (The first traditional undergraduate student admitted into the program)

Ronald Mitchell II, '19 (Gateway adult program)

Cynthia Renee Whitney, '13 (Gateway adult program)
"The Miracle on Oakwood! I love my SAU. In 2017, as a timid, shy undergraduate, I can truly say that it is because of SAU I have been equipped in every way possible to take the world by storm!" said Minnis. "SAU has granted me a home away from home, filled with opportunities and experiences. For this, I'm forever grateful for my beloved Saint Augustine's University!"
The MPA program, which started in January 2021, offers a fully online practitioner-oriented, rigorous program of study designed to prepare career professionals to serve in leadership roles, such as public administrators, public managers, and policy analysts with critical decision-making skills.
"It's awesome to graduate from the first cohort in the MPA program at Saint Augustine's University. For me, it's special," said Whitney. "I feel like I made history attending my Alma Mater graduating in the first class, as a university, and now graduating in the first MPA program."
As a practitioner-oriented program, the SAU Program uses highly placed, degree-qualified practitioners and terminally degreed faculty with the breadth and depth of practical and scholarly experiences to provide students with directly transferrable knowledge that translates into significant career advancement and mobility.
"Being a part of the inaugural Master of Public Administration graduating class is surreal! If I could go through this process again, I would," said Johnson. "The faculty was supportive, empowering, and cultivating all simultaneously. The Master of Public Administration program at Saint Augustine's University should be a program that every scholar looking to continue their higher education goals should consider!"
The SAU MPA program is one of the region's most affordable advanced degree programs. The design of the MPA is to be a high-quality, affordable, fully online program of study leading to more excellent career and professional achievement.
"Being part of the first graduate of SAU's Master class was an amazing achievement for myself and my family's legacy," said Mitchell. "Being cemented in the history of an HBCU legacy as the first nine will forever be one of my greatest achievements and an example of excellence to my Falcon family."
Click here to learn more about SAU's MPA program.