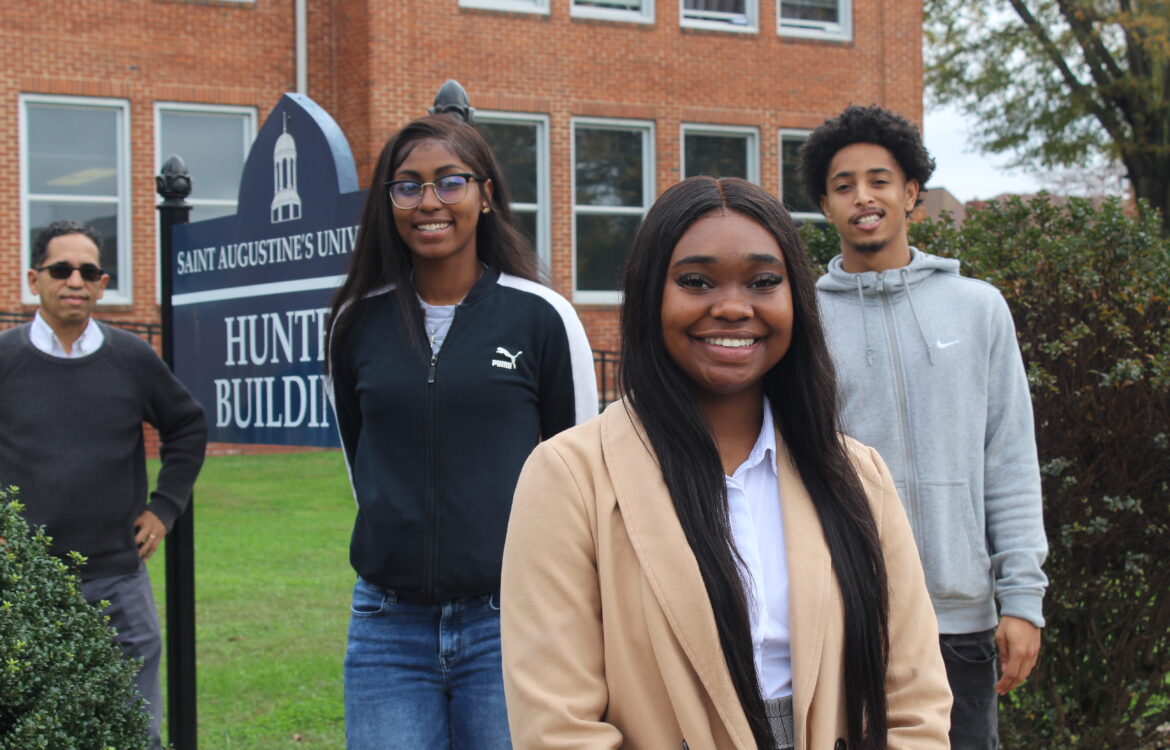 SAU Mass Communications Department Chosen as One of Four HBCUS to Partner with Zenger News Service in Washington, D.C.
Saint Augustine's University is among four HBCUs chosen to launch a partnership with Zenger News, a news service based in Washington, D.C.
Under the partnership, Zenger gets news articles it can distribute to the media outlets that it serves, which include Newsweek, Forbes and more than 100 urban and Latino news outlets around the country.
For their part, students get paid professional experience. Not only do they earn $100 per article; the students also get to work one-on-one with Zenger's professional editors, many of whom have decades of experience at major newspapers and national magazines. The sessions will be conducted via Zoom.
The partnership is officially entitled Zenger News–HBCU Journalism Fellowship Program 2020. The other institutions selected were Howard University, Morehouse College and Morgan State University.
Andre Johnson, VP of Sales and Distribution for Zenger News, said the company was "truly delighted" to include Saint Augustine's University as a partner. "Our program is designed to give inspiring and talented student writers, who have a true interest in pursuing a career in journalism, an opportunity to gain some meaningful experience," Johnson said. "We wanted this to be a well rounded and robust program where participants come from small, medium and large HBCU schools.  Thus, having St. Augustine involved in this very important program to the Zenger News brand was imperative."
The first four fellows from Saint Augustine's are: Jadareah DeBerry, a senior communications major; Nia Phillips, a junior communications major; Dorian Williams, a junior communications major; and Tiara Alexander, a senior communications major.
DeBerry and Phillips are co-editors of The Falcon Forum, Saint Augustine's student newspaper, and Alexander was the newspaper's opinion editor last year. Williams is not formally part of the newspaper staff but made a big contribution to the 2020 Homecoming issue, which was published in October.
While being part of the Falcon Forum staff was not a requirement for being chosen for the program, it was a consideration, according to Dan Holly, chair of the Media & Communications Department.
"These students all have shown an interest in and a talent for journalism," Mr. Holly said. "I was proud to advance their names to Zenger and I am confident they will represent us well." He added: "This honor is a great validation for the work we have done to improve our communications program, and it helps boost and encourage such efforts."
In recent years, communications program initiatives have included a Scholar-in-Residence program with former national TV news correspondent Byron Pitts; the student-run Falcons Fly radio program and a Professional Advisory Board made up of local journalism professionals.
Dr. Wanda Coneal, dean of School of Humanities, Education, Social & Behavioral Sciences, added: "I salute Mr. Holly for making certain that our communication students have the tools to apply classroom theories to real-world news events at major news outlets. Additionally, I am confident that our students, the first Saint Augustine's University scholars to participate in the Zenger News HBCU Journalism Fellowship Program, will benefit from this rich experience and use it as a foundation for their professional contributions. Fantastic job!"
The fellowships start officially in the spring 2021 semester, although students can contribute content to Zenger over the holiday break if they are willing and able. The fellowships last six months.
The partnership also allows student participants to attend a monthly Guest Lecture Series in which they get to hear professional editors, writers and media executives and others. The lectures, which will be on video, are designed to give valuable insights to students to help advance their careers.
In addition, one fellow per year will receive the William Shulz Award, a $2,500 cash prize. This award – created to honor created in honor of the late William "Bill" Shulz, who served as a chief advisor to Zenger News – will be given to a fellow who shows exceptional ability writing news stories and demonstrates a passion for developing exceptional news content.